Eduard Folayang Vs. John Wayne Parr Epilogue: Only Legends Know
KEY POINTS
Eduard Folayang faced John Wayne Parr in a Muay Thai fight at ONE X last weekend
Folayang prevailed over Parr by way of unanimous decision in an epic fight
Parr survived a knockdown in the second round and fought until the final bell
The phrase "you can't put a good man down" has often been used and said about someone or a certain scenario. But cliché as it may sound, the true meaning of this timeless adage has always been personified in the realm of combat sports.
Living proof of it was when Filipino mixed martial arts (MMA) superstar Eduard Folayang went toe-to-toe with Australian legend John Wayne Parr in a Muay Thai super-fight last Saturday, March 26, which served as one of the feature attractions on ONE Championship's 10th-anniversary show dubbed as "ONE X."
Locked inside the cage for three grueling rounds, both men exchanged devastating offense from start to finish while wearing four-ounce, open-fingered gloves throughout the match.
Swollen cheekbones, bloodstains on their fight trunks, thick beads of sweat oozing, and deep gasps for air painted the picture of the hellacious environment that they had to go through.
Despite the fact that they threw everything at each other except for the kitchen sink over the course of nine minutes, both men answered the final bell standing tall.
Initial expectations had it that one of them would end up on his back dazed, staring at the glaring overhead lights of the Singapore Indoor Stadium.
Instead, the capacity crowd saw them scaling the cage fence with their hands raised and hugging it out.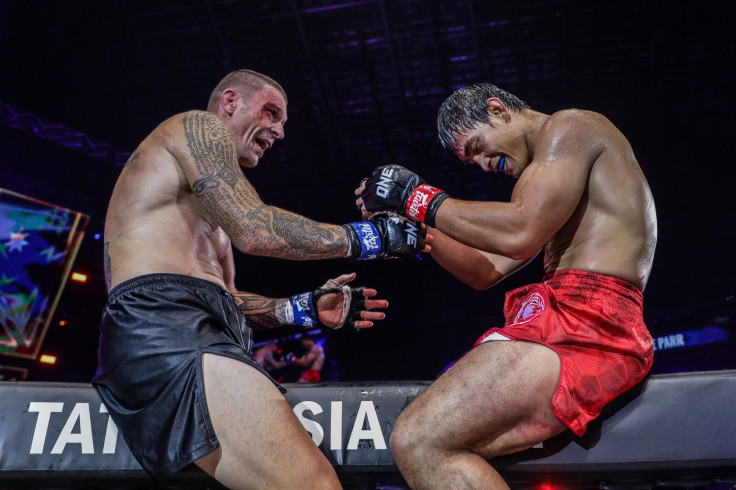 It has been nearly a week since the epic encounter, but many are still wondering how two legends who are no longer at the peak of their primes managed to turn back the hands of time to produce an instant classic to be remembered for ages.
Round 1: Motivation
Parr and Folayang were two different breeds of prizefighters, but their paths intertwined due to a common desire—to win again.
Enjoying a storied stint that spanned nearly three decades, the 45-year-old Aussie had come to terms with the reality that he could no longer keep up in a young man's game.
But in spite of the honest acknowledgment, Parr wanted to ride off into the sunset with a victory, which had eluded him since 2018.
Heading into ONE X, Parr was on a three-fight losing skid that included a heartbreaking second-round stoppage loss at the hands of Dutch kickboxer Nieky Holzken in his April 2021 promotional debut.
With the chance to author a rare storybook exit from the sport and clinch his 100th career win, Parr agreed to square off against a former MMA world champion in Folayang for his last dance.
Like Parr, Folayang also had the same goal in mind after dropping four consecutive outings in MMA since January 2020.
Moreover, the Filipino has sustained critical losses in six of his last seven assignments following his ONE lightweight title-regaining performance against Amir Khan in November 2018, yielding to the likes of Shinya Aoki, Eddie Alvarez, Pieter Buist, Antonio Caruso and Zhang Lipeng.
Fans and pundits alike called for Folayang's retirement, but the Team Lakay captain is adamant that he still has what it takes to carry on.
With the objective to wash away the bitter taste of defeat as well as prove that he has a lot left in his gas tank, Folayang took the risk to come out of his comfort zone and compete versus a man who was revered as one of the best to ever do it in both Muay Thai and kickboxing.
The two had a lot at stake going into the match-up, turning it into a must-win contest.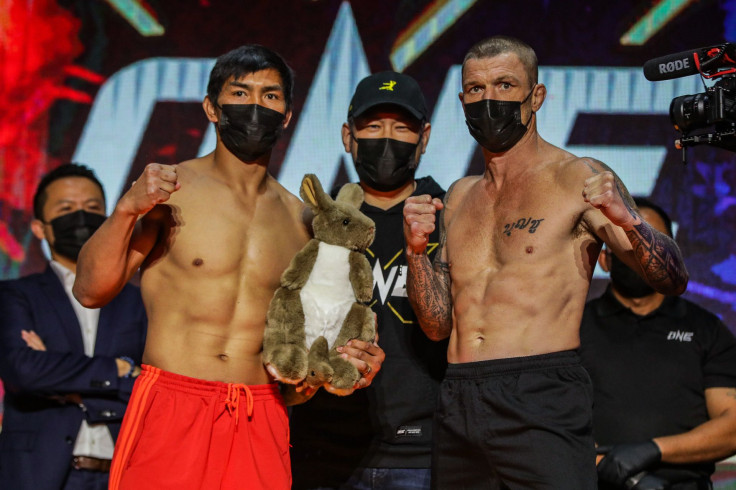 Round 2: War
The sweltering heat of the March weather in the city-state prevailed inside the 12,000-seater venue as intrigue and excitement engulfed its expanse.
While Parr made his final walk as a combat sports athlete, there were questions about whether he would be a shell of his old self opposite Folayang or he would be able to summon a vintage version of himself that instilled fear into the hearts of his opponents for the very last time.
Coming out to the tune of Skillet's 2009 hit single titled "Hero," Folayang also shouldered the uncertainty of venturing into a territory that he had no history of.
As the cage doors were shut and referee Elias Dolaptsis positioned in the middle to utter the word "box," business immediately got underway.
It was every fight fan's dream opening salvo as Parr and Folayang came out aggressively, unloading a plethora of unforgiving blows while exhibiting incredible toughness in enduring each other's offensive barrage.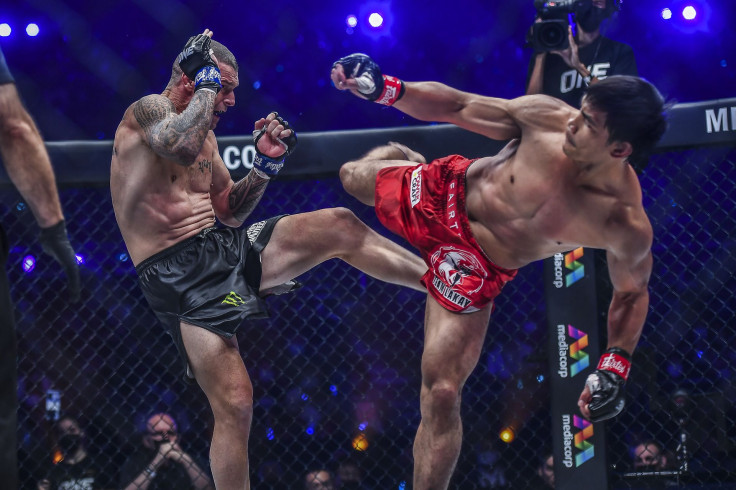 But as the intensity of the duel hit a fever pitch, Folayang's unpredictability in his attacks—courtesy of his decorated wushu sanda pedigree—spelled the difference in the first two rounds of action.
Returning to an all-striking habitat for the first time since capturing his final gold medal at the 2011 Southeast Asian Games seemed to be a breath of fresh air for Folayang as he drilled Parr's midsection with stiff sidekicks and fired his signature spinning backfists at will.
Without the threat of being taken down in a standard MMA match, "The Landslide" went headhunting with an array of spinning back-kicks while staying busy by chopping the thighs and ribcage of the Australian icon with lethal foot-strikes.
Folayang had the live audience at the edge of their seats in the second frame when an overhand right sent Parr crashing to the canvas for the count.
Though Parr was able to return to his feet before Dolaptsis completed the ten-count and tried his best effort to retaliate, the 38-year-old native of Baguio City, Philippines continued to score big shots with his right hand.
Before the third round began, it appeared to be a lost cause for Parr as the punishment he received from Folayang was evident.
The Australian had a cut near his eyebrow, while his body and legs were covered with bruises akin to the Filipino native dish of Pinikpikan—an exotic delicacy in Folayang's hometown.
However, the warrior in Parr refused to go down without a fight as in the third and final frame, the shades of the old John Wayne Parr—who went to war with the likes of Yodsanklai Fairtex, Jordan Tai and Mike Zambidis—flashed before the eyes of Folayang.
"The Gunslinger" spearheaded the rally with a Superman punch that compelled Folayang to operate on the back foot, and he then pounced on his heavy-handed foe with a thunderous flying knee.
Seeing Folayang on wobbly legs, Parr swarmed the two-time ONE lightweight titleholder with a volley of punches.
As Parr recklessly swung for the fences, Folayang miraculously recovered and stopped the rampaging 10-time world champion in his tracks with a solid right cross in the waning moments of the Muay Thai showdown.
Folayang landed a couple of lefts and rights before Parr launched a missed acrobatic kick to wrap up the wild and entertaining third round.
When the scorecards were read, veteran announcer Dom Lau announced that the three judges at cageside gave their undivided nod to Folayang.
"It's a privilege of mine fighting him," Folayang stated after the exhilarating clash. "He may be retiring, but I'm sure martial arts is his life."
On the other hand, Parr could not contain his emotions while expressing his heartfelt gratitude to the spectators in attendance.
"This is my last one. It's been an absolute joy to be a martial artist in 35 years," said Parr, who called it a day with a record of 99-35-1 with 46 victories by knockout.
Parr then left his gloves at the center of the cage and exchanged bows with Folayang.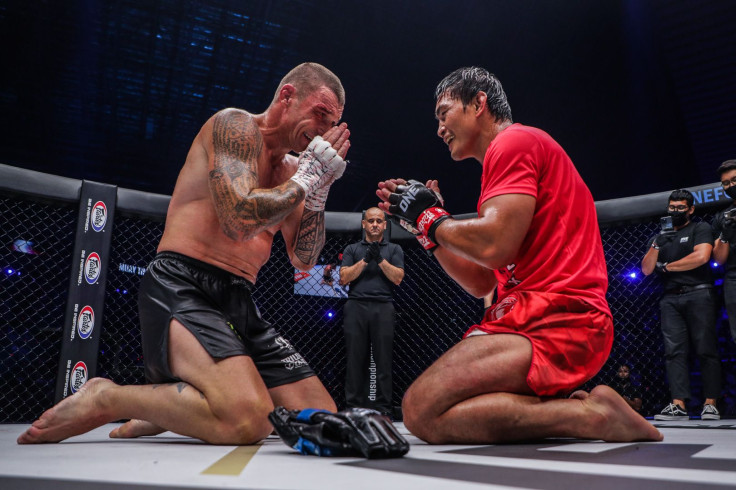 Round 3: Legacy
One man earned a new lease on life at ONE X over the weekend, while the other took his final bow.
Nonetheless, the narrative remains the same: there is a beginning and there is an end to every fighter's professional career.
Folayang could not have scripted his redemption arc any better, explicitly making it clear to his critics that he still has a couple of miles to run in his odometer.
Although the Filipino's remarkable reinvention could have extended his shelf life, retirement is a harsh reality that he will have to face someday.
As for Parr, he might have not gotten the win that he wanted. But the send-off was befitting of a stronghearted competitor who fans will remember as someone who gallantly stood down the proverbial barrel of a gun at age 45.
Everything that Folayang and Parr underwent last Saturday only goes to show that not all men can become fighters. But at the same time, they proved that not all fighters can become legends.
Nissi Icasiano is a sportswriter, analyst and editor from the Philippines. He started his professional career in 2013. He has also written for various media outlets such as Rappler.com, ABS-CBN, Tiebreaker Times, Philboxing.com, MSN.com, South China Morning Post, The Phnom Penh Post and the International Business Times. In 2017, he started a career as a Combat Sports Analyst for television and radio, appearing on various news shows for ABS-CBN, GMA, Radyo Singko 92.3 News FM, PTV 4, Business World, Radyo Pilipinas 2 and Bombo Radyo Philippines. He practices boxing at Tiger City Boxing Gym whenever he is not writing.
© Copyright IBTimes 2023. All rights reserved.
FOLLOW MORE IBT NEWS ON THE BELOW CHANNELS