EgyptAir Victims Identified? What We Know About Missing Passengers Of Flight MS804 As Families Await Official News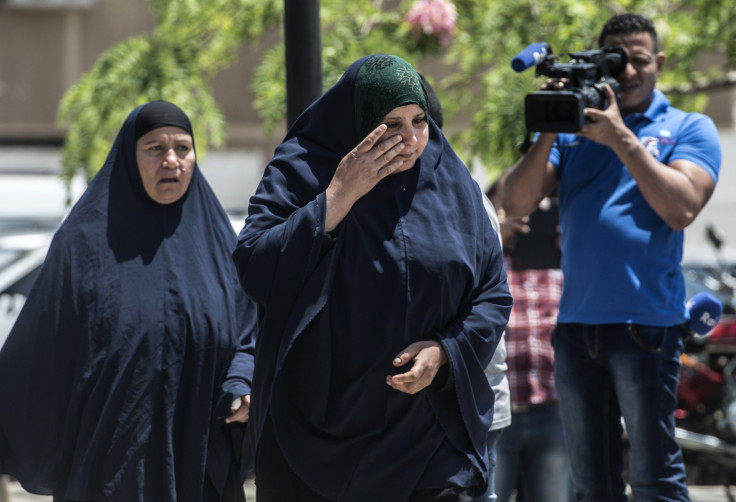 UPDATE: 2:43 p.m. EDT — Two Canadians were among the passengers who were killed Thursday while flying on EgyptAir Flight 804, which apparently crashed into the Mediterranean Sea while en route to Cairo from Paris. Stéphane Dion, Canada's Minister of Foreign Affairs, confirmed the deaths in a brief statement published on the country's government website.
"On behalf of the Government of Canada and all Canadians, our thoughts are with the families and loved ones of the victims on board EgyptAir flight MS804, travelling from Paris to Cairo," Dion said. "Based on the information currently available, we confirm that two Canadian citizens are among the passengers on this flight."
Prior to Dion's statement, Metro News in Canada identified one of the Canadian citizens on board as being Marwa Hamdy. The other Canadian victim's name was not immediately available.
UPDATE: 1:57 p.m. EDT — The British national on board EgyptAir Flight 804, thought to have crashed Thursday into the Mediterranean Sea, was identified Thursday as Richard Osman, the Independent reported. He was a 40-year-old geologist and father, according to the Mirror.
Some social media users conflated the victim with English TV host Richard Osman, who quickly cleared up the confusion.
UPDATE: 12:27 p.m. EDT — Details about the passengers on the missing EgyptAir Flight 804 began to emerge Thursday as investigators continued to search for wreckage of the plane in the Mediterranean Sea.
The one passenger from Chad was a student at a French school whose mother had recently died, the Associated Press reported Thursday. Embassy official Muhammed Allamine told reporters the man, whose name was not released, "was going to give condolences to his family."
Another was a Kuwaiti man named Abdulmohsen al-Muteiri, who the Guardian reported was a dad of two and economics professor en route to a conference. A third victim was identified by the AP as an Egyptian who was headed home after undergoing treatment in France.
Procter and Gamble confirmed in a statement to BuzzFeed that Ahmed Helal, who had previously been identified as a victim in French media reports, was on board the plane. Helal managed a plant for the company in Amiens, France.
"This is a very difficult moment for all P&G people, especially for employees of Amiens' site," a spokesman told BuzzFeed. "Our priority today is to fully support Mr. Helal's family during this very difficult time and all P&G employees who are very much affected by this tragedy."
Original story:
When EgyptAir Flight 804 disappeared Thursday en route from Paris to Cairo, it triggered an international outpouring of concern for the 66 people aboard. As news outlets waited for investigators to formally announce whether the plane crashed and why, families and friends remained focused on the unknown fate of the passengers and crew.
"At this stage, we must give priority to solidarity toward the families," the Associated Press quoted French President François Hollande as saying.
EgyptAir confirmed there were 56 passengers and 10 cabin crew members aboard the Airbus 320. All told, there were 30 people from Egypt, 15 from France, two from Iraq and one each from Algeria, Belgium, Canada, Chad, Kuwait, Portugal, Saudi Arabia, Sudan and the U.K.
None of the people aboard have been officially identified, although stories about the passengers have begun to crop up in international media. France Bleu reported Ahmed Helal, a 41-year-old director at a Procter & Gamble plant in Amiens, France, was among them. Also on the plane were a French couple in their 40s and their 3-year-old child, all of whom had been living in Angers, France, Ouest-France said.
Authorities told reporters that three air marshals, law enforcement officers who typically fly undercover, were on the flight as well. French transport chief Alain Vidalies said this number wasn't abnormal but "the usual practice," NBC News reported.
The plane left Charles de Gaulle Airport Wednesday at 11:09 p.m. local time (5:09 p.m. EDT) and lost contact Thursday at 2:45 a.m. while flying at 37,000 feet, according to USA Today. Greek officials said the plane first swerved and then likely fell into the Mediterranean Sea.
Egyptian aviation minister Sherif Fathy acknowledged the possibility of terrorism was "stronger" than the potential of mechanical issues that might have brought down the plane. Fathy also said checks into the passengers' backgrounds were ongoing, although there were no initial red flags, Reuters reported.
© Copyright IBTimes 2023. All rights reserved.