Election Coverage: Obama Reelected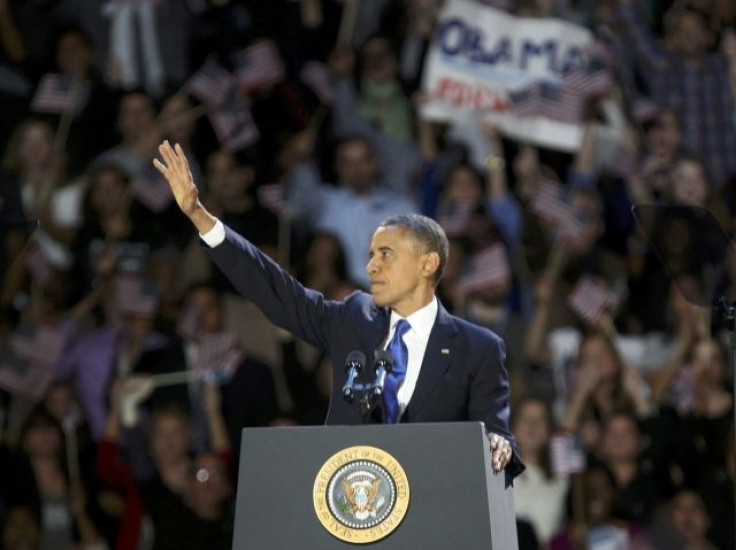 [Update 5:10 a.m.] Obama's reelection appears to have lifted the market confidence. Asian and European markets rose Wednesday after his victory removed uncertainty over the leadership of the world's biggest economy.
Market players were encouraged to note that there was no delay in producing a victor in a race which was expected to be closer than the final outcome.
The U.S. stock index futures point to a higher open Wednesday. The futures on the Dow Jones Industrial Average were up 0.28 percent, the futures on the Standard & Poor's 500 Index were up 0.34 percent and those on the Nasdaq 100 Index were up 0.40 percent.
**
[Update 4:05 a.m.] World leaders congratulated US President Barack Obama on winning a second term. Congratulating his "friend," British Prime Minister David Cameron tweeted: "Look forward to continuing to work together."
Welcoming Obama's re-election, European Union President Herman Van Rompuy tweeted, "Very happy about the reelection of President Obama."
Chinese President Hu Jintao and Premier Wen Jiabao sent congratulatory messages to Obama, saying China will "look to the future and make continuous efforts for fresh and greater progress in the building of the China-U.S. cooperative partnership."
German Chancellor Angela Merkel sent a letter congratulating Obama and hailing their cooperation to beat the global economic crisis. "I have deeply appreciated our many meetings and conversations about all the issues involved in developing the German-American and the transatlantic relationship, not least in overcoming the global financial and economic crisis," she wrote in a letter released by her office.
Australian Prime Minister Julia Gillard said she looked forward to continuing to work with the Obama administration. "On behalf of the government and people of Australia, I offer warm congratulations to President Barack Obama on his re-election and wish him every success for his second term in office," she said in a statement Wednesday.
Congratulating Obama, Israeli Prime Minister Benjamin Netanyahu said, "I will continue to work with President Obama to ensure the interests that are vital for the security of Israel's citizens."
The Palestinian Authority hoped Obama's second term would see an end to the Israel-Palestinian conflict. "We hope his second term will be a term for peace, stability and democracy during which the two-state solution will be implemented and Israel will withdraw to the 1967 borders," Palestinian chief negotiator Saeb Erekat told Voice of Palestine Radio, according to Financial Review .
The Indian government congratulated Obama: "India and the US have developed extensive bilateral cooperation and partnership based on shared values based on belief in democracy, the rule of law and pluralism. We look forward to continuing to deepen and widen the engagement between India and the US in the years ahead," said a press release from the External Affairs Ministry. President Pranab Mukherjee and Prime Minister Manmohan Singh will send messages of greetings to Obama.
**
[Update 3:00 a.m.] Twitter has claimed that the reaction to Obama's victory has broken several records. The site recorded 20 million tweets and the "Election Day became the most tweeted about event in US political history," the site claimed.
A picture of him hugging his wife Michelle which Obama tweeted after his victory became his most retweeted tweet ever.
Just after 11 p.m., election-related activity spiked to an all-time high of 327,453 tweets per minute, according to the National Journal.
Several world leaders and celebrities ranging from British PM David Cameron to Lady Gaga used Twitter to greet Obama.
***
[Update 2:15 a.m.] In his victory speech Tuesday night, Obama thanked the voters and said the "best is yet to come."
He said: "Tonight, in this election, you, the American people, reminded us that while our road has been hard, while our journey has been long, we have picked ourselves up, we have fought our way back, and we know in our hearts that for the United States of America, the best is yet to come."
He said: "I believe we can build on the progress we've made and continue to fight for new jobs and new opportunities and new security for the middle class. I believe we can keep the promise of our founding, the idea that if you're willing to work hard, it doesn't matter who you are or where you come from or what you look like or where you love (ph). It doesn't matter whether you're black or white or Hispanic or Asian or Native American or young or old or rich or poor, abled, disabled, gay or straight. You can make it here in America if you're willing to try."
**
[Update 1:54 a.m.] President Barack Obama delivered his victory speech to thousands of cheering supporters in Chicago after 1:30 ET Wednesday morning, thanking his wife, his running mate and his legion of campaign workers.
He also praised his opponent Mitt Romney for his service to the country and well-fought campaign.
He struck a theme of unity that evoked his breakthrough 2004 Democratic Convention speech proclaiming one America.
[Update 1:26 a.m.] Mitt Romney began his concession speech by congratulating President Barack Obama and his campaign.
"I wish all of them well, particularly the president, the first lady and their daughters," Romney said. "This is a time of great challenges for America and I pray that the president will be successful in guiding our nation."
[Update 1:11 a.m. Wednesday] Mitt Romney delivered a gracious concession speech in Boston after calling the president to congratulate him.
Obama is expected to address his supporters in Chicago shortly.
[Update 12:55am ET Wednesday] Mitt Romney has called President Barack Obama to concede defeat, CNN reported, in a conversation that was "short and polite." Romney will speak to supporters in Boston around 1am local time, CNN also said quoting sources within the Republican challenger's campaign.
[Update 12:25am ET Wednesday] In Chicago, as CNN annouced its projection that President Barack Obama had won reelection, supporters danced "the mash potato" and twisted to the rock n' roll oldies playlist blaring over the loudspeakers at his election night party. They high-fived and shreiked, "We love you Obama!" as they listened to CNN's Wolf Blitzer annouce the projection that their man would be the winner.
Jennifer Hall, 25, a volunteer from Chicago who worked at a phone bank, said she was "relieved." "I had all my friends tell me they were moving to Canada if Mitt Romney won," she said. "They're not moving now--that's a good thing."
Shelia Carter, another volunteer who attended Tuesday night's festivities at McCormick Place, said she believed Obama's reelection would be a matter of "divine order." "I had faith. I always knew he was going to win, it was just a matter of how many votes and when."
Throughout the night as each state projected a win for Obama, they cheered for the candidate and likewise, everytime it was annouced Romney was ahead in a particular state, they booed. Many had come from spending a long day outside, in the rain and cold, escorting people to the polls.
[Update 12:09 a.m. ET] With projections currently putting Obama at 274 electoral votes, he has defeated Mitt Romney. A projected victory in Ohio -- which has been called for Obama by NBC and CNN, among other networks -- put the president over the top.
Romney has not conceded, nor has Obama made a victory statement.
In addition, NBC has projected that Obama has won Colorado's nine electoral votes. Swing states still in play include Virginia and Florida. The Romney camp has refused to concede the networks' Ohio projection or their call that Obama has won the election. Romney currently has 203 electoral votes, based on projections.
Also, POLITICO is reporting that Republican George Allen is conceding to Democrat Tim Kaine, both former Virginia governors vying for a Senate seat in the Old Dominion.
Also, Rep. Joe Walsh , R-Il., lost his seat to his Democratic challenger Tammy Duckworth for Illinois' 8th congressional district.
**
[Update 11:01 p.m. ET] Obama has won Wisconsin and Illionois, several networks have reported.
The Wisconsin win means that if Obama wins either Florida or Ohio - and all other "leaning states" break as expected for the favorite - Obama will be re-elected president.
The electoral total now stands at: Obama 168, Romney 184.
**
[Update 10:45 p.m. ET] Romney has won Arizona, the AP reported.
The electoral total now stands at: Obama 148, Romney 171.
Also, the Miami Herald reported that there are still long lines at precincts in South Florida.
The electoral total now stands at: Obama 168, Romney 184.
**
[Update 10:20 p.m. ET] Obama Obama has won New Hampshire, while Romney has won Utah, the AP reported.
The electoral total now stands at: Obama 148, Romney 160.
Also, multiple networks are calling a Senatre race for incumbent Senator Claire McCaskill, a first-term Democrat whom Republicans had believed to be highly vulnerable. Rep. Todd Akin, the Republican nominee, badly damaged his chances when he suggested earlier this year that female bodies could end pregnancies in cases of "legitimate rape."
**
[Update 10:15 p.m. ET] At McCormick Center in Chicago on Tuesday, Obama supporters watched the results come in, in what was turning into a nail-bitingly close race, with so many states swing states up for grabs. Eleota Johnson, 74, said she thought the president would pull it out but acknowledged that it would be a close race. "All the problems in New York, New Jersey with the storm, and then Florida and Ohio being so close, it's going to maybe take a couple of days to know who really won," the 74-year-old volunteer said.
And yet there were bursts of cheers and confidence as the crowds of supporters, wooped and cheered as they watched the electoral tallies on CNN. The crowd burst into screams of joy as the cable network called Pennsylvania for Obama at approximately 8:30 p.m local time., a key swing state.
Desiree O'Kelley Smith, one of the cheering volunteers, said tonight she'd be celebrating all her hard work. She ran a phone bank for the Obama campaign every Monday from a hair salon she owns in Chicago. "I want my President!," she said as she jumped up and down excitedly, and added, "I feel good about tonight."
"AFL-CIO members for Obama," "Letter Carriers for Obama," "Grandmothers for Obama" were just some of the volunteer groups, wearing T-shirts or buttons to identify themselves, at the McCormick Center, where the end-of-campaign party is scheduled for later.
Jacqueline Smith, a volunteer who said she spent the last few weeks phone-banking "non-stop" and canvassing in Iowa, said she was a little nervous as she watched the electoral vote counts on CNN but remained optimistic, "I feel very good. We need four more years of Obama."
[Update 10:00 p.m. ET] President Barack Obama spent Tuesday afternoon playing a ritual election day basketball game with friends, this time at Tim Grover's Attack Athletics facility, a gymnasium on Chicago's South Side. Obama was player-coach of a team that included former NBA Chicago Bulls Star Scottie Pippen and former Illinois Senate Candidate Alexi Giannoulias. They faced off against a team led by U.S. Secretary of Education Arne Duncan. Obama's team ended up beating their opponents 103 to 93, according to Jiavante Scott, who was the unofficial scorekeeper for the game.
The president was "real loose," according to Giannoulias. "He had a couple of good cross-overs too, a couple good moves, it was real fun," said Giannouloulias of Obama's performance during the roughly 40-minute game. "He was non-presidential, he was a player, he came out to relax and play basketball," said Malke Son, who refereed the game. "He was very calm."
Also in attendance were former Bulls player Randy Brown and Obama's former White House aide Reggie Love who played basketball at Duke University.
Outside the gymnasium, Obama supporters waited for hours in the drizzling rain and cold, hoping to get a glimpse of the president after the game. His motorcade later zipped back to his Chicago home for dinner with his family and watching the election results come in. This afternoon, Obama's daughters, Malia, 14, and Sasha, 11, flew into Chicago, accompanied by their grandmother, to join their father. Obama was expected to join his supporters at the Fairmont Hotel in Chicago later on.
[Update 9:50 p.m. ET] Obama has won Pennsylvania - the first "battleground state" to be decided, the AP reported.
The electoral total now stands at: Obama 144, Romney 154.
Also, Alan Grayson is returning to the U.S. House of Representatives. Grayson, who was ousted from the House in 2010, won Florida's 9th congressional district, according to The Associated Press.
CNN has called the Massachusetts Senate race for Democrat Elizabeth Warren and Indiana for Democrat Joe Donnelly. The Massachusetts race was expected to be close all along, shattering previous spending records for a Massachusetts race as liberal icon Warren vied with popular moderate Republican incumbent Brown. But Indiana is a big loss for Republicans, as Rep. Richard Mourdock -- who won the primary by campaigning to the right of incumbent Republican Richard Lugar -- is unable to hold.
**
[Update 9:43 p.m. ET] With 81 percent of the districts reporting in Florida, Romney is up by a slender 636 votes, CNN/South Florida Sun-Sentinel reported.
Also, a Kennedy will return to Congress: Joe Kennedy III wins in Massachusetts 4th congressional district, taking over Barney Frank's seat, The Boston Globe reported.
**
[Update 9:15 p.m ET] Virginia Senate race: with 921 of 2,585 precincts reporting,Richmond Times-Dispatch giving the Republican George Allen a lead over Democrat Timothy Kaine: Allen with 595,232 (52.5%) Kaine with 538,669 (47.5%).
Also, Maggie Hassan won the governor's race in New Hampshire, making her the only female Democratic governor in the country.
**
[Update 9:01 p.m. ET] U.S. Senate update from Massachusetts: with about 4 percent reporting, Democrat Elizabeth Warren and incumbent Republican Scott Brown are locked in a tight race. Warren has opened a 5,000 vote lead with about 155,000 votes counted, but that could change as more results flow in.
**
[Update 8:55 p.m. ET] A fresh update out of pivotal Virginia: CBS reports that Virginia has halted reporting its election results because of continued long lines at polling places. That could lead to a nailbiter -- if Mitt Romney cannot win the Old Dominion state his path to victory becomes considerably more narrow.
The electoral total now stands at: Obama 65, Romney 76.
**
[Update 8:30 pm. ET] Romney has won Tennessee, the Associated Press projected.
The electoral total now stands at: Obama 65, Romney 40.
**
[Update 8:10 p.m. ET] Both campaigns have known this race will come down to fewer than a dozen swing states, and the Associated Press has clarified the picture by calling a bundle of less competitive states.
According to the AP's latest projections, President Obama has won Illinois, Connecticut, Washington, D.C., Delaware, Rhode Island, Maryland. Mitt Romney has added Oklahoma, Indiana and South Carolina to his win column.
The electoral total now stands at: Obama 60, Romney 40.
**
[Update 7:55 p.m. ET] It's easy to lose sight of this amidst the presidential race and the Congressional contests, but there are also quite a few ballot initiatives out there.
**
Maine, Maryland, Minnesota and Washington will all be weighing ballot measures that would either legalize some-sex marriage or, in Minnesota's case, amend the state constitution to prohibit it. Same-sex marriage advocates are desperate for a win: in more than 30 ballot measures allowing voters to weigh in directly, people have either approved same-sex marriage bans or rejected attempts to legalize it.
Colorado, Oregon and Washington voters are being asked about legalizing marijuana, a step that would legitimize cannabis by allowing the state to regulate the sale and production of weed.
There are also a few key tax-related initiatives out there. California's Prop 30, on which Democratic governor Jerry Brown is staking his legacy, would raise sales taxes and property taxes on the wealthy to offset education cuts; Florida, on the other hand, is weighing a measure to limit property taxes.
[Update 7:45 p.m. EST] Americans went to the polls Tuesday under generally favorable weather conditions across the continent - cold but fair in the northeast, and seasonable elsewhere.
Those conditions were a far cry from last week's "Frankenstorm" - Hurricane Sandy, which pummeled New York , New Jersey, and Connecticut, killing more than 100 people and leaving at least 40,000 homeless.
After months of intense campaigning, millions of Americans are voting Tuesday to determine who will lead the United States for the next four years.
But with only hours left before polls close, U.S. President Barack Obama is still locked in a tight race for the White House with Republican challenger Mitt Romney, according to presidential polls.
President Barack Obama arrived in Chicago at 1 a.m. CST Tuesday and made a quick stop at the lakefront before heading on to his home in the Kenwood neighborhood on Chicago's South Side. The 51-year-old former University of Chicago law professor spent Tuesday morning in his neighborhood making calls to voters in the battleground state of Wisconsin, and then played a pickup basketball game with friends, organized by former aide Reggie Love, who played at Duke University. The game has become an election day ritual of sorts for Obama.
"We made the mistake of not playing basketball once," said former White House spokesman Robert Gibbs, according to the Washington Post. Gibbs, who was traveling with the Obama campaign on its final day, was referring to the campaign's loss to Hillary Clinton in New Hampshire during the 2008 primaries. "We won't make that mistake again."
Obama later will be camped out at Chicago's Fairmont Hotel, watching the results come in, and finally make his way to the McCormick Place convention center to join a few thousand of his supporters. Unlike 2008, where the election night festivities were held at Grant Park with upwards of 240,000 attendees, the 2012 election festivities for the Obama campaign will be much more low-key. McCormick Place is indoors and the Obama campaign has limited those invited to dedicated volunteers in the campaign.
Though five recent polls show the president with a slight advantage, it is still a statistical dead heat; two polls are showing a full 10-point swing -- that is, a 5-point lead for the incumbent in one poll and for the Republican nominee in the other.
Real Clear Politics' average of national polls show that Obama has a small lead over Romney, 47.8 percent to 47.4 percent.
A look at each of the most recent individual polls in the RCP survey shows voters in five polls favoring Obama, and two polls have voters giving Romney the win, while three polls indicate a tie. According to those polls, it is anyone's race at this point.
By The Numbers
Rasmussen Reports has Obama trailing by 1 percentage point, 48, to 49. CNN has both the challenger and incumbent locked at 49 percent. It is a 3-percentage-point advantage for Obama in the Pew Research survey, showing 50 percent to 47 percent.
Politico also has both men neck and neck at 48 percent. In the NBC poll, Obama is up one, 48 percent to Romney's 47. The CBS News poll turned out similar results to NBC's.
ABC News is reporting 49 percent for Obama to Romney's 48 percent. In the Fox News poll, the two rivals are at 46 percent each.
The most interesting of all the recent presidential polls are the National Journal and Gallup polls, where each man has a 5-point lead over the other. By the Journal's account, Obama is riding high at 50 percent among likely voters. For Gallup, it is Romney taking the lead, 51 percent.
A Divided America
Everything is at stake in the Tuesday's election.
The country is divided among two able nominees who have different views on some of the top issues of the 2012 election: economy and jobs, gender issues (including reproductive health and equal pay for equal work), health care (with Romney vowing to repeal Obamacare) and immigration.
Even race is a dividing factor. Some surveys, like the CNN poll, have Romney leading Obama 57 percent to 40 percent among white voters. Obama is doing much better than Romney among voters making less than $50,000 per year. However, Romney is doing much better with those making more than $50,000 per year. He is also beating the incumbent among male voters.
There is also some geographical divide with those in the Northeast, Midwest and urban areas favoring Obama, while Romney secures the advantage in the South, West and suburban and rural areas.
© Copyright IBTimes 2023. All rights reserved.
FOLLOW MORE IBT NEWS ON THE BELOW CHANNELS