Eleven Migrants Drown Heading From Turkey To Greek Island: Media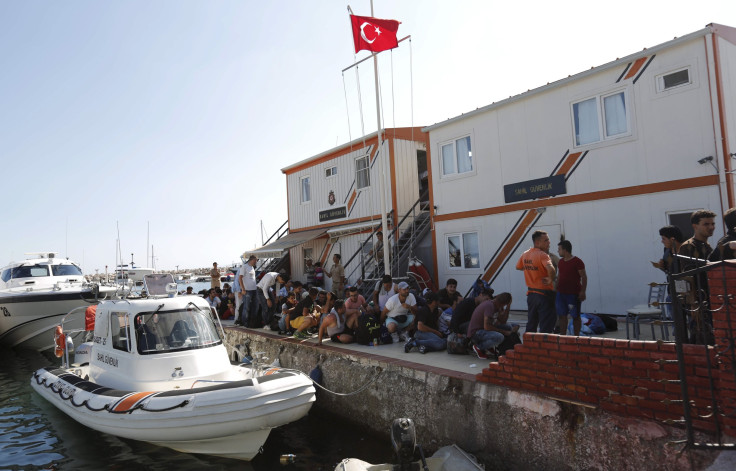 ISTANBUL (Reuters) - At least 11 migrants believed to be Syrians drowned as two boats sank after leaving southwest Turkey for the Greek island of Kos, Turkey's Dogan news agency reported on Wednesday. It said a boat carrying 16 Syrian migrants had sunk after leaving the Akyarlar area of the Bodrum peninsula, and seven people had died. Four people were rescued and the coastguard was continuing its search for five people still missing.
Separately, a boat carrying six Syrians sank after leaving Akyarlar on the same route. Three children and one woman drowned and two people survived after reaching the shore in life jackets.
Tens of thousands of Syrians fleeing the conflict in their homeland have descended on Turkey's Aegean coast this summer to board boats to Greece, their gateway to the European Union.
Aid agencies estimate that, over the past month, about 2,000 people a day have been making the short crossing to Greece's eastern islands on rubber dinghies.
A ship bringing about 1,800 migrants and refugees from one of the islands arrived at the port of Piraeusnear Athens on Tuesday night, the Greek coastguard said.
Thousands of people, mainly Africans, have also been trying to reach Europe via boat from Libya to Italy. The United Nations refugee agency UNHCR said four bodies had been pulled from the central Mediterranean on Tuesday and 781 migrants rescued, mostly from Nigeria, Ivory Coast and Senegal.
So far this year, more than 2,500 people have died trying to cross the Mediterranean, the UNHCR said.
© Copyright IBTimes 2023. All rights reserved.