Elon Musk's Feud With Biden Continues: Billionaire Bites Back At President's Tesla Snub Again
Amid their ongoing feud, Elon Musk took another swing at Joe Biden on Tuesday after the president once again failed to recognize Tesla (TSLA) as one of the top electric vehicle makers in the U.S. despite delivering over 300,000 EVs last quarter.
In an email to CNBC, Musk criticized Biden's State of the Union speech on Tuesday by saying that no one was watching the address, where the president boasted about the investments made by Ford and GM to build electric vehicles.
"Ford is investing $11 billion to build electric vehicles, creating 11,000 jobs across the country," Biden said. "GM is making the largest investment in its history: $7 billion to build electric vehicles, creating 4,000 jobs in Michigan."
Again, Biden did not mention Tesla in the speech to the U.S. audience.
Later on Tuesday, Musk directly tweeted Biden to show his dismay of the Tesla snub in the speech. He wrote, "Tesla has created over 50,000 US jobs building electric vehicles & is investing more than double GM + Ford combined."
This is not the first time that Musk has openly criticized the president for failing to mention Tesla's EV accomplishments.
In late January, he called Biden a "damp sock puppet in human form" after he touted GM's and Ford's EV production in a video on social media.
In February, Biden did mention Tesla once. He called the EV maker "our nation's largest electric-vehicle manufacturer." The response from Musk was a smiley face emoji with sunglasses.
However, Musk has also been noticeably absent from meetings at the White House, which have included Ford and GM executives, which sources have told CNBC were due to the possibility of the billionaire embarrassing Biden.
Musk told the news outlet that if he did ever receive an invite to the White House, the Biden administration had "nothing to worry about," saying, "I would do the right thing."
Biden and senior White House officials have no immediate plans to invite Musk to any upcoming meeting, sources have told CNBC.
As of Wednesday's premarket hours, shares of Tesla were trading at $872.00, up $7.63 or 0.88%.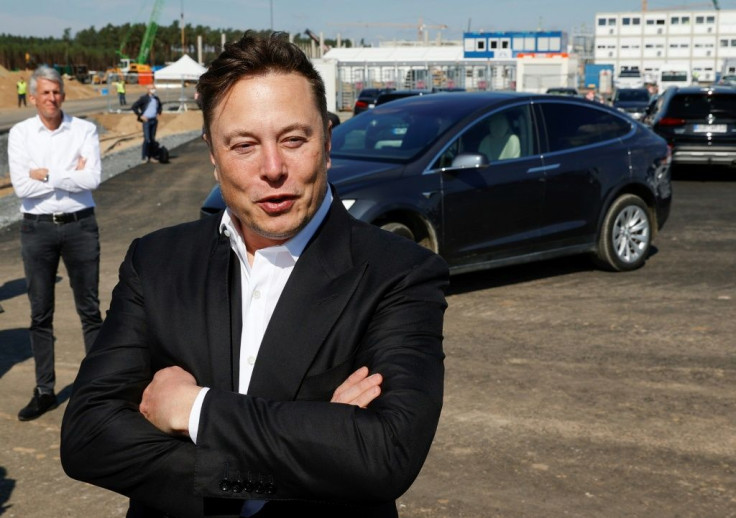 © Copyright IBTimes 2023. All rights reserved.