End Of ISIS? Islamic State Group Will Be Defeated 'Within Weeks,' Iraqi PM Haider Al Abadi Says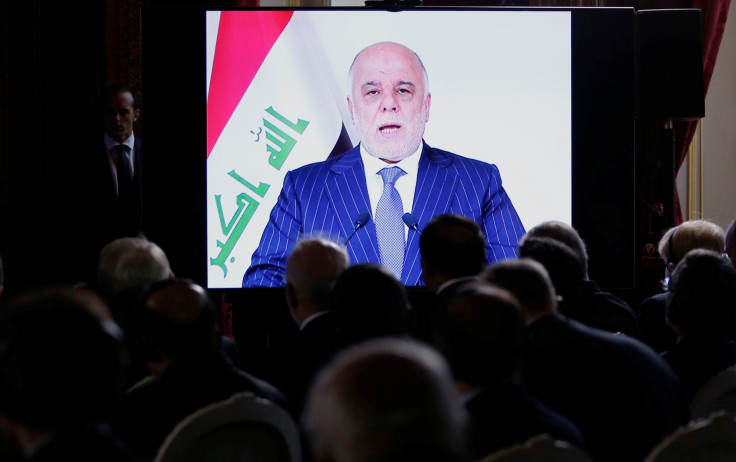 Iraq will be free of the Islamic State group "within weeks," Iraqi Prime Minister Haider al Abadi predicted Sunday, adding that terrorism will continue until the extremist group is defeated in Syria and elsewhere in the Middle East. A U.S.-led coalition has been fighting ISIS in Iraq and Syria, where the militant group took control of large swathes of land.
"We are defeating them militarily," Abadi told Fox News Sunday. "As a terrorist organization … they will try. So that's where we need the efforts of others. Flush them out of Syria and other places."
Earlier this year, Iraqi forces, along with the U.S. military, pushed ISIS fighters from the eastern part of Mosul, Iraq's second-largest city that the ISIS leader declared his caliphate nearly three years ago. Currently, the military is targeting extremists who are in control of Mosul's densely populated western neighborhoods.
On Sunday, Iraqi forces hit militant positions with helicopter strikes and exchanged heavy gun and rocket fire around al Nuri mosque in west Mosul.
Read: US Troops In Iraq Should Stay After Islamic State Is Defeated, Mattis Says
During his latest interview, Abadi also commented on former President Barack Obama's role in the fight, saying he didn't want to get involved but was forced into the situation when the terror group crossed the Syrian border and occupied 40 percent of Iraq.
"He just wanted just to forget Iraq," Abadi reportedly said. "I mean, slaughtering people. There was a lot of pressure on President Obama."
While taking about the U.S. actions against ISIS, Abadi said that Washington appears determined to defeat the militant group. The prime minister also addressed President Donald Trump's travel ban when he said the U.S. and Iraq are allies.
"We are allies. We are victims of terrorism," Abadi said. "It's not acceptable to us, especially when you have U.S. soldiers … working with Iraqis in Iraq. It was very tough for them to tell Iraqis, 'I'm working with you, but I consider you as a threat to the U.S.' "
Most recently, U.S. Secretary of State Rex Tillerson and Defense Secretary Jim Mattis met at the State Department with Abadi and foreign officials of other countries to coordinate and bring out new ideas to expand the fight against ISIS in Mosul.
© Copyright IBTimes 2023. All rights reserved.
FOLLOW MORE IBT NEWS ON THE BELOW CHANNELS