Enrique Peña Nieto Criticized For Press Freedoms Statement: Mexican President Called 'Cynical,' 'Traitor'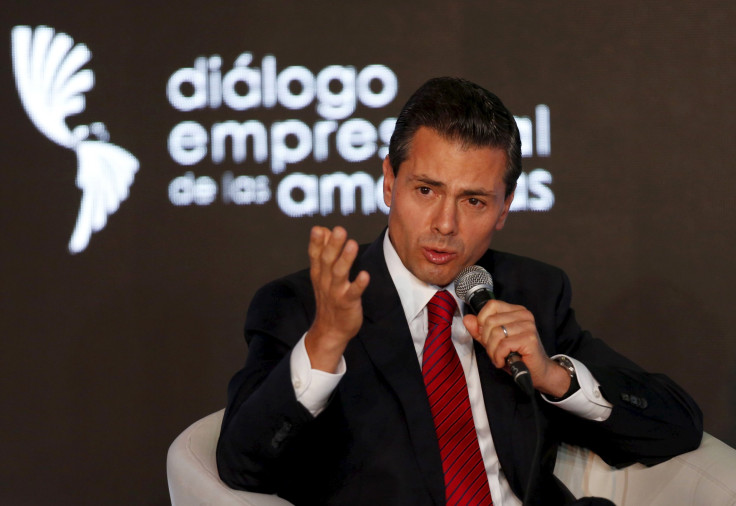 Mexican President Enrique Peña Nieto saluted members of the press in Mexico on the International Day of Freedom of Expression, which was celebrated all over the world Monday. But his statement drew widespread criticism on social media over the country having the lowest rating among its Latin American counterparts for freedom of the press. According to press freedom watch groups, Mexico is one of the most dangerous countries in the world to be a professional journalist.
"The free expression of ideas is a social conquest that must not be given up and that today forms part of our democracy," Peña Nieto said in the statement. Critics have said Peña Nieto was being hypocritical, if not disingenuous, given his record of aggression against the media. Along with hundreds of attacks and killings of journalists in the country, critics cite the recent firing of Mexican journalist Carmen Aristegui and two of her colleagues from media outlet MVS Radio for stories about a corruption scandal involving Peña Nieto.
"Did you congratulate Carmen Aristegui so that you can properly speak of freedom of expression you cynical ... ," journalist Wellman de la Cruz asked in La Jornada. In tweeted critiques against the Mexican president, journalist Armando Barradas said: "You are vulgar and shameless, and as all politicians you find it easy to lie. Ask the people of Mexico what they think about your congratulations ... traitor to the country."
In 2014, more than 325 journalists suffered aggressive action by government officials and organized crime, while five reporters were killed because of their work, the international human rights group Article 19 says. In the last decade, at least 32 journalists were confirmed killed in Mexico because of their profession, the Committee to Protect Journalists says. The number of deaths there is considered high because a total of 61 journalists were killed around the world last year, Telesur reported.
Article 19, based in London, recently published a report revealing that press freedom in Mexico had deteriorated, amid widespread threats from "soft censorship" by government officials. Article 19 said the government routinely used financial incentives and doled out penalties to punish unflattering reporting and reward favorable stories. "While Mexican journalists are frequently targets of physical attack, soft censorship is another more subtle and very significant danger to press freedom," Article 19 stated.
© Copyright IBTimes 2023. All rights reserved.
FOLLOW MORE IBT NEWS ON THE BELOW CHANNELS