EPA Carbon Emissions Cuts to Accelerate Fossil Fuel Shift, Energy Sector Trends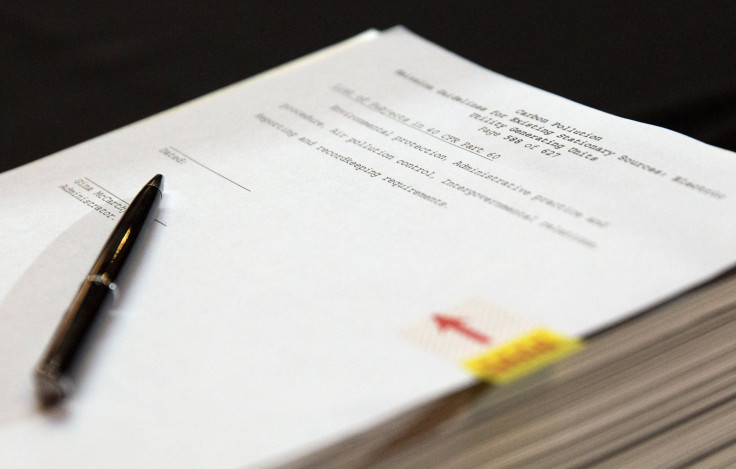 The United States is already well prepared to achieve the reductions in greenhouse gas emissions targeted by a landmark policy laid out by the Obama administration Monday, energy experts say.
Even as some business groups criticized the new regulations proposed by the Environmental Protection Agency, and even as some leaders of states -- especially those dependent on coal production -- blasted the rules as an threat to their economies, the goals themselves should prove relatively attainable if the nation proceeds with a current shift toward cleaner-burning energy stocks such as natural gas.
In essence, the new rules aim to accelerate the trading in of coal-fired power plants for natural gas-powered facilities, while encouraging the expansion of renewable sources like solar and wind energy. Energy efficiency improvements like building retrofits and "smart" appliances will also cut into consumers' overall electricity demand.
"The EPA rules provide a nice reinforcing framework for those market trends to continue," Michael J. Bradley, an energy and environmental consultant in Massachusetts, said on a press call.
The proposal aims to achieve as much as a 30 percent reduction in heat-trapping carbon dioxide from U.S. power plants by 2030 from 2005 levels.
Over the last decade, utilities have already begun to switch to cheaper natural gas supplies and to adopt more renewable energy and efficiency programs to comply with existing state regulations. Carbon emissions from power generation fell by 12 percent between 2005 and 2012, according to federal energy statistics.
By 2030, coal plants will account for about 30 percent of total U.S. electricity generation, down from about 40 percent in 2013, and from 52 percent in 2000, the EPA projects. Part of that drop is associated with the increased costs of operating aging plants; nearly two-thirds of all coal-fired units are at least 40 years old, according to the Sierra Club.
Another reason for the decline is that, despite billions of dollars in federal investments, the coal industry still hasn't developed a cost-effective way to reduce or sequester emissions from power plants.
Natural gas's share of electricity will rise slightly, from 27 percent in 2013 to about 32 percent by 2030 —but up from just 16 percent in 2000. Natural gas produces about half as much carbon dioxide as coal-fired generation, and increased drilling and production has helped to reduce prices and improve gas's competitiveness in recent years. Renewable energy sources, excluding hydropower, will account for about 9 percent of electricity by 2030, up from about 6 percent last year.
Dan Bakal, who directs the electric power program at Ceres, a coalition of climate-focused investors that supports the EPA proposal, said some states are already well-prepared to tackle the proposed emissions reduction targets. Nine states in the Northeast have already seen significant emissions reductions through a regional cap-and-trade program, and California, which also has cap and trade, is requiring utilities to get 33 percent of supplies from renewables by 2020.
"They've got programs in place, and they know how to do this even if more has to be done" to meet the EPA rules, Bakal said.
Other states, especially those that rely heavily on fossil fuels, are not as far along in developing carbon-reduction strategies, he noted.
Proponents and critics of the EPA proposal dispute how much it will cost. The EPA estimates that states will spend up to $8.8 billion by 2030 but that electricity bills, on a national average, will drop by 8 percent. The U.S. Chamber of Commerce, however, argued in a recent report that the rule would cost businesses more than $50 billion a year due to rising electricity prices.
© Copyright IBTimes 2023. All rights reserved.