EpiPen Price Surge Update: Cigna Drops Mylan's Lifesaving Allergy Medication In Favor Of Impax Generic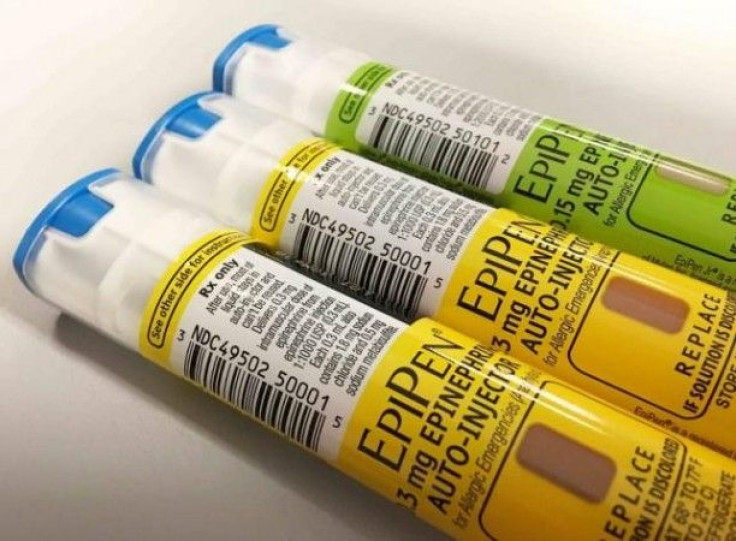 Mylan, the pharmaceutical company that makes the lifesaving allergy medication EpiPen and EpiPen Jr. autoinjectors, suffered yet another setback as Cigna, a major health insurer, on Jan.7 released a list of changes to its coverage for 2017 that included the announcement that it would be dropping coverage for the drug.
The health insurer said in a statement that its customers will require "approval from Cigna for these medications to be covered," according to TheStreet. It also recommended a rival generic version of the drug to its customers that is made by Impax Laboratories and priced at around $200/two-pack, which works out as a cheaper option compared to Mylan's own generic version priced at $300/two-pack, which was released in December.
"The generic version, available now in pharmacies, has the same drug formulation and device functionality as the branded medication, but at a substantial cost savings," Cigna spokeswoman Karen Eldred said, according to CNNMoney.
Cigna also said that a patient can ask for an exception if their doctors consider that the generic isn't as effective for the patient. However, Cigna specified that this does not ensure that the drug will be covered under the patient's healthcare plan.
The announcement came as President-elect Donald Trump said, in his press conference Wednesday, that drug companies are "getting away with murder" and pledged to fight increasing drug prices.
"Pharma has a lot of lobbyists and a lot of power and there is very little bidding. We're the largest buyer of drugs in the world and yet we don't bid properly and we're going to save billions of dollars," said Trump. His statement sent pharmaceutical stocks tumbling. Mylan shares closed down 4.3 percent.
EpiPen is a preloaded injection of epinephrine, also known as adrenaline, used in case of a dangerous allergic reaction called anaphylaxis that could cause death if untreated. Pharmaceutical giant Mylan was embroiled in a controversy about its drug pricing last year when it hiked the price of EpiPen by more than 400 percent.
EpiPens, which were priced at around $100 in 2008, now cost $600. After public backlash, which was even spurred on by the campaign rhetoric of Democratic presidential nominee Hillary Clinton and also saw Mylan CEO Heather Bresch testifying before Congress in September, the company attempted to make amends by releasing a generic version and offering certain discounts.
Questions still loom over whether Impax has the capacity to meet the demand to outmatch Mylan as the company assembles the autoinjectors manually. But Mark Donohue, Impax's vice president of investor relations and corporate communications, said the firm has invested in more manufacturing lines and is "staying up with demand," according to Seeking Alpha.
© Copyright IBTimes 2023. All rights reserved.
FOLLOW MORE IBT NEWS ON THE BELOW CHANNELS