Equal Pay For Women: Why Patricia Arquette's Equality Message Struck A Chord At The 2015 Oscars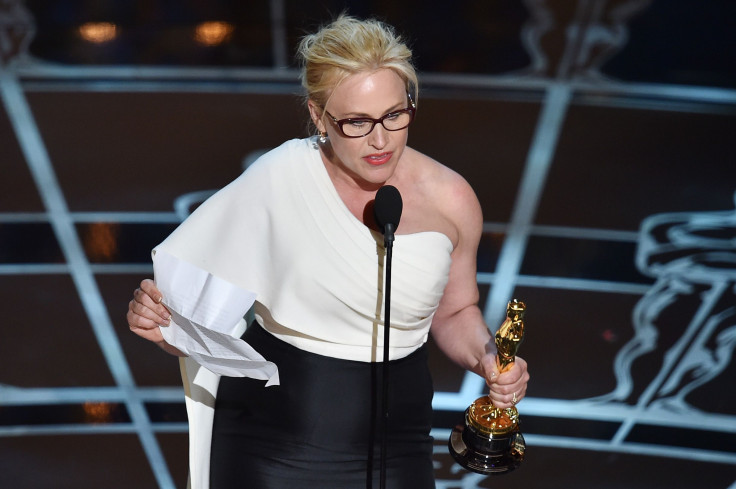 At award shows as prestigious and buttoned-up as the Academy Awards, it's rare to see seasoned actors and actresses cheering as though it were a basketball game instead of one of the most important nights in Hollywood. But when Patricia Arquette gave her acceptance speech at the Oscars Sunday night after winning for best actress for "Boyhood," she brought fellow actors to their feet with her message about equal pay for women.
According to last year's U.S. Census data, the average woman working full-time in the U.S. earns 78 cents for every dollar a man makes. And pay equity for women of color is worse, according to a report on the website Think Progress. African-American women made 64 cents and Hispanic women made 54 cents for every dollar a white man makes, according to the report.
But some experts say the wage gap between men and women has closed more rapidly than activists will acknowledge. Vivien Labaton, cofounder of the economic security campaign Make It Work, has cited a 2013 Pew Research Center study that showed the pay gap between men and women was the narrowest for millennials. In 2012, female workers aged 25 to 34 made 93 percent as much as their male peers, Labaton wrote in an op-ed for the Washington Post. The Pew study also found that women's median hourly wage was 84 percent of the median for men in 2012, compared with 64 percent in 1980.
For some high-powered women, though, the picture has not been as rosy, according to an analysis by Harvard labor economist Claudia Goldin. When controlling for age, race, hours and level of education, women in the highest-paying fields, such as finance, medicine and law, were earning as much as a third less than their male counterparts.
Arquette's pay gap statement evoked strong reactions from the crowd, including fellow best actress nominee Meryl Streep, who applauded and pointed in approval as Arquette walked backstage. "To every woman who gave birth, to every taxpayer and citizen of this nation, we have fought for everybody else's equal rights," Arquette said at the end of her acceptance speech. "It's our time to have wage equality once and for all and equal rights for women in the United States of America!" Besides rallying the audience at the Dolby Theater, the actress also was trending on social media websites through Monday morning, with video clips and tweets praising her statement and reflecting the audience's reaction.
© Copyright IBTimes 2023. All rights reserved.