Eric Garner Would Be Alive If He Was Not Obese, Says Rep. Peter King, Thanks Grand Jury For Decision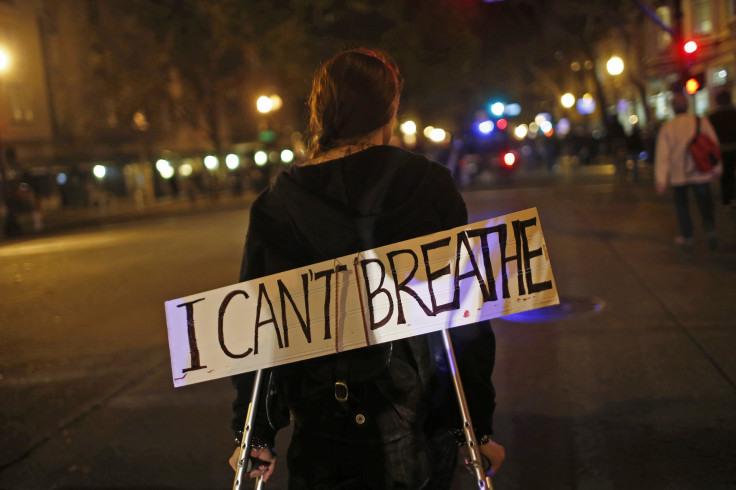 Rep. Peter King said Wednesday that Eric Garner would not have died from a police chokehold if he had not been obese. (He was 6 feet 3 inches tall and weighed 340 pounds.) King's comments come after a Staten Island grand jury decided not to indict NYPD Officer Daniel Pantaleo for the chokehold death of Garner, a move that has triggered protests across New York City.
The U.S. representative for New York's second congressional district reportedly said during an interview with CNN's Wolf Blitzer that Garner's health was to be blamed for his death. King also dismissed video evidence that showed Garner repeatedly saying he could not breathe as officers tackled him to the ground and choked him, stating that "police had no reason to know that he was in serious condition." The chokehold has been blamed for suffocating Garner, causing his death.
"If he had not had asthma, and a heart condition and was so obese, almost definitely he would not have died from this," King reportedly said.
"The fact is if you can't breathe, you can't talk," King reportedly added. "If you've ever seen anyone resisting arrest, I've seen it, and it's been white guys, and they're always saying, 'You're breaking my arm, you're choking me, you're doing this,' police hear this all the time."
In August, the city's medical examiner ruled Garner's death a homicide and one that was caused by pressure to his neck and chest. Garner's acute and chronic bronchial asthma, obesity and hypertensive cardiovascular disease were contributing factors in his death, the medical examiner ruled.
Garner was allegedly selling untaxed cigarettes on Staten Island in July when NYPD officer Pantaleo put him in a chokehold.
King also took to Twitter on Wednesday thanking the grand jury for its decision.
Wednesday's decision sparked unrest in New York City and has drawn comparisons with last month's grand jury decision not to indict white Officer Darren Wilson in the shooting death of unarmed black teen Michael Brown on Aug. 9 in Ferguson, Missouri.
Protests continued Wednesday night as several demonstrators marched the streets of New York, while some blocked roadways and torched several vehicles, including a police cruiser. Police reportedly said early Thursday that a suspect had been taken into custody for setting fire to vehicles.
Police reportedly closed New York's Triborough Bridge, officially known as the Robert F. Kennedy Bridge, in an attempt to block protesters. Late Wednesday night, reports also emerged of police arresting protesters who were staging a sit-in on the Brooklyn Bridge, blocking traffic in both directions.
© Copyright IBTimes 2023. All rights reserved.
FOLLOW MORE IBT NEWS ON THE BELOW CHANNELS