ESPN New England Patriots Apology: 'Spygate' Mistake In Scandal Coverage Admitted By Sports Network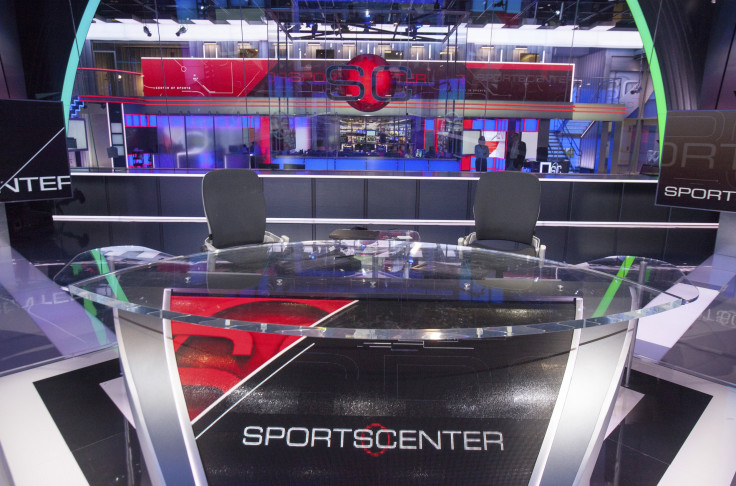 ESPN issued an apology Thursday to the NFL's New England Patriots franchise for a mistake made while reporting on the team's scandals. The apology was for a mistake made while addressing the Pats' 2002 so-called Spygate scandal, not for a controversial report on underinflated footballs during New England's current so-called Deflategate firestorm.
The apology was delivered by SportsCenter anchor Steve Levy at about 12:20 a.m. EDT Thursday during a late-night edition of the program, according to USA Today's sports blog For The Win. The network apologized for citing a false report from the Boston Herald that said the Patriots illegally filmed a St. Louis Rams walk-through practice before Super Bowl XXXVI. The Herald apologized for the story in 2008 after it was proven no such tape existed.
"That story was found to be false and should not have been part of our reporting," Levy said on SportsCenter. "We apologize to the Patriots organization."
Sypgate had been brought up as a past run-in with the league by ESPN personalities during the discussion surrounding the Deflategate scandal. During that discussion ESPN re-reported the retracted story from the Boston Herald, which they apologized for. But backers of the Patriots have been critical of a recent report by ESPN from the beginning of the Deflategate saga, which the network has not apologized for.
In the wake of the breaking Deflategate scandal, in which many accused New England of deliberately deflating footballs in last year's AFC Championship game, ESPN's Chris Mortensen reported 11 of the 12 Pats' footballs were underinflated by a full 2 pounds per square inch. Mortensen's report was later shifted to say 11 balls were "significantly" underinflated and it was found that the footballs were much closer to the NFL's legal limits.
The original report by Mortensen has been cited as helping to turn Deflategate into a nationwide scandal, and many had hoped ESPN would issue an apology for getting the initial facts wrong.
The Patriots were quick to point out that they had received an apology from the network, even if it wasn't directly about Deflategate reporting. The team's official Twitter account posted video of the broadcast to let its followers know.
The Deflategate saga has continued as Pats QB Tom Brady and the NFL's Players Association remain embroiled in legal wrangling with the NFL over the quarterback's four-game suspension. The next court date is Aug. 31, as both sides have presented oral arguments to Judge Richard M. Berman in the U.S. District Court in New York City.
© Copyright IBTimes 2023. All rights reserved.