EU Refugee Crisis: Germany Expects Arrival Of 3.6 Million Refugees By 2020, Report Says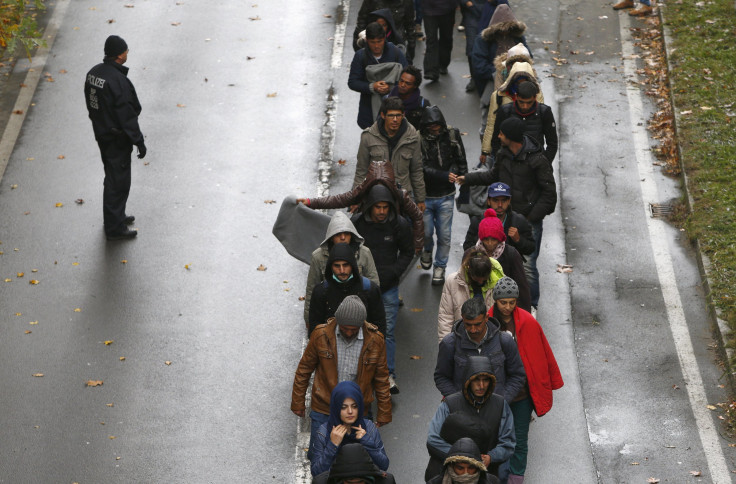 UPDATE: 5:49 a.m. EST — The head of Germany's Federal Office for Migration and Refugees Thursday denied a report that said the country was expecting the arrival of 3.6 million refugees by 2020, according to Reuters.
"I'm not expecting these numbers," Frank-Juergen Weise told reporters when asked about the estimates reported by German newspaper Sueddeutsche Zeitung. He said that the influx of refugees cannot be estimated as the numbers depend on several external factors including how the U.S. and Russia negotiate on the Syria crisis and the reaction of Turkey, from where many refugees leave to enter the European Union by boat.
Original story:
Germany expects the arrival of 3.6 million refugees by 2020 as the country continues to struggle with a large influx of those seeking shelter in Europe, local media reported Thursday. The news comes as German Chancellor Angela Merkel continues to face domestic pressure to backtrack on her open-arms refugee policy.
Internal estimates by the Economy Ministry in coordination with other ministries calculated the number and also stated that an average of half a million people may arrive each year in Germany, local newspaper Sueddeutsche Zeitung reported, according to Reuters. Germany, which has some 80 million inhabitants, saw more than 1 million refugees arriving in the country last year.
The Economy Ministry created "an internal, purely technical estimate on migration in coordination with other government departments" in order to project economic development, the report said.
However, no official government estimates have been released on how many refugees might enter Germany in the next few years.
German federal police reportedly said Wednesday that only 103 refugees arriving on Tuesday were registered, a sharp drop in the number as authorities put in place tighter controls along the Balkan route. Over 2,000 refugees were arriving daily at the start of the previous week, Reuters reported.
Amid Germany's concern to control the refugee crisis, Amnesty International warned that the country was "losing sight of human rights." Germany issued new laws that increased police powers to detain refugees as political tensions continue to grow and attacks against asylum-seekers increase.
Merkel, who has been demanding a fair distribution of refugees among all European Union members, has faced several criticisms for her policies. Merkel also supports a plan under which transit country Turkey would seal its borders and then fly refugees to Europe where they would be offered asylum under an EU quota system.
Last month, over 40 members of Parliament from Merkel's Christian Democratic Union party wrote to her, urging greater control over the country's borders and better checks at entry points.
Although Merkel said that Germany can handle the 1.1 million refugees who arrived in 2015, and potentially more in 2016, nearly 40 percent of Germans believe that she should harden her stance on the refugee policy, according to January's Insa survey for Focus magazine.
The government said earlier this month that more than 91,000 people registered as asylum-seekers in Germany in January.
Last week, European Commission President Jean-Claude Juncker told Germany's Bild daily that he supports Merkel's policy.
© Copyright IBTimes 2023. All rights reserved.
FOLLOW MORE IBT NEWS ON THE BELOW CHANNELS