Is Europe Gearing Up For World War III? Biggest Shipment Of US Armaments Since End Of Cold War Arrives In Germany Ahead Of NATO Exercises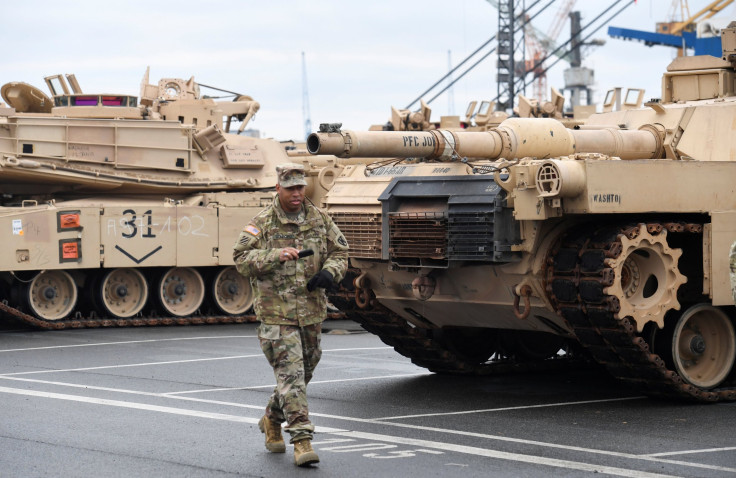 U.S. troops began offloading some 2,800 pieces of equipment, including 87 tanks and 144 Bradley fighting vehicles, Sunday in the German port city of Bremerhaven ahead of planned NATO exercises at the end of January in Eastern Europe, just days after U.S. intelligence officials unveiled a report on Russian attempts to influence the U.S. presidential election.
Air Force Lt. Gen. Tim Ray, deputy commander of the U.S. European Command, said the United States is trying to reassure allies of its "rock-solid commitment to Europe." The armaments also include self-propelled howitzers.
Some military equipment arrived in the German port city of Bremerhaven Friday in the biggest shipment of U.S. military equipment to Europe since the end of the Cold War. The equipment next goes to training sites in Poland for NATO exercises.
"This is one part of our efforts to deter Russian aggression, ensure territorial integrity of our allies and maintain a Europe that is whole, free, prosperous and at peace," Ray told reporters in Bremerhaven.
President-elect Donald Trump, who during the election campaign indicated the U.S. might reduce its participation in NATO, tweeted Saturday he hoped the U.S. and Russia will have a better relationship once he's sworn in Jan. 20.
Stars and Stripes reported 3,500 troops from the 3rd Armored Brigade Combat Team, 4th Infantry Division, out of Fort Carson, Colorado, will take part in the exercises dubbed Operation Atlantic Resolve marking the start of a continual, year-round presence of an armored brigade in Europe.
The brigade's headquarters will be in Poland while subordinate units will operate out of the Baltics, Romania and Bulgaria. One regiment will be stationed at the Army post in Grafenwoehr, Germany.
Military.com reported the Pentagon completed the largest single shipment of ammunition for Army and Air Force units in Europe in 20 years in November to increase the readiness of U.S. forces.
The U.S. also plans to deploy a combat aviation brigade with 10 Chinook and 50 Black Hawk helicopters, along with 1,800 personnel, from Fort Drum New York, and 24 Apache attack helicopters and 400 personnel from Fort Bliss, Texas, and a Stryker unit from Germany to Poland, the Associated Press reported.
The U.S. currently has 70,000 troops in Europe.
Britain is sending fighter jets to the Black Sea area, along with a battalion of troops, tanks and light armor to Estonia in the spring. Germany plans to send troops and tanks to Lithuania.
The deployment is about "just showing the strength and cohesion of the alliance and the U.S. commitment to maintain the peace on the continent," Maj. Gen. Timothy McGuire said.
NATO sees the buildup as a defensive measure in light of Russian annexation of Crimea in 2014 and its involvement in the unrest in Ukraine. Russia, however, sees NATO's actions as aggression.
© Copyright IBTimes 2022. All rights reserved.
FOLLOW MORE IBT NEWS ON THE BELOW CHANNELS