Europe Refugee Crisis: Greek Authorities Slam Macedonia Over 'Excessive' Force Against Asylum-Seekers, Migrants At Border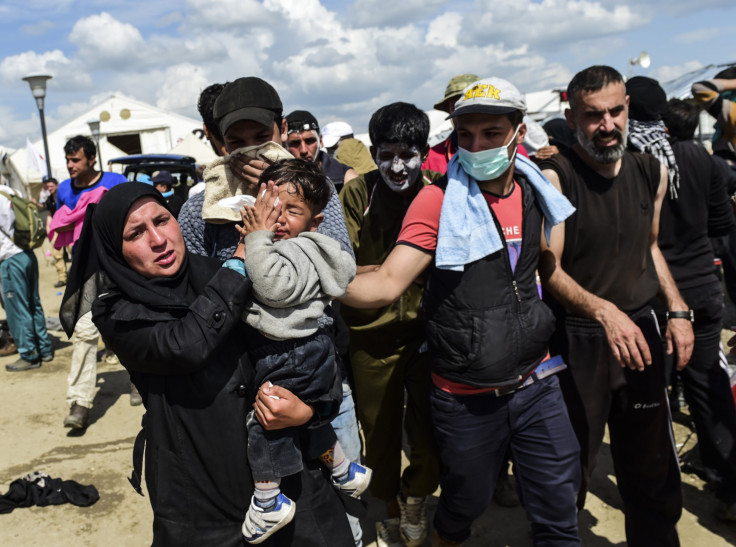 Greek authorities slammed Macedonia over its response to a confrontation with migrants and refugees along the border between the two countries, saying the neighboring nation's police used "excessive" force. After Macedonia sealed its southern border with Greece several weeks ago, an estimated 11,000 asylum seekers and other migrants found themselves stranded in makeshift camps in northern Greece.
Greek migration agency representative Giorgos Kyritsis told a Greek radio station Monday that the Macedonian response constituted "an excessive and asymmetrical use of force," Agence France-Presse reported. Kyritsis said he called for police observers to be sent to the Macedonian side of the border.
The confrontation began Sunday morning when several dozen people attempted to scale the border fence, while throwing rocks at police, according to Macedonian authorities. Macedonian police fired rubber bullets and tear gas into the crowd, injuring more than 300 people. The gas spread to a nearby camp where children and other people uninvolved in the border debacle were also injured.
Tensions have been high in Greece since the European Union and Turkey reached an agreement designed to stem the flow of migration to Europe. Throughout 2015, Greek officials basically documented newly arrived asylum seekers and other migrants before waving them through the border, as the vast majority sought to settle permanently in Northern European countries such as Germany or Sweden.
Under the deal that went into effect in March, however, all people who crossed illegally from Turkey to Greece can be sent back to Turkey. About 91 percent of the arrivals in Greece last year were bona fide refugees, according to the United Nations, and humanitarian groups have slammed the pact as not being in the best interest of vulnerable groups, such as refugees of the Syrian Civil War.
More than 1 million people crossed into Europe in 2015, as escalating conflicts throughout the Middle East and North Africa increasingly pushed people to seek asylum. Around one-half of all asylum seekers in Europe in 2015 were Syrian, and the EU-Turkey deal provides that for every Syrian returned to Turkey, one already in that country would be resettled in Europe.
© Copyright IBTimes 2023. All rights reserved.