Europe Refugee Crisis: Police Clash With Asylum-Seekers And Migrants Along Greece-Macedonia Border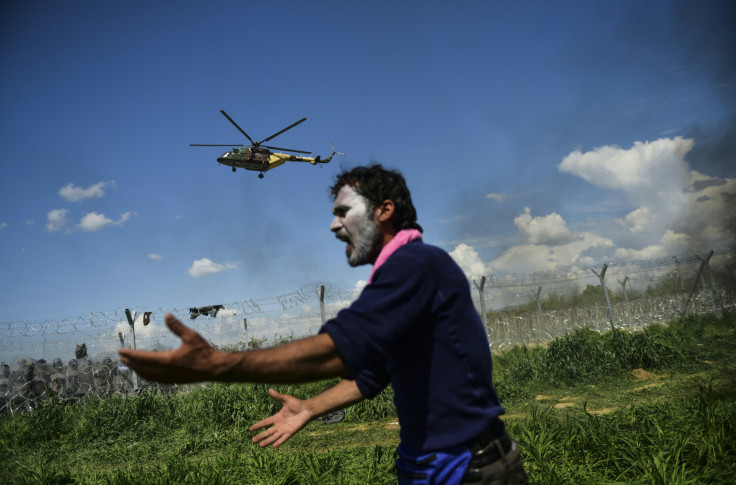 UPDATE: 4:34 p.m. EDT – The Macedonian police fired teargas and rubber bullets on refugees and economic migrants when they attempted to cross the Greek-Macedonian border Sunday morning, a Macedonian official who preferred to remain anonymous told Reuters, contradicting earlier statements from Macedonian authorities. At least 300 people were treated for injuries following the clashes, of whom at least 30 were treated for wounds from rubber bullets, medical nongovernmental organization Doctors Without Borders said.
Original story:
Police clashed with refugees and economic migrants along the Greek-Macedonian border Sunday after several people attempted to scale the border fence. At least 260 people were injured, medical nongovernmental organization Doctors Without Borders told Agence-France Presse, and tear gas from the clashes spread to a nearby makeshift camp, where children and others uninvolved in the violence suffered from respiratory problems. "The indiscriminate use of chemicals, rubber bullets and stun grenades against vulnerable populations ... is a dangerous and deplorable act," Greek government spokesman George Kyritsis said, Reuters reported.
Around 100 people gathered on the northern Greek side of the border Sunday morning after being refused passage to Macedonia for weeks. After asking border guards for the right to pass and being denied, several dozen people attempted to scale the fence. Law enforcement fired rubber bullets and tear gas to prevent them from crossing. Macedonian authorities deny having used rubber bullets, while Doctors Without Borders said they treated at least 30 people for wounds from rubber bullets.
More than 10,000 people have been stranded on the border between Macedonia and Greece after a deal between the European Union and Turkey came into effect in late March. Under the deal, all people who cross into Greece from Turkey illegally can either apply for asylum in Greece or risk being sent back to Turkey. The deal includes a one-in, one-out provision where for each Syrian returned to Turkey, one Syrian in Turkey will be resettled in Greece.
The controversial deal was passed in an attempt to stem the flow of migration to Europe as EU authorities struggled to cope with an influx of asylum-seekers and economic migrants in 2015. Violent conflicts throughout the Middle East and North Africa — particularly in Syria, where a civil war has raged since 2011 — prompted more than 1 million people to cross illegally into Europe last year.
The vast majority of people arriving to Europe are bona fide refugees, according to the United Nations, causing many refugee advocates to condemn a deal that they say does not respect the rights of refugees.
"The broader context of this agreement — to stem the migration flow to Europe — makes clear that this joint endeavor is intended not genuinely to protect Syrian civilians from harm but rather to contain the flow of displaced people. It is more likely to be a death trap than a place of sanctuary," Human Rights Watch Director Kenneth Roth wrote in an open letter to EU leaders March 15.
© Copyright IBTimes 2022. All rights reserved.
FOLLOW MORE IBT NEWS ON THE BELOW CHANNELS