Europe's Markets Close Up Friday, But Post Large Declines for 2011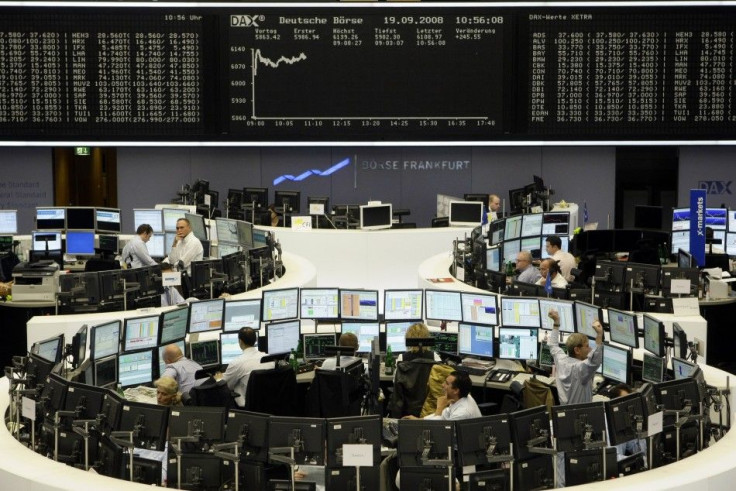 (Reuters) - Britain's top share index enjoyed a late rally on Friday but ended 2011 down 5.7 percent, led lower by riskier assets as the threat of economic meltdown smouldered in the background.
The FTSE 100 closed the truncated last trading session of 2011 up 5.51 points, or 0.1 percent, at 5,572.28, after a year in which uncertainty has dominated investors' minds as governments resort to austerity measures to cull mounting debt pile; for the year the FTSE 100 fell 5.6 percent. Germany's DAX 30 closed up 50 points Friday to 5,898 to end the year with a 14.7 percent decline. France's CAC 40 rose 32 points Friday to 3,160 to finish 2011 down 17 percent.
The FTSE volatility index -- a gauge of investor fear -- rose 18.4 percent in 2011, illustrating the degree of market anxiety.
In a recent Thomson Reuters poll, equity strategists forecast the FTSE 100 to end 2012 at around 5,600, just 0.5 percent higher than the 2011 close, with worries over the breakup of the Eurozone, debt problems in the United States and growth in Asia continuing to cloud the outlook.
We might see a rebound in riskier asssets at the start of the year when fund managers return to rebalance their portfolios, but more likely the index will take on a similar theme in 2012 with defensives leading the gainers as the growth and debt crisis rumbles on, Jimmy Yates, head of equities at CMC Markets, said.
Reflecting the nervousness over the global economic outlook, banks lost 30 percent of their value over the year as investors worried about their exposure to Europe's debt crisis, new regulations impacting earnings and balance sheet strength.
The UK's part state-owned lender Lloyds Banking Group was the biggest loser, down 61 percent.
Meantime there was more rhetoric on Friday surrounding the future of the euro zone, which has so far failed to convince investors.
German Finance Minister Wolfgang Schaeuble, in an interview published in German newspaper Handelsblatt, said he expects the euro zone will be stabilised within 12 months and ruled out a breakup of the single currency.
Miners fared little better than banks, down 29.6 percent as the debt crisis in Europe threatened to spread, crimping growth in key consumer China.
Kazahkmys was the year's worst performing UK-listed miner, down 43.2 percent.
Copper headed for its first annual drop in three years on demand fears as China's vast factory sector shrank again in December, as demand shrank at home and abroad.
OIL SUPRISE
Integrated oils were lower on Friday -- a result of profit taking from the strong performance in the previous session -- but have outshone other cyclicals over the last 12 months, with strategists saying the sector has taken on defensive characteristics in terms of cash flow, dividends and visibility.
The integrated oil sector rose 4.9 percent on the year, led by Royal Dutch Shell which gained 11.2 percent.
The best performing stocks of 2011 have been mainly those with defensive characteristics: proven strong returns in tough economic times, strong balance sheets and reliable dividends.
Drugmaker Shire gained 44.5 percent, making it the best performing stock, while the likes of British American Tobacco, Aggreko, Vodafone and Unilever gained as much as 37 percent.
There were decent performances from precious metals miners too, with RandGold Resources up 24 percent as investors used the equity as a proxy for gold, which is seen as a safe haven for investors in tumultuous times.
With the index in retreat for much of the year, some measures continue to make UK-listed equities appear good value, despite the economic turmoil, compared to other asset classes.
CMC's Yates said with the FTSE 100 trading on a historic price-to-earnings ratio of around 10 times, compared with an average of about 14 times, stocks could get a boost if governments take action to stimulate growth and resolve debt problems.
The main UK index has an average dividend yield of around 4.1 percent, compared with a yield on a 10-year gilt of 1.97 percent -- also making shares look relatively good value.
From a technical perspective, the FTSE 100's relative strength index suggested blue chips were edging towards overbought territory, while the 200-day moving average, a level at which it has failed to close above since end-July 2011, remains a significant hurdle.
Analysts said the FTSE 100 needs to convincingly clear its early December high of around 5,600 if it is going to push higher, but with significant resistance levels all the way to 5,700, and continuig macro pressures, its progress may prove fraught with difficulties.
(Additional reporting by Jon Hopkins and Tricia Wright.)
--
© Copyright Thomson Reuters 2023. All rights reserved.