Evander Holyfield TKO Loss Prompts Mike Tyson's Former Coach To Make Wild Proposal
KEY POINTS
Teddy Atlas calls for pension for retired boxers after watching Evander Holyfield
Holyfield insisted he wasn't hurt in the bout against Vitor Belfort
Triller boss Ryan Kavanaugh claims Tyson is "too scared" to face "The Real Deal"
One of Mike Tyson's former trainers is on point about Evander Holyfield's disappointing boxing return.
Contrary to what most boxing fans expected, Holyfield's didn't manage to live up all the hype of his long-awaited comeback.
Within just two minutes of boxing, "The Real Deal" was stopped by former UFC star Vitor Belfort, who was later declared winner via TKO.
Commenting on the subject, veteran boxing trainer and analyst Teddy Atlas stressed that he "wish" retired boxers were given "pension" so that the likes of Holyfield wouldn't have to suffer such humiliating defeat in front of thousands of boxing fans.
"Other major sports have a pension, wish mine did so these great warriors wouldn't have to do what Evander [Holyfield] did tonight," Atlas Tweeted.
"Put a 2% tax on all the large promotions during the year that gross millions, put into a fund for retired fighters," he added. "Greedy promoters wouldn't even feel it."
Indeed, those who were concerned about Holyfield's condition were convinced that the referee did the right thing of stopping the fight.
However, the 58-year-old insisted that Belfort did nothing to him inside the ring.
"The guy [Belfort] pushed me, the guy is strong," Holyfield said after the fight. "But I wasn't hurt. There wasn't no shot that hurt me real bad. He got me with a shot and I was off balance. I'm not hurt. It's kind of sad."
"I think it was a bad call," he exclaimed. "I think the referee should've allowed [it], I'm telling you, you shouldn't have stopped the fight that quick."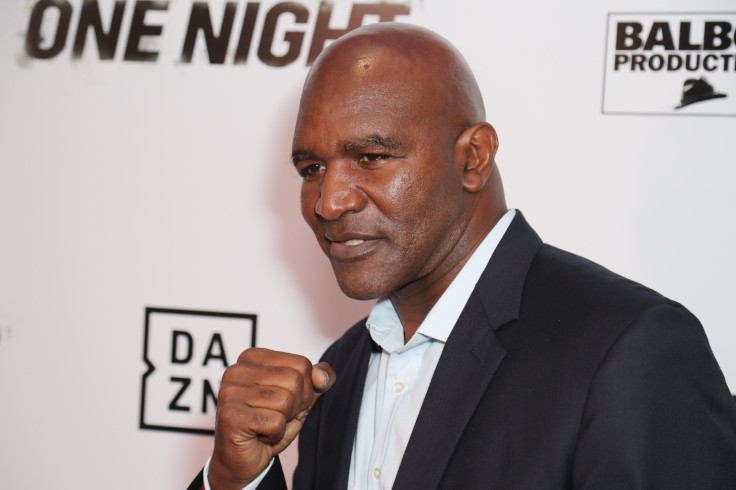 Leading to the Belfort fight, Holyfield has been vocal about his desire to take on his former heavyweight nemesis Tyson.
When asked if he is still down to face "Iron Mike" for the third time despite his poor showing, Holyfield quickly replied, "Of course I would."
Holyfield has been working with Triller to make the talked-about trilogy fight against Tyson a reality.
According to Triller executive Ryan Kavanaugh, there was already "an offer," made but he was told that Tyson was "too scared" to fight Holyfield.
"We have an offer out to Mike [Tyson]," Kavanaugh revealed. "We know he is trying to stage a fight with Lennox Lewis. We have been told that he is scared to fight Evander [Holyfield]. There has been back and forth hoopla, there is a massive payday ready for Mike to fight on Thanksgiving. A massive payday, one of his biggest! But we can't seem to push it along."
"Now I have heard, from a number of reliable sources, that Mike is too scared. He thinks Evander would knock him out."
© Copyright IBTimes 2022. All rights reserved.
FOLLOW MORE IBT NEWS ON THE BELOW CHANNELS