Explosions Rock Baghdad As Rockets Slam Into Green-Zone; Military Bases Attacked
KEY POINTS
Projectiles hit near Baghdad presidential palace, U.S. embassy
Rockets strike outside Balad air base, north of Baghdad
Mortar attack reported from al Kindi base in Mosul
No injuries reported to U.S. troops; some civilians injured
Multiple blasts were reported from Baghdad's hightly fortified Green Zone on Saturday. Local sources said the blasts, which were either rockets or mortars, or both, caused casualities among civilians. The Green Zone houses government buildings and foreign embassies.
Several projectiles fell near the Iraqi capital's presidential complex, which also houses U.S. troops, while the another rocket blast was reported from near the U.S. embassy building. One of the rockets fired at the embassy struck a house, reports said.
Reuters reported that another rocket attack targeted the Balad air base located 80 kilometers north of Baghdad and which houses U.S. troops. No casualties were reported among U.S. troops. CNN reported quoting an Iraqi civilian contractor that four rockets struck outside the base's southern gate.
Mortars reportedly struck the Al-Kindi military base in Mosul, local sources said. It is not clear who is behind the attacks but the hand of Iranian-backed Shiite militias is suspected.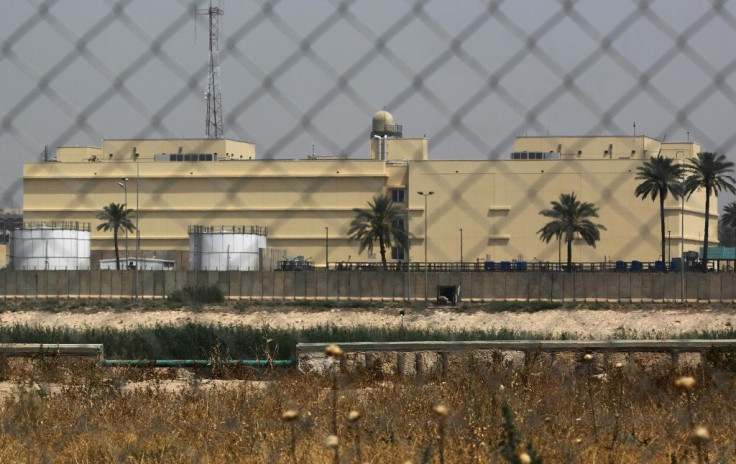 The rocket attacks come as crowds gathered in the Iraqi capital to mourn Iranian Quds Force commander Gen. Qasem Soleimani and top leaders of the Iranian-backed Popular Mobilization Forces in Iraq, who were killed in a U.S. airstrike earlier this week. Iran has vowed "harsh revenge" for the attack.
Local reports said the Iranian-backed Kataeb Hezbollah has asked Iraqi security forces to stay away from U.S. bases from Sunday. The militia was behind the recent siege of the U.S. embassy in Baghdad, and was earlier struck by U.S. Air Force after an attack on an airbase killed an American contractor.
Earlier on Friday, reports said an airstrike had targeted a convoy of the Popular Mobilisation Forces north of Baghdad.
© Copyright IBTimes 2023. All rights reserved.