F1 2016: Lewis Hamilton Facing Title Challenge From Nico Rosberg, Ferrari Heading Into Chinese Grand Prix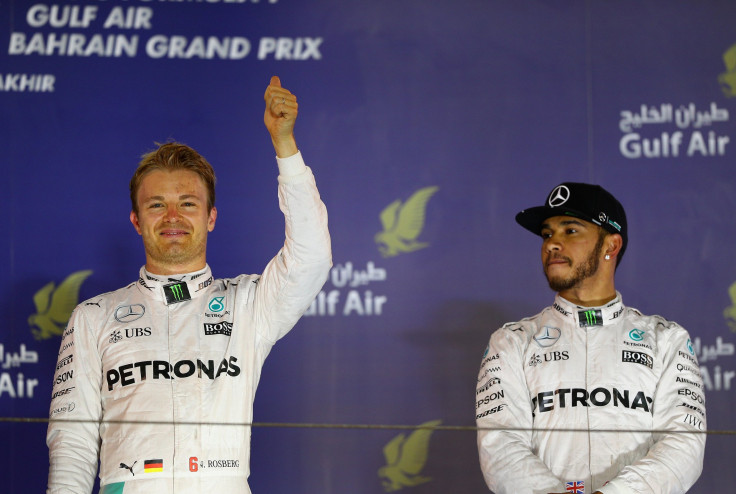 While Formula 1 continues to be dominated by off-track politics and the uncertainty over exactly how the qualifying sessions should function, Nico Rosberg has quietly set up a potentially engrossing battle for the drivers' title. Heading into next week's Chinese Grand Prix, Rosberg has won both races in 2016 and has a 17-point lead over Mercedes teammate, and defending champion, Lewis Hamilton in the driver standings.
After losing out in a fractious battle for the championship in the first season of Mercedes' dominance in 2014, Rosberg offered little resistance last year. Hamilton had back-to-back titles with three races of the season still to go. When, after clinching the title at the United States Grand Prix, Hamilton dismissively tossed a second-place cap to Rosberg, it spoke volumes for the power balance between the two in 2015.
But Rosberg's irritated throw back of the cap at Hamilton now appears to have been the start of a determination not to allow himself to be the subject of such condescension from his teammate again. The German was uplifted by winning the final three races of last season, even they appeared little more than consolation victories with Hamilton having taken his foot off the gas.
That same suggestion cannot be leveled at Rosberg's imperious start to 2016, however. In both Australia and Bahrain Hamilton demonstrated that he retains more raw pace than his teammate by qualifying in pole position, but it was Rosberg who crucially got the better start and had the steadier race. Last week in Bahrain, Hamilton could only finish third after a first-lap shunt with Williams' Valterri Bottas.
Rosberg, though, insists he is not reveling in the struggles of his teammate.
"I'm not rejoicing in his issues I'm just really focused on doing my job and getting the perfect start as I did today and beating him in that way," Rosberg said in the wake of his Bahrain triumph. "At the same time, Lewis is going to come back and I know that because he has been so strong in the last two years, so that's for definite."
Rosberg will need no reminding that he held multiple leads in the 2014 title race only for Hamilton to claw him back. Yet with five consecutive victories, he has already put himself among some elite company, including Hamilton, in the annals of F1. Another triumph in Shanghai next weekend and he will behind only three men—Michael Schumacher, Alberto Ascari and Sebastian Vettel.
Vettel's incredible nine wins in a row came in 2013, the last season of his and Red Bull's dominance. And, while he can't anticipate enjoying anything like the same superiority at Ferrari, the four-time champion will still retain plenty of hope that he can make it at least a three-way battle for this year's drivers' title.
Thus far there will be a frustration of what might have been for Vettel. Having led the Australian Grand Prix, Ferrari's pit strategy backfired to leave him third, before in Bahrain he didn't even make it to the grid after an engine failure ahead of the start. Those results have left Vettel already 35 points behind Rosberg in the driver standings.
Still, there is a sense that Ferrari have so far been holding something back, fearing exactly the engine issues that cost Vettel in Bahrain. And, with a major upgrade set to be introduced at the Spanish Grand Prix next month, Ferrari could become an even greater threat to Mercedes for the rest of the season. Perhaps that could even bring Kimi Raikkonen into the reckoning, on the back of the Finn's second-place finish in Bahrain.
What does look likely, though, is that the 2016 Formula 1 season is set for a more interesting title race than many had anticipated.
© Copyright IBTimes 2023. All rights reserved.