Fast Food Chains Market To Black And Poor Children More Than Other Groups [STUDY]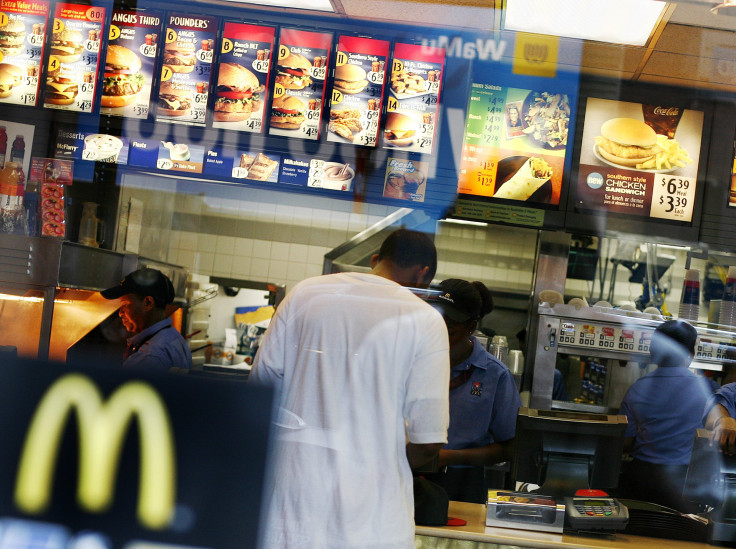 Research shows that nearly a third of U.S. kids between the ages of two and 11 consume at least some fast food on a daily basis, which should come as no surprise considering many fast food chains like McDonald's and Burger King often market their products to adolescents.
But not all kids are getting the same message. A new study finds that fast food restaurants in predominantly black communities, which are already at greater risk for obesity in the U.S., were more likely to direct their ads toward children than those in mostly white areas. In fact, they were about 60 percent more likely to target children, including using kids' meal toy displays and indoor playgrounds in their restaurants, researchers at the University of Illinois at Chicago and Arizona State University reported. They also looked at which restaurants' advertisements contained cartoon characters.
"The associations we observe are troubling because we know that black children are at higher risk for consuming unhealthy diets including fast food, and have higher prevalence of obesity," the study's lead author, Punam Ohri-Vachaspati, told the Washington Post. Researchers also noted restaurants in middle- and low-income communities advertised toward children more regularly than those in high-income areas. The study looked at 6,716 fast food restaurants representing 434 different communities.
The high fat, calorie and sodium contents and low nutritional value of fast food has been linked to a variety of health issues, including diabetes and cardiovascular disease. Its expediency and low cost often means that high-fat, low-nutrition food frequently ends up in the bellies of kids from low-income, rural and minority neighborhoods. Fast food is a major dietary staple in poor neighborhoods across the U.S., especially among inner-city residents of color, previous research has shown.
The prevalence of obesity among kids aged six to 19 has tripled over the last three decades, according to the Centers for Disease Control and Prevention. The center found that children tend to have diets high in added sugar, which accounted for roughly 18 percent of their total daily calories. "Marketing food to children is of great concern not only because it affects their current consumption patterns, but also because it may affect their taste and preferences," Ohri-Vachaspati said in a statement.
Fast food restaurants are especially widespread in poorer communities. In West Oakland, a neighborhood of 30,000 people whose residents are mostly black and Latino, there was one supermarket, thirty-six liquor and convenient stores, and a fast food restaurant on almost every corner, according to the California Law Review.
Some sociologists call this saturation of fast food locations in poor, minority neighborhoods "food oppression." While many people are aware of the health risks of eating fast food regularly, people in affluent communities are more likely to encounter information about how to make healthy eating choices, National Geographic reported.
© Copyright IBTimes 2023. All rights reserved.
FOLLOW MORE IBT NEWS ON THE BELOW CHANNELS