FDA Unveils 9 New Graphic Tobacco Labels, Warning Smokers [PHOTOS]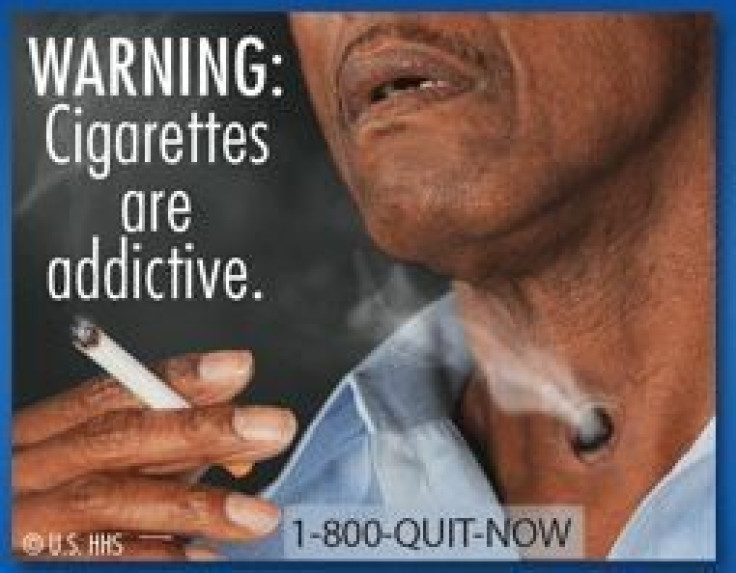 Nine new warning labels with graphic images will be required on U.S. cigarette packs, FDA announced on Monday.
Beginning September 2012, FDA will require larger, more prominent cigarette health warnings on all cigarette packaging and advertisements in the United States. These warnings mark the first change in cigarette warnings in more than 25 years and are a significant advancement in communicating the dangers of smoking, FDA stated on its website. The introduction of these warnings is expected to have a significant public health impact by decreasing the number of smokers, resulting in lives saved, increased life expectancy, and lower medical costs.
The labels will cover the top half of a tobacco package on both sides, each including a national quit smoking hotline number. 20% of an ad will also be given to warning labels.
FDA aims at curbing tobacco use, which is responsible for around 443,000 deaths in the U.S. every year.
These kind of graphic warning labels strengthen the understanding of people about the health risks of smoking, FDA Commissioner Margaret Hamburg told The Associated Press in an interview. We clearly have to renew a national conversation around these issues and enhance awareness.
The step marks the most dramatic anti-smoking move by the FDA since the agency received new responsibility to regulate tobacco products.
Among the 36 proposed warning labels, the FDA chose the nine winning labels after months of discussion, with input from health experts and the public, as well as other stakeholders.
Here are the nine labels that survived:
© Copyright IBTimes 2023. All rights reserved.