Fearful Russian Troops Armor Trucks With Junk Metal, Wooden Logs Against Ukrainian Ambushes
KEY POINTS
The "V" and "Z" markings were visible in these trucks
The vehicles were carrying PMP pontoon bridge elements
Earlier, a T-72 tank was spotted using sandbags on its turret
Frequent Ukrainian ambushes and lack of security are driving desperate Russian troops to use junk metal and wooden logs as armors for their vehicle as they navigate the enemy territory.
Images of Russian KAMAZ trucks with huge wooden logs and metal bars affixed on the front bumper as protection did rounds on social media over the weekend. However, the "V" and "Z" markings were visible on these trucks, reported The Drive.
The logs were reportedly used to protect the trucks' radiators from small arms fire and to avoid overheating and breakdown. The vehicles were said to be carrying PMP pontoon bridge elements, likely the ones used to build a bridge across the Pripyat River in the Belarusian side of the Chernobyl Exclusion Zone. The elements are said to be prized assets and are targets of the Ukrainian forces, besides the fuel trucks.
This comes as Russian troops face setbacks from Ukrainians, targeting Russian convoys moving through the country. The U.S. intelligence officials too had said that Ukrainian troops have managed to attack and incapacitate some vehicles at the front despite Russians managing to shield the convoy from air attack.
Earlier, there were reports that the Russians were using sandbags on the turret of T-72 tanks to augment its explosive reactive armor blocks. The images of the tanks with wooden logs and sandbags as improvised armors went viral too. Many had then commented that the logs were carried on board to help these tanks add traction in mud, a major threat to the Russian military's off-road operations.
The Russian tanks were also spotted with metal slat armor on either side. A cage structure was also erected on top of the turret to save it from missiles.
Meanwhile, the supply lines of Russian convoys are reportedly getting disrupted, as indicated by the satellite images that show miles-long traffic jams of trucks and armor north of Kyiv. Ukrainian troops and civilians were also trying to resist the invasion by dismantling the road signs to confuse the Russian forces and lure them to wrong turns into waiting ambushes.
The Russian Air Force also suffered a severe casualty over the last few days, including numerous combat jets, helicopters, and at least one small drone. According to the researchers at the Oryx blog, Russia loses a number of combat jets - one Su-30SM Flanker, two Su-34 Fullbacks, two Su-25 Frogfoots - as well as two Mi-24/Mi-35 Hind and two Mi-8 Hip helicopters, and an Orlan unmanned aircraft.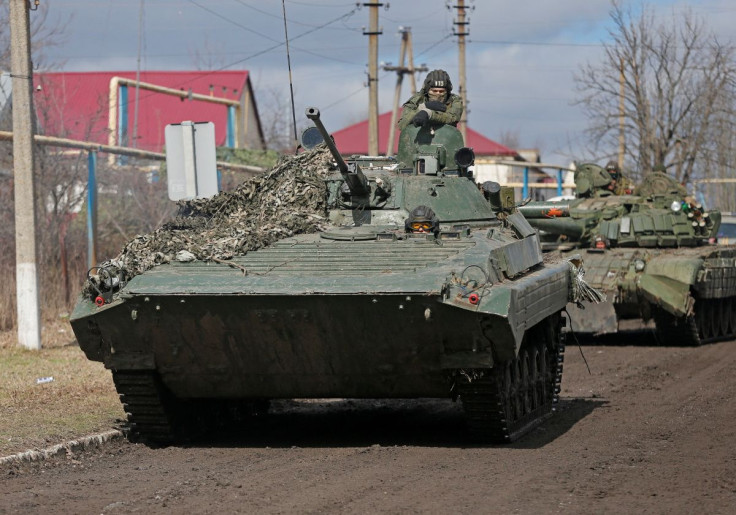 © Copyright IBTimes 2023. All rights reserved.