Ferguson Again? Al Sharpton Calls For Full Investigation Into Fatal Police Shooting Of Unarmed Brooklyn Man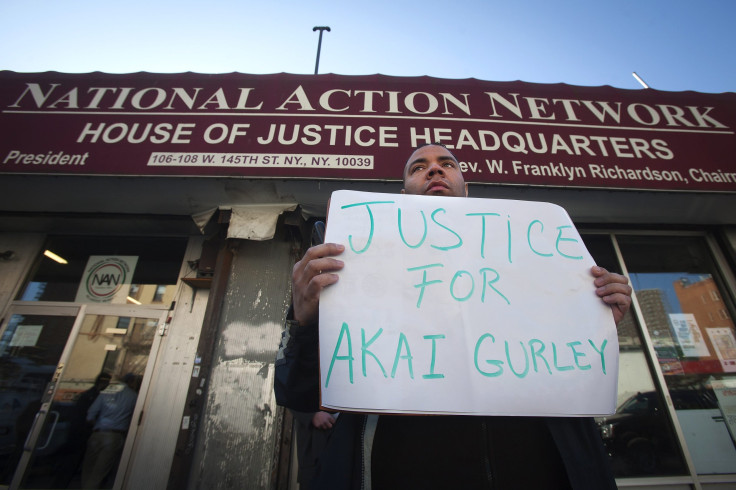 The Rev. Al Sharpton demanded a thorough investigation Saturday into a rookie police officer's fatal shooting of an unarmed man in Brooklyn, N.Y. Although the New York Police Department has labeled the incident Thursday night an accident, Sharpton said further examination was needed to uncover why Officer Peter Liang shot and killed 28-year-old Akai Gurley in a public housing complex, the Associated Press reported.
"We're not demonizing the police. We don't know what happened ... this young man should not be dead." Sharpton said at a National Action Network news conference with Gurley's family. "From Staten Island, to Ferguson, now back to Brooklyn to the Pink Houses, it is time for us to stop ducking the issue and dealing with the issue of police conduct, police training, and the rights of citizens."
Liang, who has been on the police force for less than 18 months, was conducting a vertical patrol of the Louis H. Pink Houses stairwells Thursday at about 11:15 p.m. EST when he mistakenly fired his 9 mm gun. The bullet hit Gurley, who was 10 feet away walking down the steps with his girlfriend. "The cop didn't present himself, he just shot him in the chest," his girlfriend's sister, Janice Butler, told the New York Times. The police commissioner told reporters Gurley was "totally innocent."
The NYPD put Liang on modified duty. No charges have been filed, but his rookie status means he can be fired without a hearing. "As we continue to gather the facts, the fatal shooting of this unarmed man is deeply troubling and warrants an immediate, fair and thorough investigation," Brooklyn District Attorney Ken Thompson said in a statement.
The lights in the stairwell where the incident occurred had been out for months, the New York Daily News reported. Sharpton drew similarities between Gurley and Timothy Stansbury, an unarmed 19-year-old killed by a surprised officer on a rooftop in 2004. In that case, the NYPD paid Stansbury's family $2 million.
"The issue of police going up and down dark stairwells with their guns drawn and their safety off is at the center of this Gurley case," AP quoted Sharpton as saying. "That is the policy accident that, since Stansbury, we have said to this city, 'You need to deal with.'"
© Copyright IBTimes 2022. All rights reserved.
FOLLOW MORE IBT NEWS ON THE BELOW CHANNELS