Ferguson, Missouri Update: Labor Day Weekend Rally Draws Hundreds, Businesses Reopen Following Protests In Mike Brown Death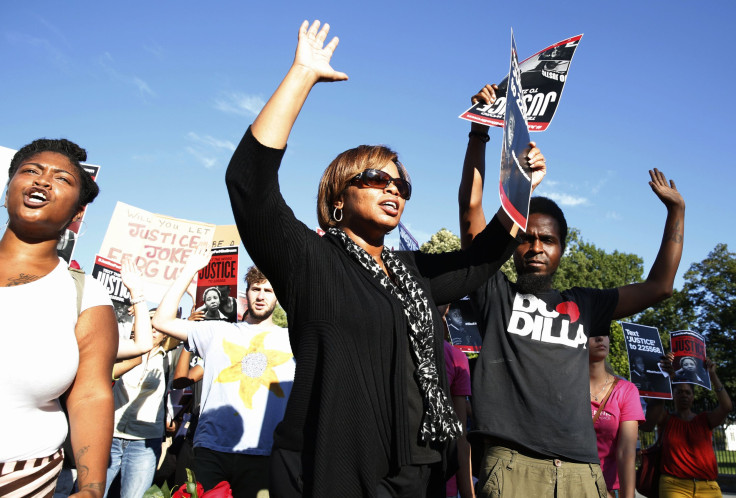 On the first day of the Labor Day weekend and three weeks after the death of 18-year-old Mike Brown, hundreds gathered in Ferguson, Missouri, to march for the slain black teenager who was shot and killed by a white police officer Aug. 9. Rally organizers pledged to keep Brown's death, an event that put a spotlight on the small suburban community and sparked national dialogue about policing and race, at the forefront of public discourse, the Associated Press reports.
"We know that his life is not going to be in vain," Rev. Spencer Booker of St. Louis' St. Paul A.M.E. Church said into a megaphone. "We know you're going to even the score, God. We know you're going to make the wrong right."
Protestors walking under heavy cloud cover and rain ended their march at a makeshift memorial at the spot where Brown was killed by Ferguson Police Officer Darren Wilson. Brown's mother Lesley McSpadden and father Michael Brown Sr. were in attendance.
Later, protestors converged in front of the Ferguson Police Department and fire station and blocked some roads, accounts on Twitter indicated. Speeches by protestors could be heard through speakers mounted to a car as police watched on from a taped-off section of the parking lot.
Meanwhile, outside of a Wal-Mart in Beavercreek, Ohio, hundreds gathered to protest the Aug. 5 shooting of John Crawford III. Crawford, who was black, was shot and killed by two white police officers inside the store after someone called to report a man waving a gun. Crawford had been carrying an air rifle. Protestors, as well as an attorney representing Crawford's family, say surveillance video of the incident clearly shows the shooting was unjustified.
© Copyright IBTimes 2023. All rights reserved.