Ferguson Protests Arrests: Cornel West, DeRay McKesson, Johnetta Elzie And Osagyefo Sekou Arrested In St. Louis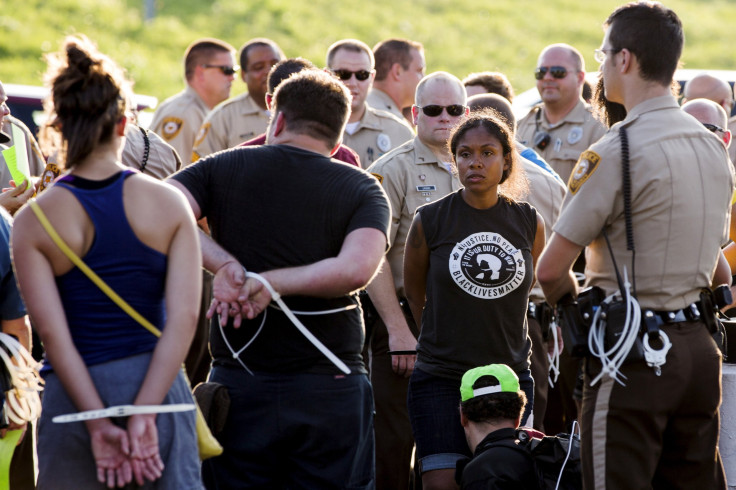 Update 11:40 p.m. EDT: Protesters took to the streets Monday night under a state of emergency in Ferguson, Missouri, gathering at the site where Michael Brown was shot to death by a white police officer one year ago. Tensions were high in the wake of the police shooting Sunday of Tyrone Harris, 18, leaving him in critical condition. Harris was injured in an exchange of gunfire and faces assault charges, Reuters reported.
St. Louis County Police reported frozen water bottles being thrown at police.
The St. Louis Post-Dispatch said approximately 150 protesters were at the scene, along with 50 reporters and 75 police officers.
Updated as of 7:50 p.m. EDT: Several activists protesting in Ferguson, Missouri while commermorating the one year anniversary of the death of Michael Brown were released from federal custody late Monday afternoon, local time, after having been arrested earlier in the day for their roles demonstrating alongside Black Lives Matter members.
Political activist Cornel West along with Black Lives Matter activists Deray McKesson and Johnetta Elzie were among them, according to a series of tweets. It was immediately unclear how many of the protesters remained in custody, if any.
A total of 57 people were arrested just hours before dozens of protesters blocked rush-hour traffic on Interstate 70 in what was supposed to be a peaceful demonstration, the St. Louis Post Dispatch reported. However, one vehicle was caught on video not yielding to the protesters and rushing through the human barriers. It was unclear if there were any injuries in that instance.
Original story: Prominent Black Lives Matter leaders and human rights activists including Cornel West, the Rev. Osagyefo Sekou, Johnetta Elzie and DeRay McKesson were arrested Monday afternoon after descending on the steps of a federal courthouse in St. Louis Approximately 40 demonstrators have been arrested, Blue Nation Review reported.
Protesters marched with linked arms to the courthouse, chanting the Black Lives Matter anthem "I Can't Breathe." At least 50 protesters jumped a police barricade at the courthouse, sat down and linked arms, tweeted a St. Louis Dispatch journalist. Police began making arrests shortly after 1:30 p.m. CDT, after St. Louis police chief Jon Belmar ordered demonstrators to either leave the area or face detention. Police officers surrounded protesters who breached the line in front of the courthouse.
Missouri Gov. Jay Nixon declared a state of emergency mid-afternoon on Monday, effective immediately, citing a potential for harm to persons and property. "The recent acts of violence will not be tolerated in a community that has worked so tirelessly over the last year to rebuild and become stronger," said St. Louis County executive Steven Stenger in a statement. "The time and investment in Ferguson and Dellwood will not be destroyed by a few that wish to violate the rights of others."
Protests began on Sunday, with demonstrators commemorating the anniversary of Michael Brown's death. Brown, an 18-year-old unarmed black teenager, had been killed by a white police officer last year in Ferguson, and protests ignited across the nation as demonstrators called for racial justice.
Protests on Sunday started off peacefully, but grew violent in the late hours of Sunday and early Monday. Gunfire was exchanged between police and protestors, and an 18-year-old friend of Brown's was shot by police and is currently in critical condition. Tyrone Harris Jr. shot at police late Sunday night, and has been charged with four counts of assault on law lnforcement in the first degree, five counts of armed criminal action and one count of discharging or shooting a firearm at a motor vehicle and is currently being held on $250,000 cash-only bond.
© Copyright IBTimes 2023. All rights reserved.