Fidel Castro Turns 86, Far From Public View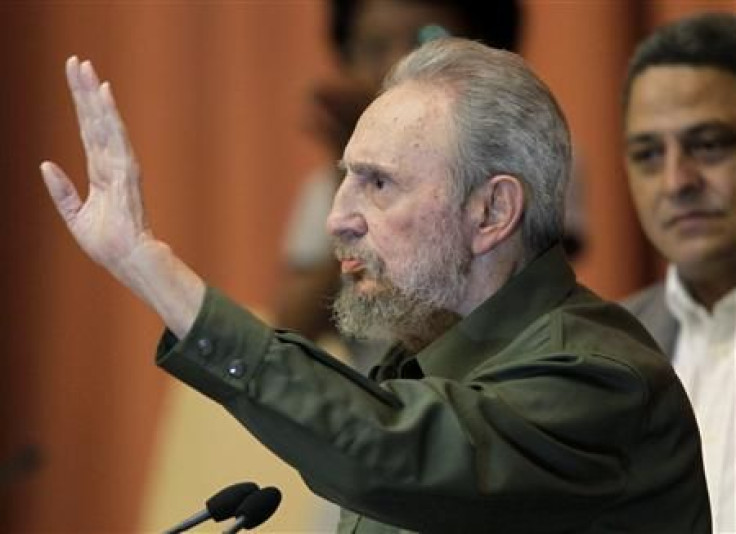 Fidel Castro turned 86 on Monday, but even his birthday was not sufficient cause to bring the former Cuban leader out of hiding. The former Cuban commander-in-chief's growing reclusiveness over the years has given rise to ongoing speculation that he is in declining health.
Castro, who has been largely absent from public life in Cuba since he underwent emergency intestinal surgery in 2006, has not made a public appearance in months. In February, he held two lengthy semi-public discussions that were broadcast on Cuban television, sparking hope among many Cubans that he might be making a grand return to politics. But in the months that have followed, he has appeared only once more, to pay a visit to Pope Benedict at the Vatican embassy during his March trip to Cuba. Commenters noted Castro's stooped appearance during his trip to the embassy.
While Castro's birthday will not be officially celebrated in Cuba, youth organizations will be honoring the birthday of Rene Gonzalez, a Cuban secret service agent who is serving a sentence in Marianna Federal Correctional Prison, in Florida, reported AFP. Gonzalez is considered a hero of the war on terror, in Cuba. Olympics viewers may have picked up on another slight to Fidel Castro when Idalys Ortiz, who won the Olympic judo gold for Cuba on Friday, publicly thanked Raul Castro, ahead of his older brother.
Raul Castro, the current president of Cuba, took over in 2006 after Fidel's health scare. The relatively fluid transition of power seemed to ease fears that Castro's death might lead to an immediate collapse of the communist system in Cuba. But with an increasingly aging regime -- Raul Castro, and two of his top vice presidents are already in their 80s -- many Cubans are concerned that there is no apparent successor who could continue Casto's leadership.
I think the majority of people are very worried about what will happen if Fidel and Raul die. There is nobody else with the stature to take the reins of the country, retired teacher Carmelita Leon, told Reuters.
Concern for Castro may also be an indication of tenuous economic and political times for Cuba. The government also is in the midst of reforms to Cuba's Soviet-style economy, launched in hopes of assuring the survival of communism once the old guard revolutionaries now in charge, known as the 'historicos', are gone, reports Reuters. The goal is to increase productivity and prosperity, but changes include plans to slash a million make-work jobs from state payrolls and reduce subsidies such as the universal food ration, both of which make Cubans nervous.
© Copyright IBTimes 2023. All rights reserved.