FIFA Presidential Election 2015: US To Vote For Jordan's Prince Ali To Replace Sepp Blatter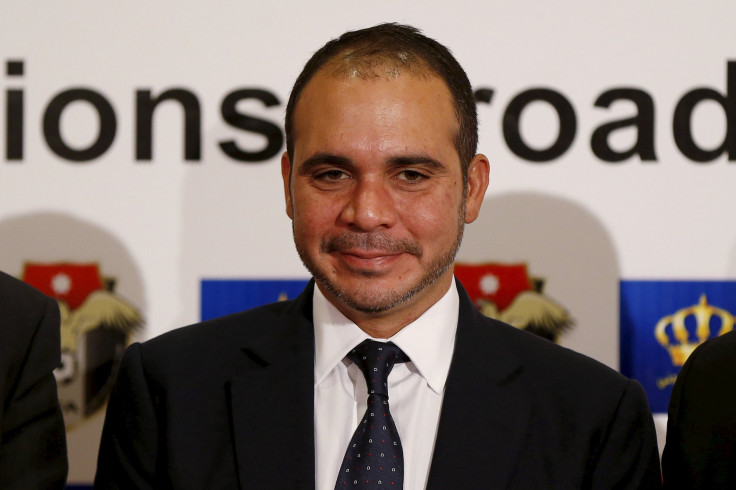 Update as of 7:00 a.m. EDT: Support for Jordan's Prince Ali bin Al-Hussein to become the next FIFA president is on the rise, after New Zealand Football, the sport's governing body in the country, announced that it will back his candidacy, according to the Guardian. The Football Federation Australia, is also one of the few soccer associations worldwide to publicly oppose incumbent Sepp Blatter's re-election as the new FIFA chief, the Guardian report added.
Meanwhile, an unconfirmed report from German news outlet Handelszeitung has said that there has been a bomb threat at the ongoing FIFA congress in Zurich.
Original report:
The United States said it would vote for Jordan's Prince Ali bin Al-Hussein in Friday's FIFA presidential election. Prince Ali is going up against incumbent Sepp Blatter, who is seeking a fifth term to head soccer's international governing body.
The election comes in the wake of a massive corruption scandal made public by the arrests of several senior FIFA officials earlier this week. The arrests themselves follow decades of suspected foul play at the highest levels of the organization. On Wednesday, U.S. prosecutors leveled charges related to bribery, money laundering and racketeering against 14 people, seven of whom were arrested by Swiss authorities in Zurich.
"I've gotten to know Prince Ali well over the last couple of years," Sunil Gulati, the president of the U.S. Soccer Federation, told the Associated Press (AP). "He has been a really active member of the executive committee and an active proponent of reform at FIFA … this is a vote for good governance."
Gulati, a member of FIFA's executive committee, decided to support 39-year-old Prince Ali months ago, the New York Times reported, adding that the U.S. soccer chief would instruct the American delegate Friday to vote against Blatter.
"Would I like to see the United States host a World Cup in the future? The answer is, of course, yes," the Times quoted Gulati as saying. "If being on the right side of issues costs us from hosting a World Cup in the future, that would be unfortunate. But we are prepared to deal with that."
Gulati said that Canada will also vote against Blatter, whose tenure since 1998 has been plagued by several corruption cases among top soccer officials. According to Gulati, Friday's vote is expected to be a lot closer than what many people projected weeks ago.
The 2018 World Cup is scheduled to be held in Russia while the 2022 tournament is slated to be hosted by Qatar. However, FIFA has come under fire for allowing these countries to host the sport's biggest event, because of Qatar's alleged treatment of migrant laborers and Russia's involvement in the ongoing conflict in eastern Ukraine.
"A World Cup in Russia, a World Cup in Qatar, a World Cup in Brazil is a huge disaster for the countries involved," Victor Matheson, an economics professor at the College of the Holy Cross in Worcester, Massachusetts, said. "A World Cup in the United States ... would almost certainly be positive."
Frank Lowy, the chairman of the Football Federation Australia, announced that he too would vote for Prince Ali. Michel Platini, president of the Union of European Football Associations (UEFA) estimated that at least 45 UEFA members are now expected to support the Jordanian prince, the AP reported.
On Friday, FIFA's 209 member federations are set to cast secret written ballots to elect the next president. A two-thirds majority is required for election on the first ballot and a simple majority on the second.
© Copyright IBTimes 2023. All rights reserved.