FIFA Sepp Blatter News: Money Thrown At Soccer President During Press Conference For Presidential Election And Reforms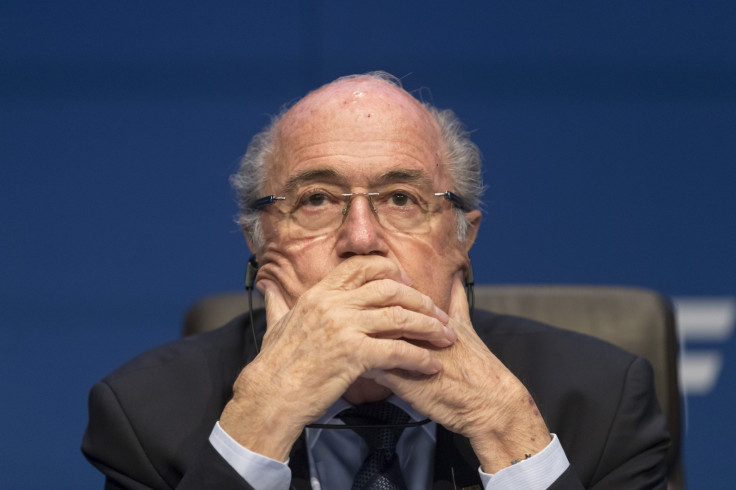 A news conference Monday in Zurich, Switzerland, was delayed after a British comedian threw fake money at the leader of the governing body of international soccer, according to a new report. The comedian, Lee Nelson, allegedly shouted that the money was for "North Korea 2026" after throwing the wad of cash at FIFA President Sepp Blatter, CBS Sports reported.
Blatter and the FIFA Executive Committee announced Monday that an extraordinary congress was scheduled take place Feb. 26 in Zurich, during which time a new FIFA president was expected to be elected, FIFA.com reported. They also announced a series of reforms that would be submitted to the upcoming extraordinary congress that stress FIFA's commitment to governance and greater accountability.
The proposed reforms, delivered by Domenico Scala, independent chairman of the Audit and Compliance Committee, included enhanced integrity checks for executive eommittee members, the introduction of term limits, standards of governance at all levels of soccer structures, including confederations and member associations and individual disclosure of compensation.
The Executive Committee also initiated the electoral period with the addition of the new Ad-hoc Electoral Committee, which would include the chairmen of the FIFA Disciplinary Committee, Appeal Committee and Audit and Compliance Committee. The committee was scheduled to meet Tuesday.
FIFA has been undergoing many major changes since the arrests of multiple soccer officials in May in connection with a $10 million corruption scandal. Swiss authorities also were investigating potential corruption in the bidding process for the 2018 and 2022 men's World Cup tournaments. In May, Blatter was re-elected as FIFA's president, but on June 2 he announced he would step down. He has been FIFA's president since 1998.
Along with a new president, FIFA's Executive Committee agreed May 26 on revised bidding regulations for future World Cups. The deadline for submission of candidates for FIFA's new president was set for Oct. 26.
© Copyright IBTimes 2023. All rights reserved.