Beyonce A Feminist? Critics Unfairly Slam Singer As She Graces Feminist Magazine 'Ms.'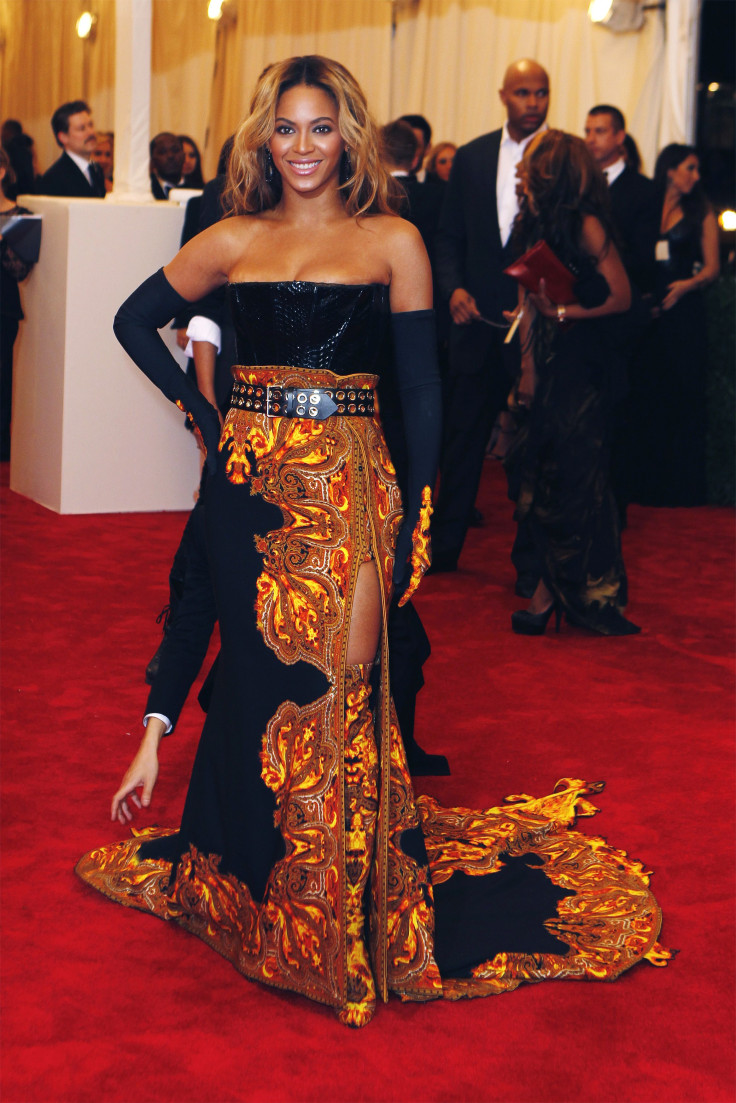 After being chosen to grace the cover of one of America's most feminist magazines, "Ms.," Beyoncé is facing a new controversy. The 42-year-old magazine is already earning mixed reviews for their cover story, titled "Beyoncé's Fierce Feminism." And some outraged readers are already taking to Facebook to air their complaints.
"If she's wearing stripper outfits, dancing like a stripper for men, and calling women bit--es, she's not a feminist. Despite what the so-called 'third wave feminists' are claiming, feminism is NOT whatever the hell you want it to be," one person said.
The commenter is partly referring to a lyric in the recently released Beyoncé single, "Bow Down (Bit--es)," in which she does say: "I know when you were little girls/You dreamt of being in my world/Don't forget it, don't forget/ Respect that, bow down bit--es." The commenter is also referring to the obvious. Yes, at concert performances the 31-year-old megastar tends to wear form-fitting outfits that show off her physique.
But this raises the question: Does this mean she can't be the embodiment of female empowerment?
Since her debut with Destiny's Child in the 90s, I have been a Beyoncé fan. Her music has been about empowering women, young and old, and I've personally felt inspired. In a society that often promotes the viewpoint that women don't have the same opportunities as men, I have always viewed Beyoncé as a woman that promotes the opposite. For examples, see the songs: "Independent Women" and "Survivor," from her time with Destiny's Child, to her song "Irreplaceable" as a solo artist. Through her music, Beyoncé reminds women that we can rely on ourselves, and not others, to achieve our goals.
Sure, she sometimes sings about the female body and her sexuality -- see "Naughty Girl" and "Freakum Dress" -- but is it really anti-feminist for women to learn to celebrate and embrace our bodies and sexuality? In moderation, of course.
While she exudes sexiness, she has, compared to other current top female artists -- cough, cough, Rihanna -- done it in a way that is never too raunchy or over-the-top. At concerts, her costumes often cover her derriere, or, if she wears a bodysuit, she usually wears them with stockings so she is not overexposed.
She has received quite the backlash over a new costume for her latest tour -- a gold-sequined leotard with golden nipples -- but the fact remains that she is still covered. Besides, why can't she behave sexually at times?
Without question, Beyoncé is in a class of her own, on and off the stage. She is also one of the most image-conscious female artists in the music industry. Those who recognize Beyoncé's strong presence as a leader include First Lady Michelle Obama, who called her a role model last year, describing her as someone "who kids everywhere can look up to."
Over the years, Beyoncé has supported a slew of charities without even looking to be recognized for her work, such as the Survivor Foundation, an organization she founded with fellow Destiny's Child Kelly Rowland to help victims of Hurricane Katrina. She was an ambassador for the 2005 World Children's Day, which raises awareness and funds for children's causes, and has engaged in many other charity events since then that she has kept private.
Beyoncé proves that the definition of a feminist does not have to be monolithic. Feminism is certainly a nuanced term, and it's imperative that our society is not focused on a sole definition of what a feminist can, or should, be.
The feminists claiming that women can have it all are many of the same criticizing Beyoncé for just that. She is a wife to Jay-Z, a mother to daughter Blue Ivy, and a performer. And she is clearly proud of each of her accomplishments. Some may argue she does not project feminism because she named her latest world tour, "The Mrs. Carter" world tour; her husband's legal name is Shawn Carter.
But is this really disempowering? It has taken her years to vocalize her love for her husband. They were together for a decade before secretly marrying, thereby confirming their relationship. And why is it that a feminist cannot be proud of her role as a wife?
Beyoncé is truly a feminist, who has simply expanded the idea of who a feminist can be. Beyoncé is every woman. She is bold, she is confident, and she is openly proud of simultaneously being a career woman and a wife.
And to boot, she is projecting the idea that, as women, we don't have to hide our sexuality, that we can flaunt it in a tasteful manner. She is also promoting the ideal that women don't have to choose a career or family. What she's saying, in short, is that we, too, can have it all.
How is that not the most beautiful definition of feminism?
© Copyright IBTimes 2023. All rights reserved.
FOLLOW MORE IBT NEWS ON THE BELOW CHANNELS