First Apple iPhone 5 Pre-Orders Begin Shipping From China; Enthusiasts Start Camping Outside Flagship Apple Stores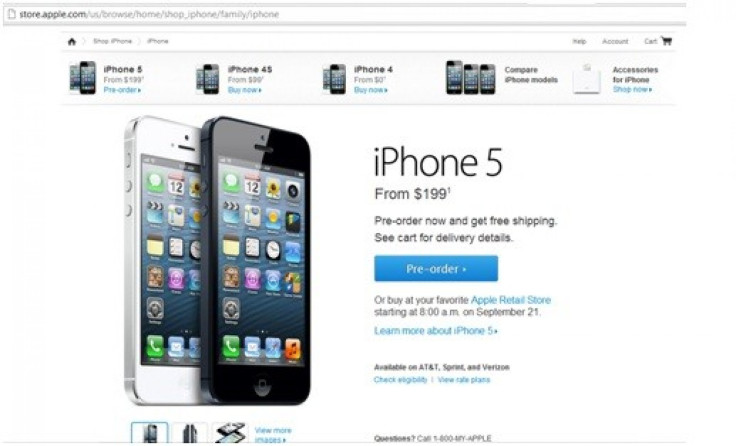 As the launch date for Apple iPhone 5 comes closer, customers who placed the first preorders for the iPhone 5 are noticing updates that point to their orders being shipped from China, AppleInsider reported.
Reportedly, a delivery update from UPS notes that shipment began transit on Sept.16 and delivery has started from ZhengZhou, China.
Even MacRumors confirmed that several readers reported that shipments have commenced from China. Earlier, it was a common practice for Apple to issue instructions to local warehouses to spread out the pre-order delivery or withhold deliveries at local warehouses until the target date.
However, with the iPhone 5, the delivery date for the first preorders is set for Sept. 21. And for those who are keen to learn their tracking number from Apple, they may learn about it from the UPS website, MacRumors stated.
It is said that Apple employs both UPS and FedEx in its supply chain. A MacRumors Forum posting shares the steps involved in tracking the iPhone 5 shipment and this can be employed for both UPS and FedEx.
In an attempt to know more about the date of manufacture, enthusiasts are decoding serial numbers. Reportedly, the earliest manufacture date points to Aug. 5-11. And those who placed pre-orders on Apple.com can locate their device serial number in Support Profile Page of the company website.
Publications including Fortune note that enthusiasts have started queuing up at New York City 5th Avenue Apple Store. Reportedly, those spotted seem to be present for promotional purposes rather than personal purchase.
Even in the U.K., Mail Online reported Sept.14 that people have commenced camping outside the company's flagship store in London's Regent Street from Sept.13.
© Copyright IBTimes 2023. All rights reserved.