FishBrain, A Social Network For Fishing Enthusiasts Hits 1 Million Downloads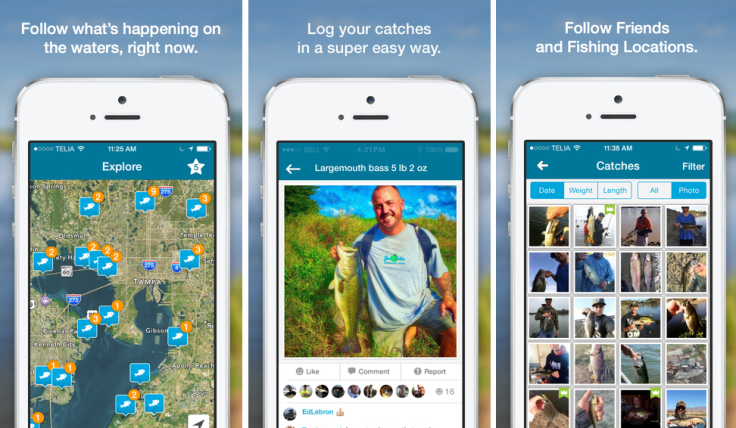 That's one big ... social network? Fishing enthusiasts worldwide have hooked onto a mobile app called FishBrain that lets them create online profiles to track and share information on catches and even compete in a leaderboard. FishBrain has reached 1 million users, CEO Johan Attby announced Thursday at the Symposium Stockholm.
Sure, Facebook may have 1.44 billion members and Twitter over 300 million, but for a niche network focused on sports fishing, the milestone is pretty impressive. So what can you do on FishBrain? First and foremost, connect and compete with other sports fishing enthusiasts worldwide through an online leaderboard based on size of catches.
Users can submit their own catches with species, weight and location along with their equipment. Like the way Google's Waze provides real-time traffic data for vehicles, FishBrain provides a map of what fish are popular in the area at that time. The network's algorithm, powered by user-submitted data and public weather information such as water temperature and wind speed, also tries to forecast when and where species could appear.
"Fishing is a hugely popular sport in countries all over the world, but one that has remained largely out of step with technological developments that currently benefit so many other sports. Runners can track their routes, golfers can analyze their swings, but before FishBrain came along, there was no equivalent for anglers," Attby said in a statement.
So far, the app has logged 350,000 catches. That data is huge for the anglers looking for the biggest catches, and for the company itself. Foursquare began as a check-in app for diners and later sold data to restaurants. Facebook tracks users' interests and now sells advertising to major businesses. FishBrain seems poised to earn big.
It's currently in a pre-revenue stage, but Attby said the company has plans to sell products like fishing gear, create videos and perhaps extend into wearables. For now, the 12-person team is supported by $2.4 million in a seed round led by Northzone (an investor of Spotify and Jukely) and is currently wrapping up a Series A.
FishBrain has users in 207 countries -- the United States leading with 761,000 followed by Australia with 69,000, the United Kingdom with 43,000 and Sweden with 38,000. The network has steadily grown since its launch in March 2013 and experienced its most significant increase this year when it gained 350,000 users in five months. Attby attributed the growth to marketing in the United States and added features on the app. Currently based in Stockholm, FishBrain has plans to open an office in the U.S.
© Copyright IBTimes 2023. All rights reserved.