Fleet Week: Celebrating 30 Years in the Air [PHOTOS]
Fleet Week, the annual event celebrating military sea services, roars through San Francisco Friday, beginning with a Blue Angels air show at 1 p.m. Celebrations are likely to be spectacular. The Week not only celebrates three decades as an event, but also toasts the 100th anniversary of the birth of naval aviation, which took place in the Bay Area.
Fleet Week has been a U.S. Navy, Marine Corps, and Coast Guard tradition in San Francisco since 1981, when Mayor Diane Feinstein set it up to coincide with Columbus Day weekend. Designed to improve relations between the military and civilian worlds, the first Fleet Week began in 1935 at the California Pacific International Exposition in San Diego. Today, Fleet Week events take place throughout the summer and fall in large ports like Seattle, Los Angeles and New York, though San Francisco is usually the largest.
Over 10,000 recently returning servicemen and women are expected dock in the city by the bay this week, touring the area and visiting local attractions. While they wander on shore leave, the public, which past averages put as high as over a million people, will take guided tours of the ships and enjoy military demonstrations and air shows.
Fleet Week is a unique chance for citizens to see where their tax dollars are going, and to get an inside look at new naval and aeronautic technology. Servicemen and women are encouraged to talk to civilians, and military recruiters are omnipresent.
More than the PR boost for which it was founded, however, Fleet Week is known for its entertainment. Stunt pilots like the Blue Angels of the U.S. Navy and the Snowbirds of the Royal Canadian Air Force perform aerial shows throughout the weekend, and concerts, dances and festivals dot the bay line, turning the military-themed event into a tourist cash-in.
Fleet Week has been known to bring complaints as well as praise, considering the high noise and trash levels it brings to San Francisco. Concerns are more acute this year, however, after a plane crash at the Reno Air Show last month. At the show, a World War II fighter plane crashed into a grandstand, killing 11 people and injuring countless others.
Luckily, the ships and planes starring in Fleet Week are almost never antique models. Instead, expect to see F/A-18 Hornet jets like those flown by the Blue Angels team.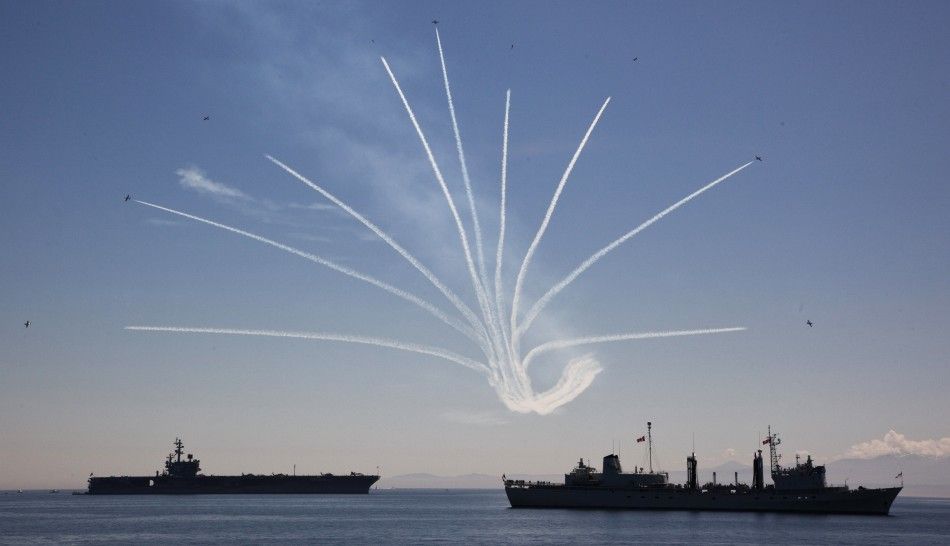 © Copyright IBTimes 2023. All rights reserved.
FOLLOW MORE IBT NEWS ON THE BELOW CHANNELS