Florida Boy Missing For Four Years Found Hidden Behind Secret Panel in Linen Closet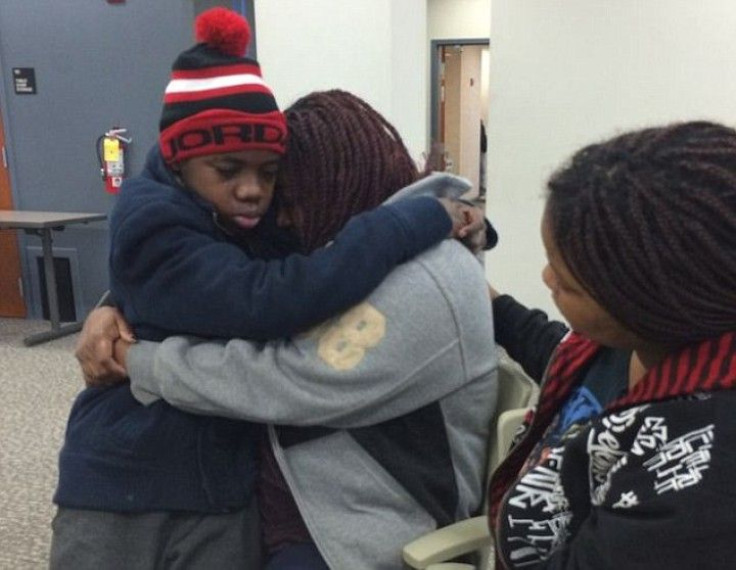 A boy, who has been missing for four years, was found hidden behind a false wall at a home in the U.S. state of Georgia.
The 13-year-old was reunited with his mother after being found by police in a linen closet in his father's home.
The unnamed teenager was able to get help after downloading a mobile phone app to text his mother to tell her he was being held captive and physically abused at the house in Clayton County.
After the mother called 911, police visited the house in suburban Atlanta shortly before 11 p.m. Friday Nov. 28. They confronted the occupants of the property, who denied having any knowledge of the missing boy.
A second call by the boy to his mother, prompted the police to return to the house at 2 a.m. on Saturday Nov. 29, when officers carried out a more thorough search, which resulted in the discovery of the boy, behind a panel in the garage.
Police Sergeant Joanne Southerland told the station that the boy was "frozen with fear".
"We came here to the home and were able to get inside and talk to the people inside. After several minutes of denying that the child was here and that there was ever any assault or anything like that, we were able to find him in the linen closet."
Officer Daniel Day added: "I just couldn't believe it. We found him, we saw him. To say it was a great feeling is an understatement. He just couldn't thank us enough, he was overjoyed we had found him."
The boy was reported missing to child welfare authorities in 2010, after he went to visit his father. According to WSB-TV, his father refused to return the child to his mother, however she failed to inform the police, because she is an immigrant and was unfamiliar with the system.
A neighbour told WSBTV the boy was frequently seen outside the house, mostly doing household chores, but sometimes playing.
He has now been reunited with his mother and has been placed in state custody as an investigation continues.
Five occupants in the house, including the boy's father and stepmother, have been arrested and charged with false imprisonment, obstruction and cruelty to a child.
This article is copyrighted by IBTimes.co.uk, the
business news
leader
FOLLOW MORE IBT NEWS ON THE BELOW CHANNELS