Florida Helicopter Crash: 7 Marines, 4 Soldiers Missing After Crash During Military Exercise Now Presumed Dead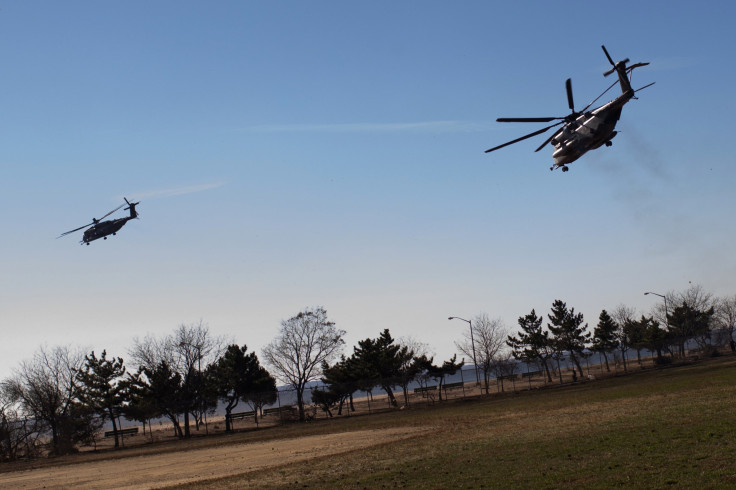 Update as of 8:05 a.m. EDT: Eglin Air Force Base spokesman Andy Bourland told NBC News that search crew "have found some human remains," adding that aircraft debris had also washed ashore. A UH-60 Black Hawk helicopter carrying seven Marines and four soldiers crashed over waters off Florida on Tuesday night.
Officials reportedly said that, overnight, a Coast Guard vessel had recovered debris including the helicopter's tail rotor.
Update 8: 04 a.m. EDT: Eleven members of the military on board an Army helicopter that crashed over waters off Florida were presumed dead Wednesday, a Pentagon official told the Associated Press on condition of anonymity.
Update as of 6:44 a.m. EDT: Two UH-60 helicopters were involved in a training mission on Tuesday night, one of which was involved in an accident near "Eglin range site A-17," the Eglin Air Force Base in Florida said, in a statement, on Wednesday. The four "aircrew" and seven Marines on board the helicopter remain missing, and an investigation is underway.
"The second helicopter and its personnel on board have returned and are accounted for at this time. The aircraft are assigned to the 1-244th Assault Helicopter Battalion in Hammond, Louisiana. They were participating in a routine training mission involving the Marine Special Operations Regiment from Camp LeJeune," the statement said.
Eglin public affairs specialist Sara Vidoni told The Associated Press that fog at the crash site is hindering the search and rescue operation.
Original story:
Eleven members of the U.S. Army were missing early Wednesday after a helicopter crashed during a routine training exercise near Eglin Air Force Base in northwestern Florida, media reports said. A search and rescue mission is underway and authorities said that the debris from the crash has been found.
Seven Marines and four soldiers on board the helicopter are missing, Andy Bourland, a spokesman for the army base said, according to The Associated Press. The Marines are reportedly part of a Camp Lejeune-based special operations group, and the soldiers are from a National Guard unit based in Hammond, Louisiana.
The helicopter was found in a remote area of a beach -- owned by the military -- between Destin and Pensacola in Florida. The aircraft, which took off from a Destin airport, was reported missing around 8:30 p.m. Tuesday and the debris was found at 2:00 a.m. on Wednesday. The names of those involved in the crash are yet to be released.
"We have not declared the status of the 11 personnel on board at the time," Bourland said, adding that there were "weather issues" Tuesday night, and visibility was limited due to darkness and fog, NBC News reported.
© Copyright IBTimes 2022. All rights reserved.
FOLLOW MORE IBT NEWS ON THE BELOW CHANNELS