Floyd Mayweather - Manny Pacquiao 2015: Freddie Roach Slams Floyd's Dad In Interview Before Fight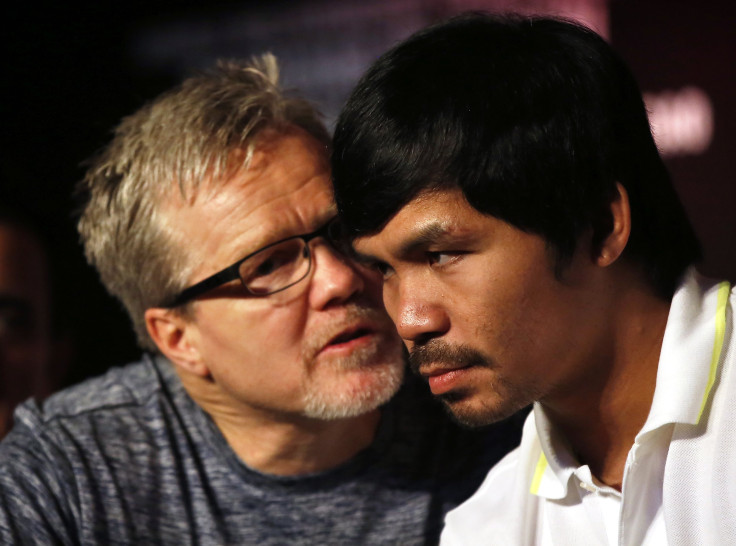 Floyd Mayweather Jr. and Manny Pacquiao have not been shy about trading barbs over the years, and with the mega-fight officially scheduled for May 2, more trash talk has been exchanged between the two camps. Pacquiao trainer Freddie Roach has begun the latest war of words, criticizing Floyd Mayweather Sr.
Members of Pacquiao's camp have expressed a lot of confidence in the boxer's ability to tarnish Mayweather Jr.'s perfect record. According to Roach, one of the reasons PacMan has a chance to win the fight is because Mayweather is trained by his father.
"I love this matchup," Roach told the Los Angeles Times.
"I've watched [Mayweather Sr.] in the corner. He stutters, has trouble staying calm and can't get words out."
Roach slammed Mayweather Sr. even more, claiming that his brother, Roger Mayweather, is the better trainer. Roger Mayweather trained Floyd when he became a professional boxer in 1996, and again in 2000 when the undefeated fighter fired his father, who had taken over when he was released from prison. Roach gives Roger Mayweather credit for making adjustments in Mayweather Jr.'s 2007 victory over Oscar De La Hoya, who was trained by Roach.
Mayweather Sr. has been involved in the bad blood that's developed between the two camps in recent years. After talks for a Mayweather-Pacquiao fight broke down in 2009 because of a disagreement over the drug testing policy, Pacquiao filed a lawsuit, claiming Mayweather Jr. and his trainers publicly implied that the Filipino star used performance-enhancing drugs. The case was eventually settled out of court, but that hasn't stopped Mayweather Sr. from continuing to talk about the subject.
"If Pacquiao hasn't knocked anybody out, is that a coincidence, or is it a fact that he's using enhancement drugs?" Mayweather Sr. said in September. "What would you say about that? A guy that was putting people to sleep, now, all of a sudden, he ain't knocking nobody out, what would you say? Would you think something's wrong with that?"
Refuting the idea that his son was forced to finally fight Pacquiao, Mayweather Sr. isn't worried about Pacquiao, claiming it will be one of Mayweather Jr.'s easiest fights, via fighthype.com. Going 47-0 in his career, Mayweather Jr. hasn't had much difficulty maintaining an unblemished record. Only three of his fights have not ended in a knockout or a unanimous decision for the champion welterweight, and only one judge has ever scored a fight in favor of Mayweather Jr.'s opponent.
Roach has praised Mayweather Jr.'s boxing ability, but he believes he can expose the boxer's weakness. The trainer has called Mayweather Jr.'s moves "good" but "predictable," leading him to believe that Pacquiao has a real shot to capture Mayweather's three title belts.
© Copyright IBTimes 2023. All rights reserved.