Floyd Mayweather - Manny Pacquiao: Updated Betting Odds, Prop Bets, News For Fight In Las Vegas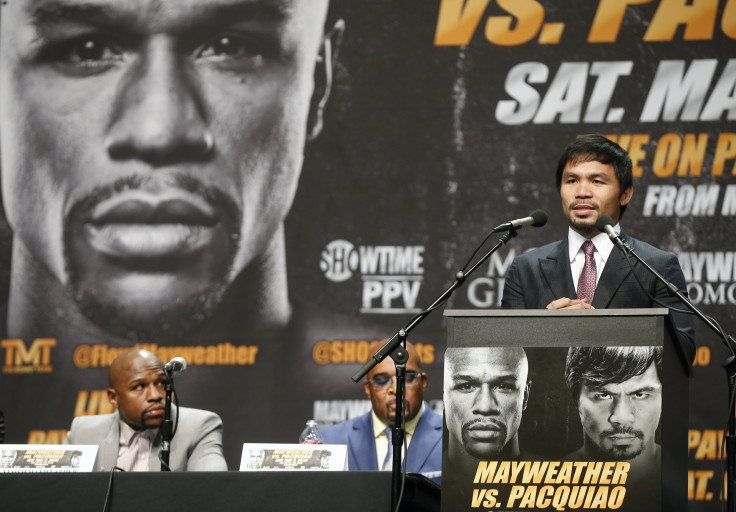 The seconds, minutes, hours, and days are quickly ticking down to Floyd Mayweather and Manny Pacquiao's May 2 showdown at the MGM Grand Arena in Las Vegas, and the undefeated Mayweather is still considered the favorite.
Over the last month, Bovada.lv, a top sports betting site, has not had a change in the odds, with Mayweather a -210 favorite and Pacquiao a +170 underdog. But as the fight draws closer the line could shift in either direction as both boxers prep for perhaps the most anticipated fight in decades.
The combatants held individual media days earlier this week with the events serving as a soapbox and a glimpse into their training regiments and mindsets three weeks before the bout.
Owner of a 47-match winning streak, Mayweather said he doesn't have quite the same desire for boxing as he did years ago when he was rising through the middle and welterweight ranks. The five-division champ Mayweather told AFP he's employing some more unorthodox drills, like swimming and chopping wood, to reignite his passion.
"I can have a good day in the gym and the sparring partners can have a good day on me. That don't count. It counts under the lights when it is for all the marbles," Mayweather said.
The 38-year-old Mayweather also took a verbal shot at Pacquiao, calling the Filipino star's fighting style "reckless" and said his own career would have been much shorter if he fought like Pacquaio.
It may be a reasonable knock given Pacquiao's ceaseless, stalking ring demeanor leading to the worst loss of his career. That aggressive style appeared to have contributed to the stunning knockout loss to rival Juan Manuel Marquez in 2012, one that signaled to many that Pacquiao's career was about to decline.
But Pacquiao flipped Mayweather's comments into a compliment, saying his powerful flurries and relentless approach are what make him more of a populist champion than the defense-first Mayweather.
"Reckless fighter? That's how people like me and love me, because they like an exciting fight," Pacquiao said to AP. "We call this boxing, (and) boxing is more punching. We talk about punching."
Heaping praise on Pacquiao's speed and power, trainer Freddie Roach said his fighter is also taking a different approach to this bout.
"I can tell how much this fight means to Manny because he has watched tape on Floyd," Roach said to ESPN. "Manny has never watched tape on any fighter before."
Roach would also tell Yahoo Sports on Wednesday, that leg cramps are still an issue for Pacquiao. Much of the knockout power from Pacquiao's punches begins in his legs, specifically his calves, and a cramp during a fight could prove disastrous.
"There's no magic cure for it," Roach said. "We're doing what we can do. I've got the doctors working on it. There are some Filipino guys here who are massaging it for him. The cream cost $1,800 for a single bottle. I wasn't too happy about that."
Bettors have long known about Pacquiao's propensity to cramp up, but as of yet it's unknown if the ailment has ever come up during a bout.
That being said, the prop bets seem to project how Las Vegas bookmakers believe the mega-bout will end. Clearly bookmakers believe Mayweather will stick with his defensive strategy against Pacquiao. According to Bovada.lv, his chances of recording a knockout, technical knockout or a win by disqualification are +550. A victory by decision for Mayweather is 5/7.
And even though no fighter has left Mayweather unconscious before, Pacquiao is more favored to claim a knockout at +400.
There's also a hint that Pacquiao's best chances to win lie in the middle rounds. Pacquiao's odds of winning in the first four rounds are also at 40/1, then drop down to 33/1 between the fifth and 10th rounds, only to shoot back up to 40/1 in the last two. A decision in Pacquiao's favor is at 4/1.
The full list of lines and prop bets can be found here at Bovada.lv.
© Copyright IBTimes 2023. All rights reserved.