Floyd Mayweather Next Fight: Check Oscar De La Hoya Off List Of Possible Opponents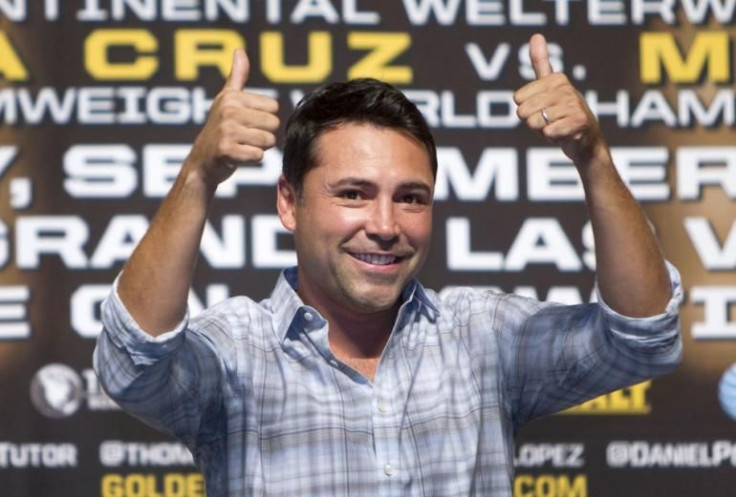 Just a week after challenging Floyd Mayweather to a potential boxing match, Oscar De La Hoya has ruled out a return to the ring. The 42-year-old had said he was seriously considering coming out of retirement, but he ended talks of another fight on Monday.
De La Hoya had previously stated that the chances of him having another bout were "50-50," offering to fight the winner of a potential match between Mayweather and Gennady Golovkin. But that fight won't be happening, and neither will any fight with De La Hoya in it.
"Over the last six months I've had a front row seat as Golden Boy [Promotions] fighters including Canelo Alvarez, Bernard Hopkins, Lucas Matthysse, Jorge Linares and David Lemieux have stepped into the ring and shown what boxing should be all about -- a commitment to fight the best, to respect the sport and to put the fans first," De La Hoya said in a statement. "As a professional athlete and someone who has spent almost his entire life in boxing, not a day goes by when I don't think about coming back -- and the performances of these Golden Boy fighters has only added to my desire to return to the ring.
"But I am retired, and after speaking to my family and following a great deal of introspection, I have decided to stay retired. However, I do so with knowledge that many fighters today still pride themselves on the same principles that I adhered to throughout my career. It is now through boxers like those I mentioned and dozens of other Golden Boy Promotions fighters that those values live on."
Despite his claim that he might return to boxing, a comeback for De La Hoya never seemed likely. He hasn't fought in nearly seven years, losing to Manny Pacquiao in an eighth-round knockout. De La Hoya was one of the best fighters of his generation, but he was no longer a top boxer when he called it quits, losing four of his last seven fights.
Even if De La Hoya decided to fight, a rematch between Mayweather and him wasn't likely. Mayweather beat De La Hoya eight years ago, and he's already narrowed down his next fight to two opponents. The undefeated boxer claims he'll take on Karim Mayfield or Andre Berto in September, which could be the last fight of Mayweather's career.
After beating Pacquiao in the highest-grossing pay-per-view of all time, Mayweather isn't interested in fighting the biggest name possible. Having said on multiple occasions that he no longer has the same love for boxing that he once had, Mayweather appears content on ending his career with a victory over a boxer that is relatively unknown to much of the public.
Mayweather's 2007 victory over De La Hoya wasn't a controversial one, but the Hall of Famer did accomplish something that no other Mayweather opponent has. He was given the victory on one judge's scorecard, giving Mayweather the only split decision of his career.
© Copyright IBTimes 2023. All rights reserved.