Floyd Mayweather Next Opponent: If Not Conor McGregor Or Manny Pacquiao, Then Who?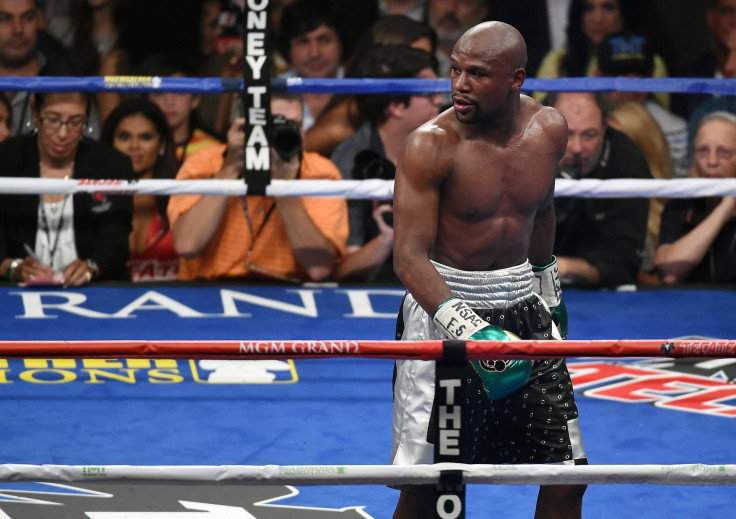 When Floyd Mayweather and Manny Pacquiao announced that they would retire after their respective fights following their mega-bout on May 2 of last year, few in the boxing world believed them. Pacquiao quickly proved the skeptics right by announcing that he would return to the ring less than four months after defeating Timothy Bradley in April, but Mayweather's return might not be imminent.
Mayweather openly flirted with the idea of fighting again in May. The undefeated boxer hasn't completely closed the door on coming back, though he would only do so under the right circumstances.
"If I came back, of course, it would have to be a nine-figure payday and probably a championship fight and a nine-figure payday," Mayweather told Showtime's Jim Gray.
Shortly after Mayweather acknowledged that he might fight again, rumors circulated that he could face UFC champion Conor McGregor in a boxing match. Both Mayweather and McGregor publicly talked about the fight as a real possibility, even though few in the world of boxing or mixed martial arts took the discussion seriously.
The notion of McGregor making the move to boxing for a fight has quickly dissipated. McGregor has agreed to fight Nate Diaz at UFC 202 on Aug. 20, and he'll defend his UFC featherweight championship against Jose Aldo sometime after that, possibly at UFC 205 on Nov. 12.
But McGregor did fit the qualifications of a potential Mayweather opponent, and there are few active fighters who meet that standard. Taking on McGregor would certainly offer Mayweather a payday of at least $100 million, considering the UFC star is one of the biggest names in all of sports. It's also a fight that Mayweather would be all-but guaranteed to win, and Mayweather probably would not return for a bout in which he was not a heavy favorite, looking to keep his perfect record intact.
That leaves only a few realistic options for Mayweather.
The most obvious is Pacquiao, who Mayweather defeated by unanimous decision over a year ago. The fight has been criticized for its lack of action, and it wouldn't come close to doing the record 4.6 million PPV buys that were generated 15 months ago.
But no matter how "boring" Mayweather-Pacquiao is considered by the general public, a second bout would still result in the second-biggest payday of each boxer's career. They are the two best fighters of their generation, and even if he makes half of what he did for their first fight, Mayweather could still net between $110 and $115 million. Mayweather stated last year that he wouldn't grant a rematch to Pacquiao, who claimed to have fought with an injured shoulder.
Another rematch would likely offer Mayweather a nine-figure payday. He is the only boxer to ever defeat Canelo Alvarez, who has become boxing's No.1 draw. Alvarez's last two fights have approximately generated a combined 1.5 million PPV buys, with each one doing better numbers than the most recent fights for both Mayweather and Pacquiao.
Mayweather, however, outclassed Alvarez when they met in 2013, and it was such a one-sided affair that it's hard to believe they'd fight again. Alvarez has also moved up in weight class, and Mayweather has shown little interest in following him.
From a pure boxing perspective, a few of the sport's best young fighters would make for interesting challengers for Mayweather, though he likely wouldn't get nine-figures for such bouts. Danny Garcia, who Mayweather has mentioned as a potential opponent, is undefeated, having gone 2-0 after making the move from light welterweight to welterweight. Garcia is from Philadelphia but has Puerto Rican parents, and Latino boxers tend to boost PPV numbers.
Other welterweights would likely pose a tougher challenge to Mayweather and may not provide a heavy payday. Keith Thurman, who fought Shawn Porter on CBS in June, has risen up the ranks of the 147-pound division with a 27-0 record, and some believe he'll replace Mayweather as the face of the weight class.
A fight against Terence Crawford in 2017 could satisfy both Mayweather's wish for a big payday, while giving boxing fans a fight they want to see. Crawford further established himself as a top 10 pound-for-pound fighter with his recent victory over Viktor Postol, and his name value could be much greater by the end of 2016.
Headlining his first PPV against Postol, Crawford likely didn't generate much more than 100,000 buys. But Top Rank CEO Bob Arum has pegged him as the leading candidate to face Pacquiao in November, and a win in that fight would put the 140-pound champ on the map. Pacquiao is considering dropping to light welterweight for the fight, and Crawford might be favored to defeat the Filipino Senator.
Mayweather might not be willing to put his 49-0 record on the line against a boxer that's 11 years younger and fresh off a victory against an all-time great, but a win for Crawford over Pacquiao might be the best chance of getting Mayweather to return before the window for a comeback closes.
© Copyright IBTimes 2023. All rights reserved.