Floyd Mayweather vs. Manny Pacquiao 2015: Could Championship Fight Be Official This Week?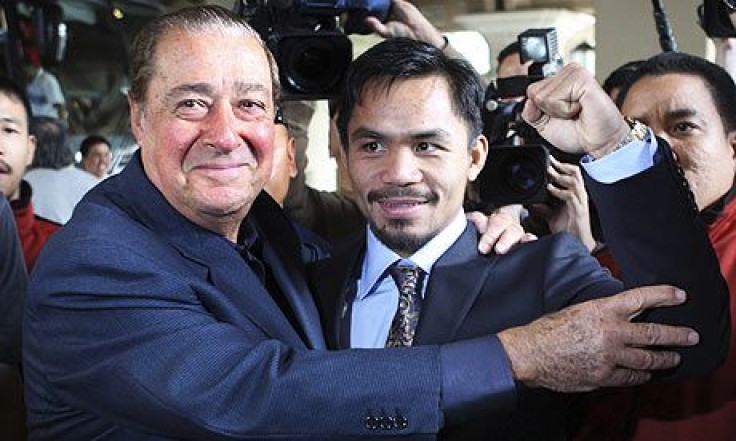 Contract negotiations between welterweights Floyd Mayweather and Manny Pacquiao have been going on for weeks, and while there are doubters that don't think the fight will ever happen, people on both sides believe a deal will get done. Promoter and Top Rank CEO Bob Arum is confident that the world's top two boxers will finally meet in 2015, after more than five years of speculation.
"Everything is agreed to, do you understand?" Arum told the New York Daily News. "I am very positive this fight is going to happen."
Arum responded to comments from Mayweather's strength coach, Alex Ariza, who called the promoter a "roadblock" in the negotiations. Ariza was fired by Pacquiao two years ago, and Arum claims he has nothing to do with the process of getting a contract signed.
Ariza isn't the only skeptic. The two sides first talked about a bout in 2009, and there have been discussions throughout the years, but nothing has ever come to fruition. However, Showtime executive Stephen Espinoza says things are different this time around.
"Personally I've been involved in these negotiations continuously since the very first in 2009," Espinoza told the Associated Press. "I can say I'm not sure there's a point where I personally observed him (Mayweather) wanting it more than over the last few months."
Mayweather's willingness to step inside the ring with Pacquiao has been one of the biggest hurdles to getting the fight made. While Pacquiao didn't agree to drug-testing stipulations in the first ever negotiations, he has since given in to Mayweather's demands, as well as the split of the purse that Mayweather requested.
Figuring out the broadcast of a potential mega-fight might be one of the final obstacles in making the bout official. Mayweather has two fights remaining in his six-fight contract with Showtime, while Pacquiao fights on HBO. The most likely scenario is a joint broadcast, which was done when Mike Tyson and Lennox Lewis fought in 2002.
Mayweather vs. Pacquiao, though, is expected to be a bigger bout than Lewis vs. Tyson. The 2002 fight generated 1.95 million buys, which was a record at the time. If Mayweather and Pacquiao meet, the bout could generate 3 million buys.
Mayweather has been quiet during the current round of negotiations, but Pacquiao continues to talk about Mayweather, saying he's confident the two will fight in 2015. The Filipino star won't wait forever, though, giving Mayweather and his camp until the end of January to make a decision. Arum expects a deal to be done by the end of the week, but that might be wishful thinking.
"We're making meaningful progress but if we were running a race we would still have a ways to go," Espinoza said. "Everyone is trying to get to the finish line as soon as possible."
The fight would likely take place on May 2 at the MGM Grand Garden Arena, where Mayweather's last 10 bouts have been held.
© Copyright IBTimes 2023. All rights reserved.