Floyd Mayweather vs. Manny Pacquiao 2015: Floyd Silent As Possible Fight Remains Unsettled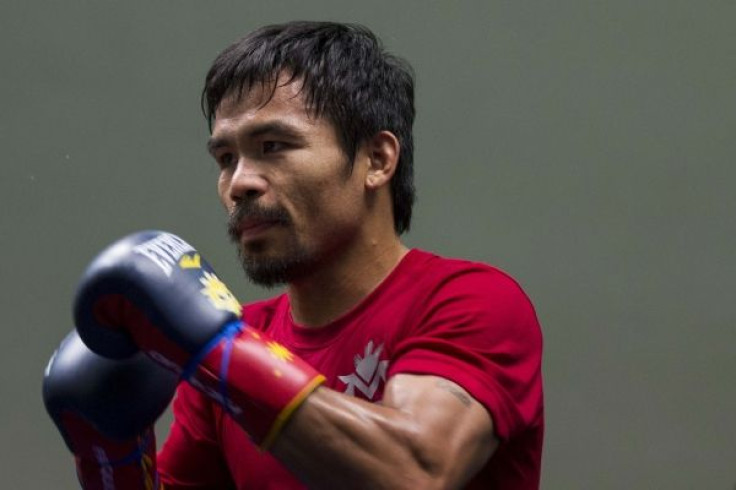 A potential mega-fight between Floyd Mayweather and Manny Pacquiao appears much more likely than it did a few months ago, but that doesn't mean it's a done deal. Despite a report that stated PacMan had agreed to terms for a bout and was waiting for Mayweather's response, it's no guarantee that a deal will be reached.
Pacquiao's publicist Fred Sternburg recently addressed the potential for the fight to happen, which reportedly would take place on May 2 at the MGM Grand Garden Arena in Las Vegas.
"It's a process and there is still a long way to go. At least the movement has been in a positive direction," Sternburg told bbc.com.
Since he beat Chris Algieri handily in November, Pacquiao has continued to publicly challenge Mayweather on Twitter and Instagram. Mayweather has offered a few responses, but he's kept quiet since it was reported that the ball was in his court to make the fight happen. The undefeated boxer has tweeted multiple times in the last few days, but never referenced Pacquiao.
While Mayweather hasn't said anything, those who know him say a deal could get done. Sam Watson is a longtime friend of Al Haymon, an adviser to Mayweather, and he seems confident that the fight will go down in 2015.
"They're putting it together now," Watson said, via the Guardian. "They're going to do a Showtime-HBO [joint pay-per-view] like they did last time with Lennox Lewis and Mike Tyson. They're working on the monies now and everything they've got to work on to make it happen."
"I can't wait. It's going to be huge."
A fight between Mayweather and Pacquiao has been over five years in the making. In Dec. 2009, the two sides nearly agreed to fight in March of 2010. Golden Boy Promotions reportedly sent a contract to Top Rank with the details of a bout, including a 50-50 split between the two boxers. However, the deal fell through because Pacquiao's camp did not agree to Mayweather's drug-testing requirements.
Pacquiao has long since said he'd undergo random drug testing, but other issues, including the proposed financial split and Pacquiao's two losses in 2012, have prevented the fight from happening. After beating Algieri, PacMan has won his last three fights.
Mayweather hasn't fought in four months. He defeated Marcos Maidana on Sept.13 to improve his career record to 47-0.
[Correction: An earlier edition of this report cited a quote from the BBC by Manny Pacquiao's publicist Fred Sternburg. The quote was taken out of context. The updated version of this article reflects that Sternburg was discussing the potential for the fight, not about Pacquiao signing off on a fight.]
© Copyright IBTimes 2023. All rights reserved.