Floyd Mayweather vs. Manny Pacquiao 2015: Which Boxer Is Favored In Polls?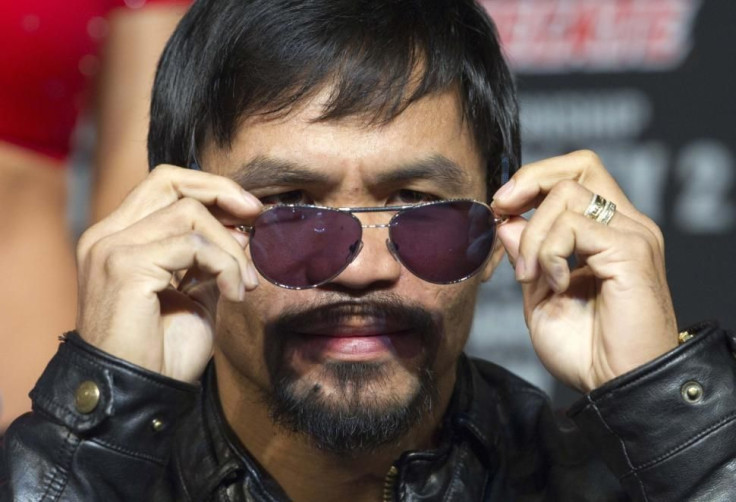 Now that Floyd Mayweather and Manny Pacquiao are finally set to fight one another, fans are chiming in on who they think will win the most-anticipated bout in the history of the sport. The betting odds favor the undefeated boxer, but the general public seems to be split on the final result of the mega-fight.
On Monday at 3:30 p.m. ET on ESPN's SportsNation, 363,884 votes were cast in a poll predicting the outcome of Mayweather vs. Pacquiao. Fifty-five percent of those who voted chose Mayweather, while 45 percent of fans picked Pacquiao as the winner.
However, more recent polls suggest that Pacquiao could have more supporters than Mayweather. When SportsNation asked exactly how the fight would conclude, the poll resulted in much different answers. With 47,237 votes tallied as of Thursday morning, 38 percent of fans chose Mayweather winning by decision as the most likely outcome. Still, the majority of voters picked Pacquiao to win in some fashion.
The second-most likely scenario was Pacquiao by knockout at 27 percent, while 26 percent of voters said Pacquiao would win, via decision. Only 6 percent of people predicted Mayweather by knockout, and 3 percent of the votes predicted a draw.
Another poll found an even larger percentage of people who think Pacquiao will defeat Mayweather. Of the 30,745 fans that participated in the poll conducted by The Los Angeles Times, over 74 percent picked Pacquiao to win. Just over 49 percent of voters said the fight will go the distance, and over 40 percent of fans predicted the fight to last somewhere between seven and 11 rounds.
Mayweather is 47-0 in his career, establishing himself as the best boxer of his generation. Even though he has 26 knockouts in his career, it isn't likely that Mayweather will win the fight in less than 12 rounds. Seven of Mayweather's last eight victories have come by unanimous or majority decision. His knockout of Victor Ortiz in September 2011 was controversial, as he won the bout with two punches that came immediately after the two fighters touched gloves.
Going 57-5-2 in his career, Pacquiao has won 38 fights by knockout. He hasn't won by knockout since November 2009, when he beat Miguel Cotto, forcing a fourth straight opponent to stop before 12 rounds could be completed. PacMan's last loss came on Dec. 8, 2012, when he was knocked out by Juan Manuel Marquez.
Not only have Mayweather and Pacquiao proven to be the top two fighters in the sport, but both have very fervent fan bases. Mayweather is the biggest pay-per-view draw of all-time, selling a record 2.5 million buys in his 2007 bout with Oscar De La Hoya, while beating Canelo Alvarez in 2013 in boxing's highest-grossing bout of all time. Pacquiao holds the record for most PPV appearances ever, and is second, only to Mayweather, in all-time PPV revenue.
Mayweather was a -300 favorite at sportsbooks, before an official announcement was made. He's stilled favored to win, but the betting odds continue to shift in Pacquiao's favor.
© Copyright IBTimes 2023. All rights reserved.
FOLLOW MORE IBT NEWS ON THE BELOW CHANNELS