Miguel Cotto, Amir Khan Seek Next Opponent After Floyd Mayweather Signs Manny Pacquiao Fight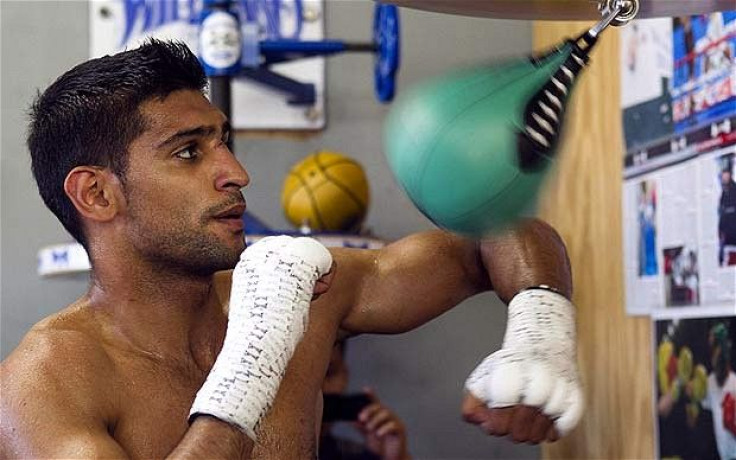 While most of the sports world is happy to see Floyd Mayweather and Manny Pacquiao finally square off, the news isn't the best for two boxers. Miguel Cotto had been eying a potential fight with Mayweather, and Amir Khan was looking to take on either fighter.
With Mayweather and Pacquiao set to fight on May 2 in Las Vegas, both Cotto and Khan are looking for their next opponents. The boxers are each expected to have a bout in the first half of 2015, and they have a few options to choose from but will need to act quickly.
Khan has said that he wants to see the mega-fight, but Mayweather's announcement marks another missed opportunity at facing the undefeated boxer. It looked like the two would square off in May of last year, before Mayweather decided to take on Marcos Maidana instead. After Mayweather beat Maidana for a second time in September, Khan appeared to be at the top of his list, since Mayweather-Pacquiao looked like it wouldn't happen.
Cotto could have defended his middleweight title against Mayweather, but he's already stepped inside the ring with the sport's top two fighters. He was defeated by Mayweather in May 2012, and Pacquiao took the WBO Welterweight Championship from Cotto in 2009 when their fight was stopped in the 12th round.
Since both boxers are looking for their next opponent, Khan is interested in taking on Cotto. Even though Cotto fought his last bout at middleweight and Khan currently fights at welterweight, the Brit believes they can make the bout happen.
"I walk around at 160 pounds and he [Cotto] has the title at 160 pounds, but we know he's not a big 160-pound fighter," Khan told MailOnline. "He got stopped by Pacquiao and Mayweather beat him convincingly so a good boxer would beat him. If we can get him down to 155 pounds I'd take it in a heartbeat."
A fight with Cotto might not be likely, but Khan is looking for a fight against a big name. He claims his camp has reached out to Cotto, Timothy Bradley and Juan Manuel Marquez. Khan has won his last four fights, most recently topping Devon Alexander in December. Bradley hasn't won since he beat Marquez in Oct. 2013, losing to Pacquiao in April and fighting to a draw with Diego Chaves in December. Marquez hasn't fought since he beat Mike Alvarado in a unanimous decision in May.
Khan isn't the only fighter challenging Cotto. Most recently, Gennady Golovkin has said he wants a shot at the middleweight champ. After defeating Martin Murray on Saturday the boxer, who holds multiple middleweight titles, told ESPN.com that he wants a unification fight with Cotto.
"Gennady would absolutely be available to fight Cotto in May or June, whatever he wants," Tom Loeffler of K2 Promotions and Golovkin's promoter said. "We'll make the terms very attractive for Cotto. We would make a lot of concessions to get that fight. But I don't think he will fight until he is forced to fight or vacates the title."
Cotto advisor Gaby Penagaricano told RingTV.com that a fight with Golovkin is possible in the future, but the middleweight champ could be looking at another opponent for his first fight of 2015.
Bradley is an option for Khan, but he could move up in weight to face Cotto. In late 2014, Penagaricano told RingTV that a bout with Bradley would be bigger than one with Golovkin.
According to BoxingScene, Brandon Rios is also interested in a potential fight with Cotto. Rios has beaten Alvarado and Chaves in his last two bouts, knocking out Alvarado in January.
© Copyright IBTimes 2023. All rights reserved.