Food helps drive Tanzania Oct inflation to 17.9% yy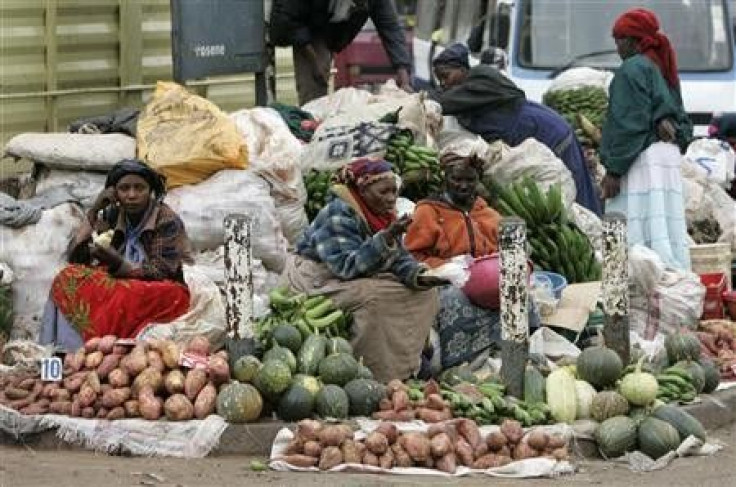 Tanzania's year-on-year inflation rate rose for the twelfth straight month in October on the back of higher food and fuel prices, and is expected by some analysts to keep climbing in the coming months.
The state-run National Bureau of Statistics (NBS) said on Tuesday consumer prices rose 0.9 percent in October, helping push the country's inflation rate to 17.9 percent from 16.8 percent a month earlier.
The inflation rate will continue to rise over the coming months ... inflation will not slow down until March or April next year, Tanzanian economic researcher Haji Semboja told Reuters.
Rising food and fuel prices will keep the inflation rate under pressure and the ongoing euro zone crisis means that Tanzania will receive less foreign aid and foreign direct investment inflows.
Tanzania, one of Africa's biggest per capita aid recipients, received $453 million of aid for its 2011/12 budget, with the foreign exchange inflows helping to bolster the local currency.
Some people have already predicted that the shilling will fall to 2,000 levels in December, while the annual inflation rate could well exceed 20 percent, said Humphrey Moshi, professor of economics at the University of Dar es Salaam.
The outlook for the rising inflation rate will remain the same. I don't expect things to change in the near future.
The statistics office said in a statement that the price rises in food and non-alcoholic drinks, which carry a 47.8 percent weighting in the consumer price basket, quickened to 24.0 percent year-on-year in October 2011 from 22.5 percent in September.
Prices of rice, bread, pastry, maize, meat, fish, fruit, coffee, milk and sugar, all went up during the period, the bureau said.
Energy price rises accelerated to 37.4 percent in October from 33.1 percent a month earlier.
The 12-month index change for non-food inflation increased to 12.2 percent from 11.4 percent, NBS said.
The annual inflation rate for housing, water, electricity, gas and other fuel rose 22 percent in October from 21.7 percent in September.
Rainfall has an outsized influence on inflation on the agrarian economies of east Africa, with good rains leading to good harvests and lower prices.
Many parts of Tanzania had enough food supplies, but food shortages in Kenya, Somalia and elsewhere in the region pushed up prices in the country, said Moshi.
The problem with the inflation rate in Tanzania is more of a structural level than monetary. Not enough effort has been made to address supply-side constraints, Moshi said.
East Africa's central bankers agreed last month to coordinate a tightening of monetary policy to stem foreign exchange volatility and tame inflation.
© Copyright Thomson Reuters 2023. All rights reserved.