Former Aussie PM asked US to be prepared to 'use force' against China : Wikileaks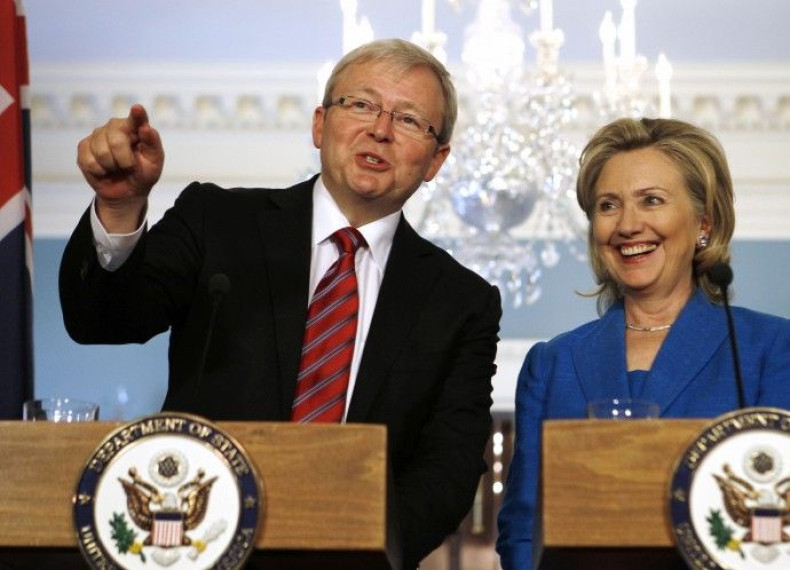 Australian former Prime Minister Kevin Rudd told US Secretary of State, Hillary Clinton to be prepared to use 'force' against China, if it does not allow itself to be integrated into the international community, leaked US diplomatic cables reveal.
Describing himself as a 'brutal realist', the former PM, who is also Australia's current Foreign Affairs minister, reportedly maintained that deploying force should be an option 'if everything goes wrong' with regards to the communist state. In a meeting on March 24, 2009, Rudd reportedly stated that the Australian intelligence agencies kept a close watch on China's military expansion.
Rudd argued for 'multilateral engagement with bilateral vigor' -- integrating China effectively into the international community and allowing it to demonstrate greater responsibility, all while also preparing to deploy force if everything goes wrong, the cable sent to Washington read.
The cable also maintained that Rudd mentioned Chinese Politburo members as 'sub-rational and deeply emotional' over issues of Taiwan and Tibet. In the meeting he reportedly outlined an ambitious plan for an Asia-Pacific community to counter the Communist regime's growing influence in the region.
The documents exposed by whistle-blower site Wikileaks also reveal that the proposals drawn out to strengthen Australia's navy by procuring a dozen attack submarines were seemingly a response to China's growing ability to project force. Reviewing recent Chinese leaders, Rudd reportedly assessed that Hu Jintao 'is no Jiang Zemin'.
Observers sense that the latest revelations could strain the diplomatic ties between Australia and China. Though, some believe that China would hardly pay any attention to the former PM's remarks, but would be cautious of the arms race in the region.