Former Chinese Ambassador Says US Must Halt Military Deployments Near China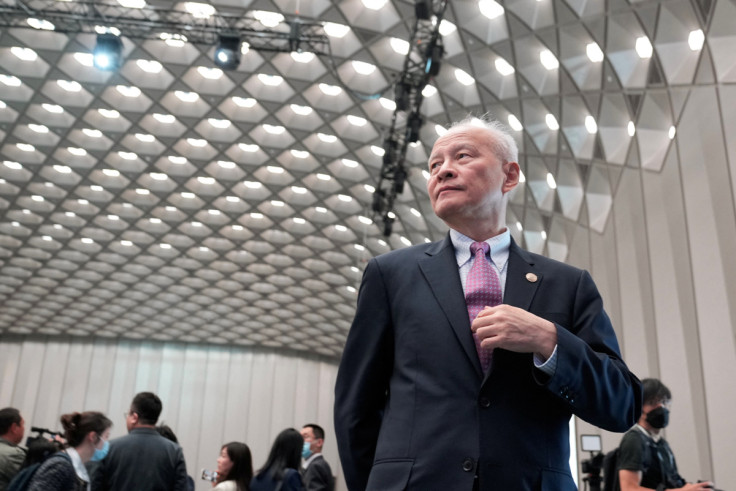 The United States should ease off military deployments close to China in an act of "good faith" if high-level defence talks between the two superpowers are to resume, a retired veteran Chinese diplomat said in Singapore on Sunday.
Speaking to Reuters on the sidelines of the Shangri-La Dialogue meeting on security, former ambassador to the U.S. Cui Tiankai said that although the two militaries still had channels of communication, he questioned whether there was enough political will to prevent conflicts.
"Why are they coming all the way across the ocean? To our doorsteps?" Cui said of U.S. naval and air force deployments close to China. "They're getting too close to our territories, to our territorial waters before anything else."
He added: "If people have such goodwill and if people act in good faith, they could always find effective ways of communication."
Cui's remarks followed the first international speech by Chinese Minister of National Defence Li Shangfu, who told the Singapore conference that a conflict between China and the United States would bring "unbearable disaster".
Li snubbed an invitation to hold a side meeting with U.S. Defence Secretary Lloyd Austin during the Singapore summit, which was due to end on Sunday.
In a speech on Saturday, Austin urged a resumption of senior dialogue, saying it was a "not a reward, but a necessity".
Both officials said they were open to talks, but regional diplomats say there is no clear sign amid tensions over Taiwan and the disputed East and South China seas, and fears over the risks of miscalculation and accidents.
Those risks were highlighted during the weekend as China's military criticised the United States and Canada for "deliberately provoking risk" after the countries' navies staged a rare joint sailing through the sensitive Taiwan Strait on Saturday.
Li, who was named minister in March, remains under U.S. sanctions put imposed in 2018 after an weapons deal with Russia.
U.S. deployments near China, Cui said, were "certainly disrespect of other countries' sovereignty and territorial integrity and to be more specific, they always prefer unilateral sanctions."
He said that he nonetheless remained optimistic about relations between the two countries.
"I hope things will improve in the coming months and years," he said. "As a matter of principle, we are always ready for more dialogue with others, including with the United States."
© Copyright Thomson Reuters 2023. All rights reserved.