Former Guatemalan Military Ruler Rios Montt Convicted Of Genocide Against Ethnic Mayans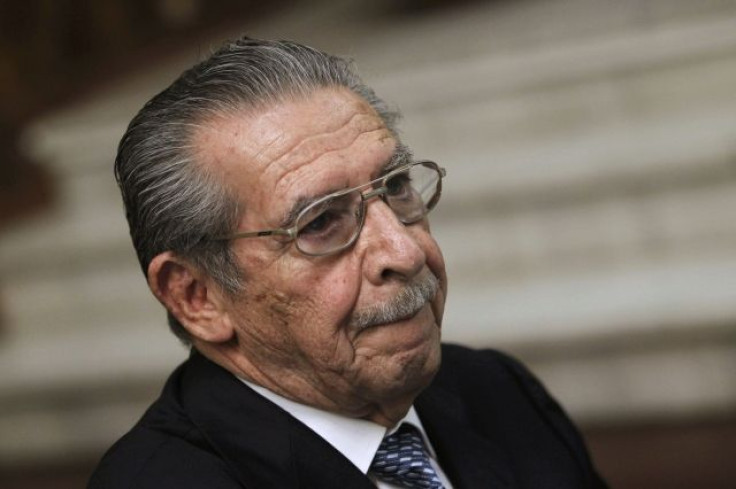 Former Guatemalan dictator Efrain Rios Montt was found guilty on Friday of genocide and crimes against humanity for ordering the deaths of 1,771 people of the indigenous Ixil Mayan community during his rule in 1982 and 1983.
A three-judge Guatemalan tribunal sentenced Rios Montt, 86, to 80 years in prison — 50 years for the genocide charge and an additional 30 years for crimes against humanity, news agencies reported.
The retired general denied the charges, saying he was neither aware of the killings nor ordered them while in power.
He is expected to appeal against the sentence citing his old age.
Hundreds of people who were packed into the courtroom burst into applause, chanting, "Justice!" as the tribunal pronounced the verdict, Reuters news agency reported.
"He had full knowledge of everything that was happening and did not stop it," Judge Yassmin Barrios, who presided over the trial, said, as reported by Reuters.
Rios Montt came to power through a coup in March 1982 in the middle of Guatemala's bloody war, in which Marxist rebels fought against the military regime.
Civilians, comprising mostly of indigenous Mayans, were caught in the civil war, and an estimated 200,000 died before a truce was reached in 1996, making the conflict one of Latin America's most violent wars.
During Rios Montt's 17-month rule until August 1983, when he was ousted by his Defense Minister Oscar Humberto Mejia Victores, he ordered the massacre of Ixil Mayan ethnic community members, whom his administration suspected were supporting the rebels.
Former U.S. President Ronald Reagan supported Rios Montt's government and said in late 1982 that the dictator was getting a "bum rap" from rights groups for his military campaign against left-wing guerrillas during the Cold War.
He also once called Rios Montt "a man of great personal integrity," according to Reuters.
Rios Montt ran for presidential elections in 2003, despite a constitutional rule that no-one who had taken part in a coup d'etat could stand for the presidency. During the campaign, he was accused of organizing a violent protest to overturn the constitutional legislature and was indicted of manslaughter charges after a journalist died of a heart attack while running away from the protest. He was later cleared of the charges due to lack of evidence.
Rios Montt returned to public office in 2007 as a member of Congress, which provided him immunity against prosecution over war crime allegations.
However, that immunity expired with the end of his term in office in January 2012, and within two weeks of leaving office he was charged with genocide and crimes against humanity.
Rios Montt's intelligence director, Jose Rodriguez Sanchez, also stood trial, but he was acquitted on both charges.
In 2012, Guatemalan President Alvaro Colom apologized to the relatives of the victims of a December 1982 massacre in which Guatemalan soldiers killed more than 200 people in the village of Dos Erres.
© Copyright IBTimes 2023. All rights reserved.