Former Miss Grand Ukraine Reportedly Joins Military To Defend Country Against Russian 'Invaders'
KEY POINTS
Anastasiia Lenna appears to have joined the Ukrainian military, according to a report
Lenna represented Ukraine in the 2015 Miss Grand International pageant
Zelensky has urged other nationalities to join the fight in defense of Ukraine
A former beauty queen has reportedly dropped her crown in exchange for artillery as she reportedly joined the Ukrainian military in defending the country against the Russian army. Russia began its invasion of Ukraine Thursday, triggering calls for defensive unity among Ukrainians.
Anastasiia Lenna, who represented Ukraine in 2015 in the Miss Grand International pageant, appears to have heeded the call to defend the country, New York Post reported. The outlet noted that Lenna has been urging solidarity and support for her country through posts on her Instagram account.
In one post featuring armed soldiers blocking a roadway, Lenna said, "everyone who crosses the Ukrainian border with intent to invade will be killed!" the outlet reported. She also reportedly shared a photo showing Ukrainian soldiers walking alongside President Volodymyr Zelensky, whom the former beauty queen called a "true and strong leader."
Lenna also posted photos of herself in the past where she can be seen wielding airsoft guns while in military clothing. However, the former model has yet to confirm reports of her joining the Ukrainian army at this time.
Lenna's Miss Grand International profile noted that she studied marketing and management at the Kyiv Slavistik University. She also revealed in the profile that she previously worked as a PR manager in Istanbul.
The former pageant queen's reported entry into the military came days after the story of 40-year-old Dmytro Dovzhenko touched hearts. Speaking with Reuters, Dovzhenko revealed that his "family wasn't too happy" about him re-enlisting in the Ukrainian army after he heard about Russia's invasion.
Dovzhenko, a war veteran who fought about years ago in Donbass, told the outlet that he had to leave his wife and two children in Poland, where he has been residing since leaving the Ukrainian army.
Kyiv Mayor Vitali Klitschko has also refused to leave the country and like Zelensky, has vowed to continue holding out for the Ukrainian capital. In an interview with Associated Press Sunday, Klitschko said "the message for everyone is support Ukraine together." Klitschko, who is a former boxing heavyweight champion, urged support for the country as supplies of food and medicine dwindle.
Zelensky also encouraged people around the world, whether European or not, to join the fight against Russia in an appeal posted on the Ukrainian presidency's website, The Guardian reported. The Ukrainian leader called for "friends of peace and democracy" to join the country's fight "against democracy, against basic human rights, against a global order of law, rules and peaceful coexistence."
Russia invaded Ukraine Thursday, and according to Ukraine's Ministry of Internal Affairs, more than 350 civilians have died since the war began. Fourteen of the fatalities were children, the ministry said.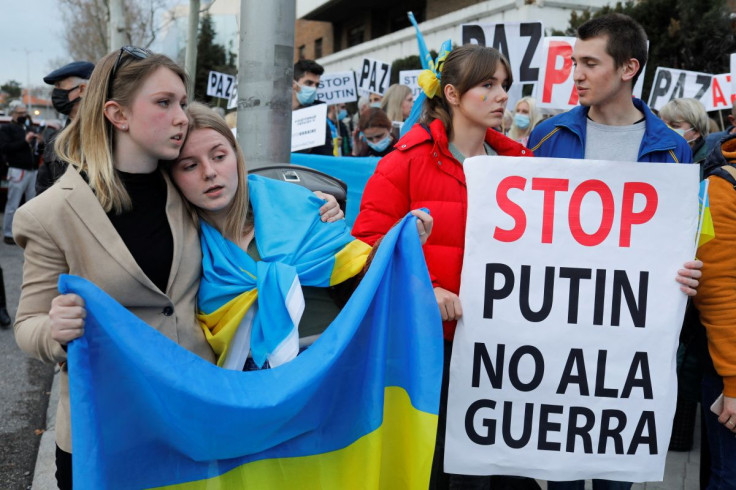 © Copyright IBTimes 2023. All rights reserved.