Former NSA Director Charging $1 Million A Month To Reveal US Intelligence Methods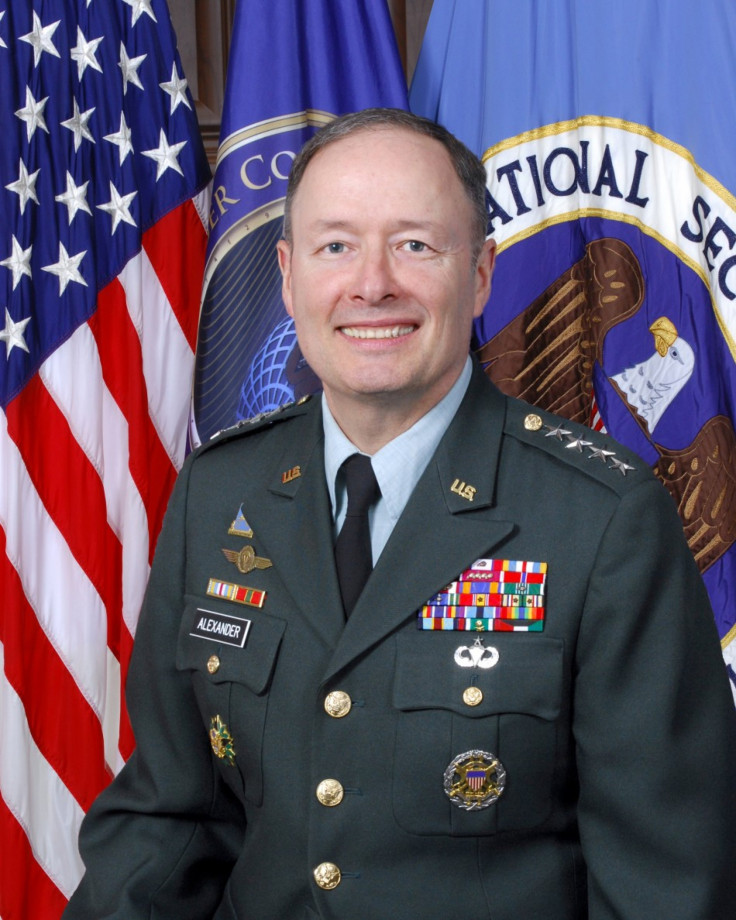 Gen. Keith Alexander, who recently retired from his position at the top of the National Security Agency, is reportedly meeting with top brass from the financial industry to discuss how to best protect sensitive information, and he's likely to charge them a million dollars a month for that advice.
Alexander served as the director of the NSA from 2005 until March 28, 2014, quietly leading the largest U.S. cyber-espionage and surveillance agency until his tenure was shaken a year ago by the unauthorized leak of tens of thousands of classified documents by former contractor Edward Snowden. Alexander, who had spent years trying to convince lawmakers that the NSA needed a higher budget, has consistently maintained that major banks and financial institutions are highly vulnerable to cyber-criminals and foreign hackers. That message seems to have resonated, with Alexander finding early success with his new consultancy firm, IronNet Cybersecurity Inc.
Along with Alexander's dire predictions, top firms are under pressure from industry regulators and customers weary of hearing about major companies (including the likes of Target and U.S. Steel) losing sensitive personal information to unknown thieves. The Securities Industry and Financial Markets Association, the Consumer Bankers Association and the Financial Services Roundtable have already inquired about IronNet's services, according to Bloomberg.
"It would be devastating if one of our major banks was hit, because they're so interconnected," the retired four-star general warned.
Alexander has frequently appeared at speaking engagements since his retirement in March and has leased office space from Promontory Financial Group LLC, a Washington consultancy group that centers on the banking industry. In discussions with SIFMA and FSR, though, and other finance groups including the Clearing House, Alexander has spoken to executives about the destructive Wiper computer program, which is thought to have originated in either Iran or North Korea.
Such insight can only be gleaned from decades of experience in the intelligence world, according to people close to Alexander.
"He's already out pushing hard," an anonymous industry source told Politico. "He's cleared. If something does pop, he can get in the door and get a briefing. That's part of his stock and trade."
For all of Alexander's expertise, though, there are still questions over whether his fee ($1 million per month) is simply too much, even for firms that have so much to lose. While Alexander only told Bloomberg he expects his firm will have contracts "in the near future," the news agency reported that his asking price has in some instances been cut to $600,000.
"There are a lot of very high-caliber people that have served in public positions who bring tremendous amount of expertise that our industry or other industries can benefit from," said Kenneth Bensten, president of SIFMA. "Gen. Alexander is certainly one of those people."
Others have been less welcoming to Alexander's foray into the private sector. To Bea Edwards, the executive and international director of the Government Accountability Project, Alexander seems to be saying that his decades' worth of knowledge from the world of classified information is available to the highest bidder.
"In the person of Keith Alexander, we're seeing the de facto merger of corporate financial power and government outreach," she wrote on the Huffington Post. "Some subset of corporations is paid to develop the cyber-attack and defense capability of the U.S. government, and another subset pays the graduations of the contracting agencies (the NSA and USCYBERCOM) for an inside route to the technology.
"All of this is being conducted behind the veil of the War on Terror, an increasingly profitable funding vehicle for those well-placed to hop on board."
© Copyright IBTimes 2023. All rights reserved.
FOLLOW MORE IBT NEWS ON THE BELOW CHANNELS