Former President George HW Bush Remains In Stable Condition After Hospitalization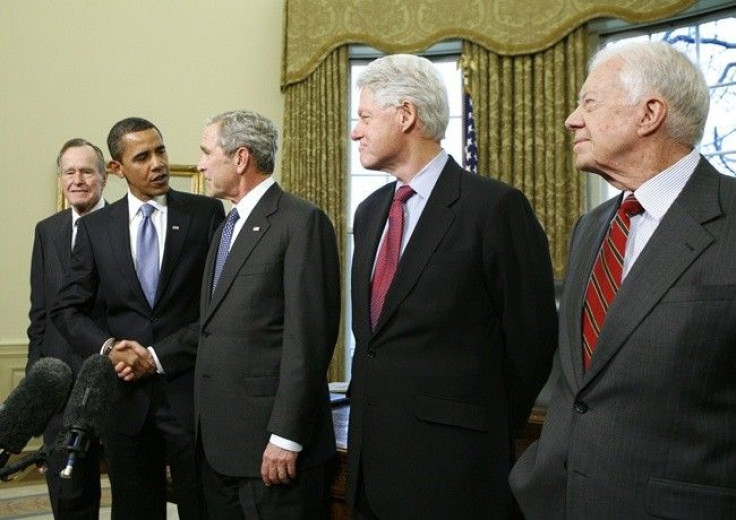 Former U.S. President George H.W. Bush is in stable condition after being hospitalized because of a bronchitis-related cough the day after Thanksgiving.
The former president is likely to remain in the Methodist Hospital in Houston until after the weekend, the Associated Press reported.
Although a hospital representative confirmed Bush was still in stable condition, a spokesman for the 41st president, Jim McGrath, said doctors are "going to play it safe there for obvious reasons."
Currently, Bush is being treated with antibiotics and steroids for his bronchitis-related cough. He has been visited in the hospital by his son, former President George W. Bush and the latter's wife Laura.
The 41st president's chief of staff, Jean Becker, confirmed for the Houston Chronicle that the 88-year-old Bush suffers from bronchitis, but said the condition is not believed to be life-threatening.
"His big problem is a chronic cough he can't get rid of, so he's back at Methodist," Becker said. "This is not a life-threatening illness."
Becker said Bush's hospitalization was kept quiet "out of respect for him," but confirmed for the Chronicle that the hospital admitted Bush the day after Thanksgiving. Bush had previously made several visits to the hospital in the weeks leading to his hospitalization.
Bush and his wife Barbara currently spend the cooler months in Houston, while they spend the warmer months in Kennebunkport, Maine.
Bush is an avid fan of the NFL's Houston Texans, and he was recently in good enough health to attend a game in person.
Bush was elected president in 1988 after serving eight years as vice president under Ronald Reagan. He lost his 1992 re-election bid to Bill Clinton. However, his son George W. Bush would later go on to be elected president in 2000 and again in 2004.
© Copyright IBTimes 2023. All rights reserved.